Vermont New Farmer Profiles
Betsy Mattox, Spring Chicken Farm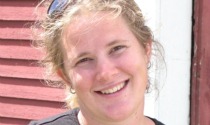 Betsy Mattox
"Being on the way to the dump has its advantages," says Betsy Mattox, who operates Spring Chicken Farm in Topsham, Vt. Despite her initial reservations about the farm's location, Saturday morning traffic has been a boon to her spring seedling sales, which are a small but significant part of her evolving, four-year-old farm business. Every year managing Spring Chicken Farm has been different, as Mattox has sought to find a sustainable model that suits her personality and makes room for other things in her life, which now include motherhood.
Read more about Spring Chicken Farm.
Adam and Melissa Minor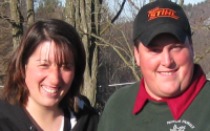 Melissa and Adam Minor
Adam and Melissa Minor are part of a younger generation hard at work to continue their family's farming legacy. They've recently purchased a farm of their own in order to enhance the extended family operation, Minor Family Maple, LLC. Their story is one of where several key players banded together to enable the purchase. All players in the story played important parts. For example, the land owners selling to Adam and Melissa voluntarily sold to the Minors at "ag-value," sacrificing their opportunity to get a much higher fair-market price. This was done for the sake of keeping the land as a working farm.
Read more about Minor Family Maple
Lila Bennett and David Robb, Tangletown Farm
Lila Bennett, Tangletown Farm
Lila Bennett, David Robb and their three children, Samuel, Governor, and Willa, own their house on 2 acres in Middlesex. Not enough, at first glance, to run a full-time, diversified pasture-based livestock operation? Tangletown Farm actually extends far beyond the homestead.
Read more about Tangletown.
Last modified June 29 2011 12:37 PM