UVM adopted Blue by Explorance course evaluation software in Fall 2019. Blue is a centralized online evaluation tool with decentralized control and access. It automates invitation and administration of surveys to students, compiles student feedback anonymously and securely, and delivers private, comprehensive reports to faculty members.
Accessing your Course Evaluations:
Automated emails from bluesurveys@uvm.edu
You will receive an invitation email the day that one or more of your surveys becomes available. Until you complete all of your evaluations, you will receive up to two additional reminder emails. Reminders will not be sent if you have completed all your evaluations.
Example email text:
Subject line: Course Evaluations – Please complete today
Email body:
Dear [First Name],
We are writing to announce the launch of course evaluations for our current semester. Your thoughtful responses are important to the course's instructor, department, and college. After final grades have been received by the Registrar's Office, each of your instructors will receive a summary of student responses for each course.
Because your anonymity is of extreme importance to UVM, it is ensured throughout this process.
Please click here and begin your evaluations today!
If you have questions, please email bluesurveys@uvm.edu.
Thank you,
Your Instructors
Open the announcement email
Click "Please click here and begin your evaluations today!"
Your web browser should bring you to this evaluation webpage:

Click the blue links (i.e., Open evaluations) and fill out the survey associated with each course.
Blackboard Home page
Log in to Blackboard with your UVM netID and password.
Click one of the available course evaluation links and your web browser will bring you directly to the evaluation for that course.
Go directly to UVM Blue
Visit https://blue.uvm.edu/uvm to be brought to the Blue full application page.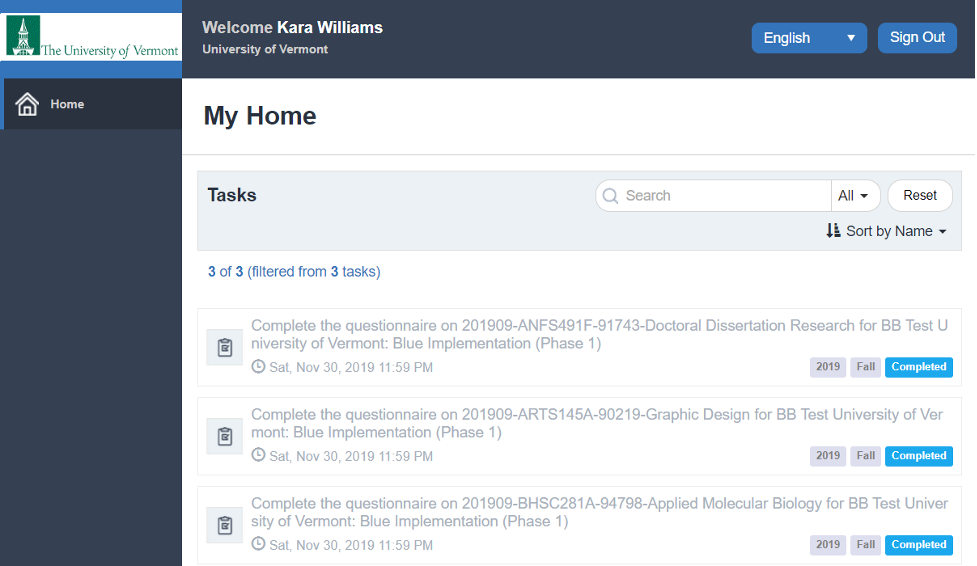 Filling out your Evaluations
Once you have logged into Blue, fill out the currently active evaluations.
Generic Fill Out
Click the highlighted title of your course:

Select all of the instructors who taught you in the course.  These may be Professors,Teaching Assistants or both and click Next.  Note that Blue will repeat instructor related  questions for each instructor selected.
In "Likert scale" questions such as the below, click the dot below the appropriate response.  Please note the scale used and that, in general, negative responses are to the left, positive to the right.
Open ended questions are usually clustered at the end of the survey and allow you to provide feedback in your own words

Frequently Asked Questions
My course has multiple instructors. How do I submit evaluations for all of them/for just the professor who actually taught me?
Blue can handle course evaluations for multiple instructors and TAs.
If a course has multiple instructors and/or TAs (and the specific department has chosen to evaluate their TAs), Blue will ask you to select the instructors you actually worked with at the beginning of the evaluation. Blue will then repeat the questions that pertain to the course instructor for each "instructor" selected.
I'd like to provide feedback regarding the TA for my course, but I don't see their name listed as an instructor for the course, why is that?
Some departments have chosen to evaluate TAs, others have not.
If you were told to evaluate your TA along with the course instructor, but the TA's name does not appear in the course evaluation, please send an email to bluesurveys@uvm.edu and we will look into it.
I misread the evaluation/forgot to answer a question/would like to change my evaluation responses, what can I do?
Once you have submitted your evaluation, you cannot reopen it yourself to change your answers. However, if it is still within the evaluation period for the course, contact bluesurveys@uvm.edu and we will either unsubmit your evaluation (which keeps your original answers and allows you to edit) or "reset" your evaluation (which erases your previous results and allows you to start over).
If the evaluation period for the course has expired, we will need to contact the instructor and department for permission before we can reopen your evaluation.
I missed the evaluation period for a course but I'd really like to provide feedback. What can I do?
Contact bluesurveys@uvm.edu to request that we reopen your expired evaluation. Please tell us the specific course you want reopened.
Because grades may have been released after the evaluation period closes, we must ask the instructor and department for permission to reopen your evaluation. Note that per policy, we make the request the department anonymously on your behalf.
Is my feedback truly anonymous?
Yes, both from the perspective of the Blue application and also by UVM administrative policy.
If the number of responses to a given course is so low that your feedback would identify you, a report is not released to the faculty member. In addition, certain demographic information that would also identify you (e.g., you're the only Nursing major in a Geology class) is also redacted from the instructor evaluation report.  Administratively, any requests from students that require departmental authorization are made by the Blue administrators anonymously on the student's behalf.
I have a question not answered by the above. Whom should I contact for help?
Send an email to bluesurveys@uvm.edu and one of our administrators will get back to you as soon as possible. Please provide as many specifics as you can – e.g., course and section number.