Many instructors use attendance data as part of their students' overall grades. With the new Blackboard Attendance tool, you can use attendance as part of calculating grades in the grade center just as you can for any other grade column.
This short video from Blackboard gives you a basic primer on how it works:
Access the Attendance Tool
To access the Attendance Tool:
Go to Control Panel > Course Tools > Attendance.
You'll see three options on the top/right: Overall, Meeting, and Settings (gear icon).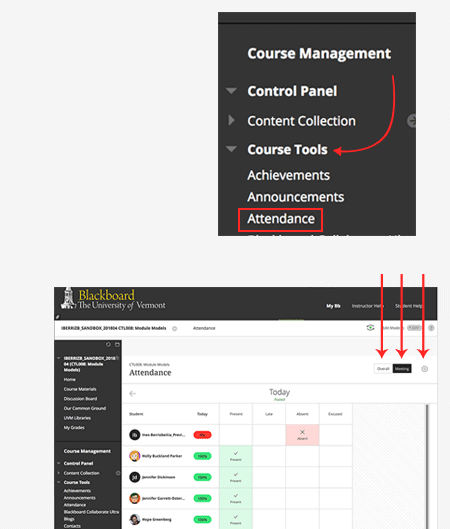 Available Views
Overall
In the Overall view,  you can see all meetings, students' averages, and you can manage meeting names, clear data, delete meetings, etc. by clicking on the date at the top of each column. To modify or delete a meeting instance, click the top of the column and choose from the menu. To add or insert a new column, hover over the top of the previous column and click the (teeny tiny) plus sign that appears. You can then modify the name of your new column by clicking on the existing name and choosing "Edit".
Meeting
In the Meeting view,  you can enter the data in detail for any meeting by clicking in the fields. It may be easier to click on the date of the meeting, choose "Mark all present," and then make changes as needed for late or absent students. To modify previous meetings, click the arrow at the top left.
Settings
In the Settings view (gear icon), you can change the default settings for the grade display and for Late in the grade schema. You can't change the percentages for Present and Absent at this time. Save your settings or close the panel if you don't want to make changes. At any time, you can change the schema in the Settings panel, save, and then refresh the page. You'll see your newly selected schema reflected in the grade pills on the Attendance page in the Overall view.
Grade Center
When you access the attendance feature for the first time, Blackboard automatically creates a single column titled Attendance in the Grade Center which displays the percentage of each student's overall attendance grade. You can include this column in the final grade calculation such as Weighted Total.