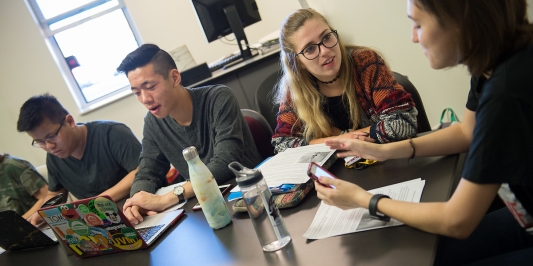 The Honors College is a unique community of highly motivated, intellectually curious students who are dedicated to finding their passions and developing their expertise through challenging interdisciplinary coursework, independent research, and other learning opportunities both in and out of the classroom. Whether your student is already a member of the UVM Honors College or is considering joining the Honors College, we invite you to learn more about what's happening here.
Creating a Community of Scholars: Honors College Admissions
There are two paths into the University of Vermont Honors College: A first year invitation process for prospective students who have applied to UVM, and a sophomore admission process for current UVM students (as well as students seeking to transfer into the university).
First year invitation is based on high school academic performance. The Honors College seeks to bring in a first year cohort of approximately 225 students (the top 10% of the entering class). Selected invitations to early action applicants are sent out to students by mail in January, and a second round of Honors College invitations are sent to regular decision applicants in March. Upon receiving an invitation to the Honors College, students are invited to learn more through the college's admitted student visit days and other events for prospective students.
Current UVM students who complete their first year of study with a 3.4 or better cumulative GPA can apply for sophomore admission, and begin the Honors curriculum with the sophomore seminar series. Students transferring to UVM from another university and who have completed one full year of undergraduate study, may also apply to join the Honors College through the sophomore admission process. In order to be considered for the Honors College, transfer students must first be admitted to UVM, and then they must have a cumulative GPA of 3.4 from their previous institution. The admission process for current college students is intended for those who have completed one year of college-level study, as the college curriculum is designed for students to enter no later than the start of the sophomore year. Students who join the college as sophomores have all of the benefits of the college including access to Honors housing, advising, priority registration, small seminars, and other benefits.
Learn more: Honors College Admission
Developing Expertise, Honing Research and Writing: Honors College Curriculum
Honors coursework is rigorous, writing intensive, and empowering; it enables students to develop a deeper understanding of the local and global issues we face, and it prepares students to be the next generation of leaders, change agents, and problem solvers in their field. During their first two years of study, students complement the coursework in their major with rigorous, multidisciplinary Honors seminars taught by professors from across the university. In junior year Honors College students work with faculty to develop their Honors thesis ideas and craft their thesis proposal. Students can choose to concentrate their Honors coursework in one semester so that they can also pursue opportunities including study abroad, internships, and other research or professional development opportunities outside of the classroom. Senior year students complete and defend their Honors thesis, and graduate as Honors College Scholars.
Learn more:
Providing Holistic Support for Outstanding Students: Advising, Mentoring, Housing
Taking full advantage of its status as a Residential College, the Honors College has structured the majority of its academic advising to take place in the first two years of a student's UVM career, and to integrate academic and residential life. We understand that opportunities and challenges for academic success at UVM go beyond the classroom, and that advising must consider the whole person in order to help students realize their full academic and personal potential. Honors College faculty and staff strive to operate as a team within an integrated and comprehensive system of advising for all Honors College students that is professional and developmentally appropriate. Central to our advising philosophy is the importance of constant collaboration with Residence Life to build and sustain a meaningful community of scholars, anchored in Honors housing and extending beyond.
Learn more:
Honors College Advising
Honors College Housing
Peer Mentors are current Honors College upperclass students who work closely with first years as they navigate the transition to college and life in Honors College. First year Honors College students are assigned a peer mentor as a person that they can go to during their first semester on campus with any questions about finding their "niche" on campus. In addition to advising groups of students, Honors College Peer Mentors organize events for all Honors College students including drop-in advising socials, de-stressing events during finals, and other activities in the College that build connections and camaraderie.
Learn more: Honors College Peer Mentors
Empowering Students to be Leaders and Innovators: Research and National Awards
The Honors College provides enhanced advising and support for outstanding students through the Office of Fellowships, Opportunities, and Undergraduate Research (FOUR). Since 2009, FOUR has offered an array of valuable resources and financial support for all undergraduate students promoting mentored research, creative works, and scholarship. FOUR has also contributed to the scholarly development of numerous students and alumni, by providing individualized advising and feedback to applicants, while promoting undergraduate and post-baccalaureate opportunities across campus. The FOUR Office aims to prepare the University of Vermont's most outstanding and high-achieving students for prestigious awards, while empowering all students to pursue the opportunities best aligned with their own experiences, achievements, interests and plans.
Learn more:
Office of Fellowships, Opportunities & Undergraduate Research (FOUR)
Preparing for the Next Step: Honors College Outcomes
The rigors of the curriculum, the individual mentoring, and the community motivation of the Honors College empower students to develop the tools, expertise, and skillsets that enable them to enter elite graduate programs, travel the world, or serve their communities after they graduate. Recent Honors College alumni have gone on to:
Pursue medical study at Harvard University, Brown Medical School, and the The Geisel School of Medicine at Dartmouth College, The Robert Larner, M.D. College of Medicine at the University of Vermont, Stanford University School of Medicine, among others.
Pursue graduate doctoral study in the sciences at Cal Tech (Chemistry), Vanderbilt University (mathematics), Columbia University (cell and molecular biology), and Brown University (pathobiology), among others.
Pursue graduate doctoral study in the humanities, social sciences, and arts at Harvard University, University of California-Berkeley, Johns Hopkins, Duke University, the University of Warwick, among others.
Pursue pre-professional study to become:

Veterinarians (recent Honors College graduates are pursuing vet school Tufts University, Cornell University, among others).
Lawyers (recent Honors College graduates are at law school at Duke University, University of Pennsylvania, Georgetown Law, and Harvard School of Law, among others).
Public health officials (recent graduates are at Columbia University and Yale University, among others)

Enter the workforce at companies including Amazon, Google, HBO, Global Foundries, Fuse Marketing, Flying Plow Farm, W. W. Norton & Company, NextCapital Group, Sun Common, the Burlington Free Press, among others.
Create their own companies or non-profit organizations, including ReWork, The Whole Human Upgrade, Books 4 Equality, among others.
Work in the public sector at the U.S. State Department, the Office of the Mayor of Burlington, the Office of Senator Patrick J. Leahy, the State House of Vermont, Amnesty International, Vermont Public Interest Research Group (VPIRG), serving in the U.S Army, among others.
Do postgraduate fellowship work through the Gates Cambridge Scholars Program, Fulbright U.S. Student Program, the National Institute of Health, Teach for America, Peacecorps, and Americorps, among others.
Keeping Up With the Honors College
For the more information on the University of Vermont Honors College, we encourage you to like the Honors College on Facebook, watch for upcoming events, or contact us.