Statement of Significance
and History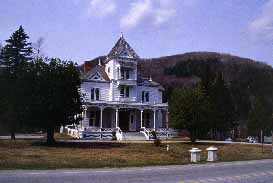 Laurel Glen Mausoleum and Laurel Hall, in Cuttingsville, a village in Shrewsbury, Vermont, were built between 1880 and 1882. Both buildings meet National Register Criterion C as excellent examples of high style architecture. Laurel Hall, designed by architect G.B. Croff of New York City, is a Queen Anne style mansion with Stick and Eastlake style influence, the detail and integrity of which has few equals in Vermont. Laurel Glen Mausoleum, a mix of the Classical and Egyptian Revivals also designed by Croff, is one of the most elaborate mausoleums in the state. The property has statewide significance under Criterion A as an excellent example of a Victorian era country estate, comprised of landscaped grounds, a carriage barn, an icehouse, and a caretaker's cottage, erected by a native son who had made his fortune elsewhere. It also has significance under Criterion A for representing Victorian era attitudes toward death and mourning.
John Porter Bowman was born in 1816 in Pierce's Corner, a village in Clarendon, Rutland County, Vermont. He was the son of a farmer and had few educational opportunities. When he was fifteen, he moved to Rutland to learn the tanning trade. He spent five years there, then moved on to New York, working in tanneries in the towns of Hunter, Saugerties, and Warrensburgh. In the mid-1840s he returned to Vermont and opened a tannery in an area known as "Tannery Crossing" south of the village of Cuttingsville in Shrewsbury, Vermont, a town adjacent to the town in which he spent his youth. He married Jennie E. Gates of Warren, New York, in 1849, and was elected to the Vermont state legislature in 1851. He returned to New York in January 1852, opening a tannery in Stony Creek. Already a successful businessman, he made a fortune by selling leather goods to the United States government during the Civil War.
John Bowman's domestic life was a tragic contrast to his successful business life. A daughter, Addie, died in 1854 at the age of four months. A second daughter, Ella, grew to young adulthood, but died in June of 1879. His wife died in January of 1880. Grief-stricken, Bowman made plans for an elaborate memorial for them in his family's plot in the East Clarendon cemetery. The residents of Clarendon balked at this, however, so Bowman decided on the cemetery in Cuttingsville instead. Construction of Laurel Glen Mausoleum (5) began in July of 1880. The mausoleum was designed by G. B. Croff, a New York architect and "special designer of mortuary architecture (Child, 232-233)," possibly with the collaboration of Bowman. The statue of Bowman and the busts of Bowman and his family inside the mausoleum were designed by New York City sculptor Giovanni Turini, who is best known for a statue of Garibaldi in Washington Square and a bust of Mazzini in Central Park, New York. The project reportedly cost $75,000, an amount that led to some criticism in the press. Bowman also enlarged the cemetery and funded extensive improvements to its grounds, including an 800 foot cemetery wall with three gates (6), walks and carriage drives, shade trees, two fountains, and benches for contemplation. A greenhouse (7) was completed in 1882 to provide a plentiful supply of flowers and shrubs for the cemetery.
The mausoleum gained instant fame. The Rutland Daily Herald and Globe reported that ten thousand people had flocked to Cuttingsville to see it during the summer of 1881. A guest book was installed just inside the door, and an usher was hired to guide visitors. Tourists continued to visit in subsequent summers.
Bowman next had G. B. Croff design and construct a country residence, Laurel Hall (1), across the street from the cemetery. The house was lavishly outfitted with hot and cold water, electricity, Brussels carpets, ornate wallpaper, and rich woodwork. A carriage barn (4), an icehouse (3), a caretaker's cottage (8), and landscaped grounds (2) were also part of the estate. Bowman vacationed at the house occasionally throughout the year and entertained friends and celebrities when in residence. Bowman retired to Laurel Hall in 1887. He was chronically ill in his final years and died in Laurel Hall on September 18, 1891.
In his will Bowman left $50,000 to the U.S. Trust Company of New York for a trust to be created to maintain his estate in perpetuity, with two of his friends named as administrators. In 1894 the Laurel Glen Cemetery Association was formed to better serve this purpose. and the trust and estate were turned over to it.
This provision of his will, to maintain the house and grounds exactly as he left them, gave rise to legends of a belief in reincarnation on the part of Bowman. Stories circulated that servants prepared a dinner every evening in case Bowman and his family returned. Later, ghost stories and tales of hidden money developed. None of these have been proven true. Nevertheless, a long time tenant of Laurel Hall named his store "The Haunted Mansion Bookshop".
In the 1930's and 1940's bad investments depleted the trust fund, and in 1953, the furnishings of the house had to be auctioned off. A period of neglect followed, resulting in vandalism and the theft of parts of the cemetery fountains. The property has maintained its mystique through the years. The New York Times featured the estate in its travel section in 1974, commenting that it still drew thousands of visitors a year. It was featured in Yankee Magazine in 1960, has appeared in cemetery guides and books of New England ghost stories, and was featured in a 1991 museum exhibition of Vermont history that traveled to Middlebury College, the Bennington Museum, and the Vermont Historical Society. Since the 1980's, trustee Joan Stewart has been conducting restoration work at the estate.
Laurel Hall is significant as one of the finest high style, Queen Anne residences in Rutland County. The Shrewsbury chapter of The Historic Architecture of Rutland County says, "Its marvelous display of jigsawn decoration and stickwork is nearly unrivaled in the Rutland area (p. 395)." Laurel Hall reflects the opulence of this period of American history. The large two story house with its three story central tower is a grand building that exudes a secure and gentle grandeur with the wide wrapping porch and conservative use of exterior decoration. Laurel Hall was built to be the summer residence of a man who had no family, yet commissioned a house to have four bedrooms in addition to two separate bedrooms for servants. The interior of the house truly reflects the wealth and social status of Bowman, with sixteen foot ceilings, large formal hallway with polychromatic painted archway, wide cherry Eastlake staircase, and large multi-hued windows in the stairwell.
Laurel Glen Mausoleum is significant as one of the most elaborate mausoleums in the state of Vermont. It is constructed out of 750 tons of granite, 50 tons of marble, 20,000 bricks, 525 barrels of English Portland cement, 10 barrels of calcined plaster, and 100 loads of sand. The Egyptian and Classical styles were both popular for funerary architecture in the nineteenth century; the Bowman mausoleum combines both in a single building. The battered walls belong to the Egyptian Revival style, while most of the ornamentation, such as the frieze and pediment gables, is Classical. The motif of a larger than life-size likeness of the founder of the mausoleum, carved and installed while he was still alive and prominently displayed on the mausoleum's front steps, is unique in American funerary art.
The interior is also extraordinarily extravagant. The walls and ceiling are sheathed in Brocadilla marble, and the floor is covered in English encaustic tiles. Unlike most mausoleum interiors, this one was designed to be viewed. The marble is carved into wainscotting, panels, and an arcade of columns. Busts of John, Jennie, and Ella, and a statue of Addie Bowman are displayed. Plate glass mirrors on the walls reflect the interior and give the illusion of great depth. A summer door in an elaborate design and with wire netting to keep out birds and animals allows visitors to peer inside.
Laurel Hall and Laurel Glen Mausoleum are also significant for representing late 19th century attitudes toward death and mourning. Earlier in the century, the idea of death had undergone a process of sentimentalization. The decline of Calvinism had made death a much less fearful prospect than previously. Instead, it was seen as a release from the cares of life. At the same time, a much greater emphasis on mourning appeared than had previously existed. While the mourner's grief was no less real, mourning became a form of social display. Bereavement was a sign of gentility, the goal of the middle class in the nineteenth century. It manifested in special mourning dress and etiquette, mementos of dead loved ones, and elaborate funerary art. Mourning the deaths of family members was especially important. The family bond was considered to be more powerful than death, and was even felt to grow stronger after the loss of a family member. Burial grounds evolved into rural cemeteries with their landscaped, park-like grounds that promoted contemplation and provided a suitable atmosphere for mourning.
Laurel Glen Mausoleum is as much a statement of prosperity as it is an expression of grief. Its fine materials and detailing were intended to honor Mrs. Bowman and her daughters, but they were also intended to be seen, as shown by the guest book and usher. Above the vault is the inscription, "A couch of dreamless sleep," demonstrating the Victorian sentiment of death. The busts and statue inside present a picture of domestic bliss even long after the deaths of the Bowmans. John Bowman, in the form of his exterior statue, forever engages in proper social propriety by wearing his mourning suit and carrying a memorial wreath. In addition to the mausoleum, Bowman also turned the cemetery into a smaller version of the elaborate park cemeteries found outside major urban areas. He added a cemetery wall, ornate gates, winding walkways, fountains, extensive plantings of trees, flowers, and shrubs, and a conservatory in which to grow them. Finally, Bowman built Laurel Hall across from the cemetery in order to spend his leisure time near his wife and children. Other elaborate family mausoleums in Vermont include the Smith Mausoleum at Shard Villa in Salisbury (1882) and the Proctor Mausoleum in Proctor (1908).
Laurel Hall and its related buildings are also important as an early example of a seasonal estate built by a wealthy "native son". Seasonal tourism began in Vermont in the 1850's. At first most visitors were members of the middle class. They visited Vermont for the mineral springs and outdoor activities, such as hunting, fishing, hiking, or cruises on Lake Champlain. These visitors congregated in a few resort areas, such as Clarendon and Woodstock. Later, the state attempted to draw visitors to areas beyond the resorts. They played up the nostalgic image of open countryside and small, quaint farms. This image was especially directed at Vermont expatriates who had made fortunes elsewhere. In the 1890's the State Board of Agriculture began marketing abandoned farmsteads as summer homes. Old Home Week was established in 1901 to draw "native sons" home on vacation, and in 1911 the state created a Bureau of Publicity.
This effort was quite successful in drawing more wealthy visitors to Vermont, whether native sons or not. In some cases, they would buy up several neighboring properties and create an estate or gentleman's farm, such as Shard Villa in Salisbury (1872) or Shelburne Farm in Shelburne (begun mid-1880s). Others, like Henry Copeland in Middletown Springs, built smaller estates in villages. Many funded civic improvements in the neighboring villages, such as Henry R.C. Watson, who founded the Brandon Town Fair, or Dr. Henry E. Walker, who donated money for a new library in Pittsford. This trend for the most part began in the early 1890's. John Bowman, a local "native son," anticipated this trend in the early 1880's. Although his motive for establishing his estate was more macabre than simple tourism, Bowman's Laurel Hall fits the pattern of a Victorian country estate. It lies on the edge of Cuttingsville, a small village in Shrewsbury. The house contained all the luxuries of home for a wealthy industrialist of the period, and the outbuildings and pleasure grounds contributed to the comfort. Bowman funded extensive improvements to the village cemetery, in part, no doubt, to smooth concerns over his elaborate mausoleum, but also in the spirit of philanthropy that would surface later in many of the other owners of seasonal estates.