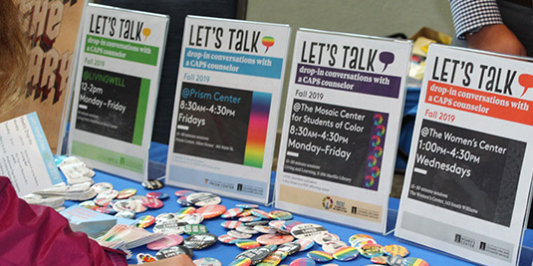 UVM Counseling and Psychiatry Services provides opportunities for students to access a counselor as a drop-in service. No appointment is required. In collaboration with University of Vermont Identity Centers Counselors are available specifically for students of color and LGBTQAI+ students through the Mosaic Center for Students of Color and The Prism Center. Additional drop in opportunities open to all identities are available at Living Well in the Davis Center and at the UVM Women's Center.
Drop-in, weekly workshops offer an additional supportive option for students.
Drop-in Mental Health Workshops
In addition to our Let's Talk program (below) Counseling and Psychiatry Services partners with Living Well to provide flexible, interactive workshops with Counseling staff. (Downloadable PDF + full schedule below)
Spring 2020 3-4:30pm, Living Well first floor of Davis Center
Monday: Letting Go of Perfectionism (Laurie Brown)
Tuesday: Reclaim your Brain: Skills to Reduce Anxiety (Marta Paterniti)
Wednesday: Skills for a Drama Free Life (Stefan Nickum)
Thursday: Reclaim you Brain: Skills to Reduce Anxiety (Kelly Boardman)
Friday: Yoga for Emotional Resilience (Roxanne Rondeau)
Let's Talk
No appointment needed!
Drop-in to check-in with a counselor for up to 30 minutes.
See the following drop down menu for locations and schedules.