Vermont Agriculture Individual Development Account Program
*Applications are closed for the current cycle of this program.* Vermont's Youth Agricultural IDA (YAIDA) program invites you to join its next group of participants! YAIDA is the first program of its kind in the United States specifically for young women and men ages 14 to 21 who are engaged or interested in farming.
Program Details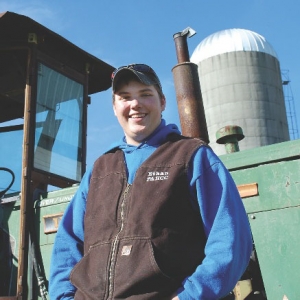 Description
UVM Extension's Youth Agricultural Individual Development Account (IDA) Program, a collaboration of Vermont 4-H and the Center for Sustainable Agriculture, has extended its deadline to May 15 for applications for its next program cycle.
This free one-year program helps young farmers build their confidence and gain the basic financial skills necessary to leverage their equity, manage capital productively, and be a successful entrepreneur.
Upon completion of the program including an approved business plan, participants earn a 2-to-1 match of their savings from any size farm or food business (up to $1,000 in match funding) for the purchase of a productive farm asset.
Some participants may also be able to earn school credit for IDA-related projects.
Previous IDA graduates are currently operating enterprises in maple, dairy, sheep, vegetables, and more. They used their savings plus match funds to buy items such as a hay baler, breeding ewes, barn restoration services, and a waterwheel planter.
The Youth Ag IDA program will begin with an orientation workshop at UVM on June 29-30th, continuing through the year with workshops, mentoring and saving, as you develop your business plan. In addition to monthly check-ins with the coordinator by phone or in person, participants are required to attend two all-day workshops, one in the fall and one in the spring.
Eligibility Guidelines
Age 14-21 as of June 1, 2017
Have at least 1 year of experience managing your income from a farm or food business. This can mean any part of the food system – in the barn or fields, a kitchen, restaurant, or school, industrial setting, or somewhere else – and any size business.
Can commit to a year of work including monthly check-ins plus in-person workshops, managing your own savings, and writing a business plan.
Food and farming might just be the life for you!
How to Apply
If the Eligibility Guidelines are all true for you, please submit your application to program coordinator, Liz Kenton, by 4pm on Monday, May 15, 2017. If you have any trouble with the process, get in touch and we can walk you through it! Your application must include:
Name, address, and date of birth
Contact information, including the BEST way(s) to reach you (email, phone, text)
A recommendation letter from someone who knows you and your farm or food business well and is not a family member. The letter should answer these questions:

How do you know the applicant, and how long have you known him/her?
What kind of farming or food business experience does the applicant have? (Note: the "business" could be as small as backyard eggs, or as big as running a herd or a sugarbush!)
Why do you think this program will be useful to the applicant?
Is the applicant self-directed, persistent, responsible, and otherwise likely to succeed? Please give any examples of how the applicant has shown these qualities.

A description of you and your current business (no more than 2 pages long). Include answers to these questions:

What are your skills and background in agriculture or food? Include what you have done and learned at home, in school, through 4-H or FFA, and any work experience.
Why do think this program will be useful to you?
How would you use your savings + match funds?
You can send in your application documents by mail or email.
Apply by mail:
UVM Center for Sustainable Agriculture Jeffords Hall
63 Carrigan Dr., Rm. 105
Burlington, VT 05405
Apply by email:
Send Word or text documents as an email attachment to: ben.waterman@uvm.edu
Program Sponsors
We wish to thank the following program sponsors:
We continue seeking funds to sponsor our participants. Interested sponsors are encouraged to contact:
Liz Kenton
802-257-7967 x308
Liz.Kenton@uvm.edu
UVM Center for Sustainable Agriculture
23 Mansfield Avenue
Burlington, VT 05401-3323