Lawn Care
Lawns do not have to be meticulously managed to be healthy and look good. Selecting the right species and varieties, fertilizing one to three times per year, proper mowing and thatch management, and timely summer watering contribute to keeping the lawn healthy.
Find instruction on ...
General lawn care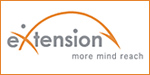 UVM participates in eXtension: A national organization creating rich education for local Extension programs.
Managing phosphorus
Managing nitrogen
Landscaping
Pest management
Last modified April 30 2012 09:45 AM