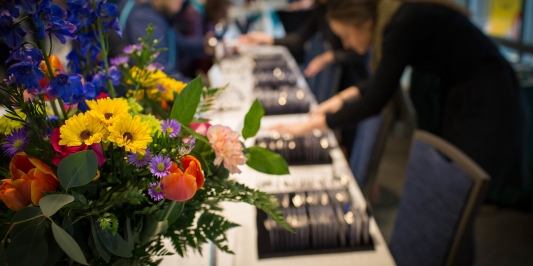 You only get one chance to make a first impression. Let's make it great.
The University Event Services registration team offers flexible solutions and expert customer care to simplify your registration process. We act an extension of your team, saving you valuable time so you can focus on other, important aspects of your event's success.
Our online registration solutions combine advanced functionality with a user-friendly interface so both you and your participants get access to the necessary information. We also provide top-tier customer service to your registrants, whether it's answering questions on registration types or processing refunds. This saves your team time and provides your client with a professional, reliable service.
We are PCI Level 1 compliant and able to securely handle a variety of payment methods, providing convenience and peace of mind to your registrants.
Our Packages
Lite
Our basic registration package is a great fit for one day events with less than 100 participants.
Online registration form
Secure payment processing
Customer service
Access to reports (event registration, revenue, expenses, etc.)
Average Price Range: $500 - $1,500 (exact costs dependent upon client need)
Plus
Our mid-level registration package is designed for multi-day events or events with multiple events within the event, such as breakout sessions or optional activities. This package is best suited for events between 100-250 participants.
Everything from Lite
Multiple registration events or tracks with built-in logic to help guests (ex. Allow participants to select a track and then select workshops or optional activities from that specific track)
Average Price Range: $1,500 - $4,500 (exact costs dependent upon client need)
Professional
Our most robust package is designed for events looking to customize the registration experience. Typically events of 250 and over opt for this package.
Everything from Plus
Customized group registration fee structures (ex. register 5 participants and get the 6th free)
Custom selections with built-in logic for participant types (ex. sponsors can see different selections from participants)
Option to add housing selections
Average Price Range: $4,500 - $7,000+ (exact costs dependent upon client need)
On-Site Event Day Support
If you're hosting your event on campus, our team can help manage registration set up and check in. We'll distribute name badges, securely collect payment from day-of registrants, and welcome your attendees with a smile.