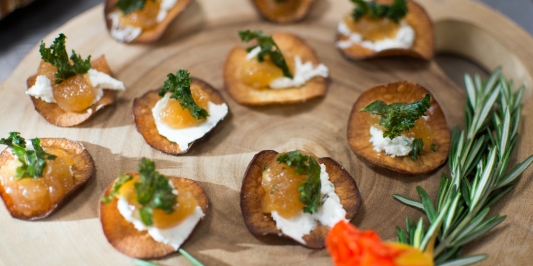 Experience a taste of Vermont during your UVM event
Burlington is known for its food culture, and our dining team is no exception. They source the freshest seasonal ingredients and craft unique menus which will satisfy your guests within your budget. Our commitment to feature local ingredients provides guests an opportunity to experience a taste of Vermont while attending events on campus.
We can accommodate a variety of dietary restrictions and preferences including gluten-free, kosher, vegetarian and vegan.
There is no additional gratuity charge for catering and bar services.
Our Menus
We offer an assortment of menus, which can accommodate a variety of dietary preferences such as vegetarian, vegan, kosher and gluten free. These menus can be further modified to fit the needs of your group. We are also happy to work with you to develop a custom menu to fit your event's theme.
Sample Menu Items
Lemon basil chicken
Flank steak with arugula pesto
Homemade falafel
Vermont artisan cheese board
Smoked bacon jam tart
Spring rolls with ginger tamari
Sustainability
UVM Dining Services is a leading participant in several sustainability initiatives, including the Real Food movement and the Vermont Fresh Network. Additionally, UVM is a Food Recovery Verified Site and donates surplus food to non-profits that fight hunger in our community. We are proud of our commitments to the environment and community.
Bar Service
UVM Dining Services is the exclusive bar service on campus. Your coordinator will work with you to create a celebratory atmosphere for your event. As with our dining menu, we are proud to serve local beer, wine, cider and spirits among our extensive list of products.
Bar service must be requested at least 20 days prior to ensure a Vermont liquor license is obtained.
Rentals
Our team will make sure your meal looks as good as it tastes. Table linens are included with all buffet and plated meals, and china service is included with non-delivered plated and buffet meal events. Specialty equipment rentals and decorative floral service are also available upon request.