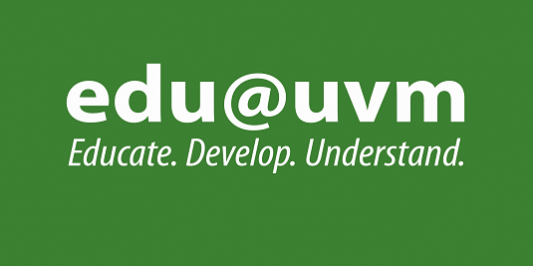 What is edu@uvm?
edu@uvm is a three-day learning event offering more than 30 workshops for UVM employees to attend free of charge. The 60- to 180-minute sessions are presented by staff, faculty, and community members. This event brings together colleagues from across campus to share knowledge and cultivate skills that will positively impact their work life.
When and where is the event?
edu@uvm is held on campus every year during Spring Break. The keynote is held in the Davis Center and the learning sessions take place in Lafayette, Old Mill, and the PDT classroom in Billings Library.

For classes you have registered for, you can see the location information in PeopleSoft by going to: Main Menu > Self Service > Learning and Development > Training Summary.
Will there be refreshments?
There will be light breakfast fare served during the Tuesday keynote presentation including fruit, gluten free granola, yogurt, baked items, organic oatmeal as well as coffee, tea and juice.

A coffee break is provided on Wednesday and Thursday 10:00am to 11:00am. Find the coffee/tea station on the 200-Floor of Lafayette/Old Mill Annex.
How do I register for a workshop?
Registration is through PeopleSoft HR. Log in and go to Main Menu > Self Service > Learning and Development > Request Training Enrollment. Select Search by Course Number. Search for a specific course code OR type in "EDU" and hit the Search button to bring up all the edu@uvm workshops.

For more detailed instructions, please see the How to Register page or the mini-manual on Registering for Professional Development.
What's the best way to get the sessions I want?
Recognize that some sessions will fill quickly, so don't wait to register.
Read through the Workshop Descriptions thoroughly, so you understand what to expect from each workshop.
Look over the Program Schedule very carefully. Notice that there are overlapping sessions, so you will need to be especially attentive when choosing the sessions you want to attend.
After you've registered, take the time to put the sessions in your calendar and set a reminder for each one.
What about waitlists?
Sessions are limited in size based on the room and/or presenter preferences. If a particular session is full, we highly encourage you to go ahead and register and check the box to be put on the waitlist. It's not unusual for people to cancel as the event nears. If they do, we will register those next in line on the waitlist and notify them via email. If enough people are waitlisted for a particular workshop, we will work to schedule an additional session if possible.
Can I just show up if it looks like there may be an open seat?
Please only attend workshops in which you have a firm registration. If your name is on the waitlist, we will make every effort to contact you if a seat becomes available.
If I registered but I'm unable to make it, what should I do?
Cancellations can not be processed through PeopleSoft self service. To cancel a registration, email develop@uvm.edu. Please include the course code of the session you wish to cancel. Last-minute cancellations may call 656-5800.

Please let us know as soon as possible so that we may enroll someone from the waitlist, should there be one.
Where are EDU workshops held?
Sessions are generally clustered around central campus: Billings, Old Mill, and Lafayette. The opening session will be held in the Davis Center.

For every workshop registration, PeopleSoft will send you a confirmation email that contains location information. The week before edu@uvm, you will receive a reminder email from PeopleSoft for each workshop you registered for. The reminder email(s) will confirm the workshop location, including room number.

After registering, you can see session locations and start and end times in your Training Summary. To locate your Training Summary, log into PeopleSoft HR and go to Main Menu > Self Service > Learning and Development > Training Summary.
What if I need special accommodations?
If you need special accommodations for any of the sessions, please indicate that in the comment box during PeopleSoft registration. If something comes up after you've registered, please e-mail develop@uvm.edu.
Have more questions or comments?
We value your feedback and we encourage you to drop us a note if you have any questions: edu@uvm.edu. After the event, you will have the opportunity to evaluate each workshop in an online survey. You will receive a separate evaluation for each workshop you attend.