EDU@UVM: Thriving in Change | March 11, 2020
Keynote Speaker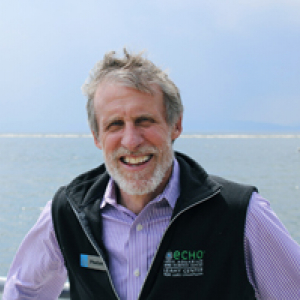 Announcing the 2020 Edu@UVM Keynote Speaker Phelan Fretz, Executive Director, ECHO Science Center.
Keynote welcoming remarks by President Suresh Garimella and Dr. Wanda Heading-Grant, Vice President of Human Resources, Diversity and Multicultural Affairs.
Wednesday, March 11th @ 8:15 AM | Davis Center, Grand Maple Ballroom
Phelan is Executive Director of ECHO, Leahy Center for Lake Champlain on Burlington's waterfront. Phelan decided to move from his position at the Museum of Science and Industry in Chicago, the largest science museum in the country, to become executive director of the still unbuilt ECHO. Since his arrival, ECHO has triumphed and failed, resisted change and embraced it. As a leader, you wear it all. After four strategic plans, 51 exhibits, transitioning from 2 staff to today's 31 dedicated folks that make the magic everyday, and engaging hundreds of community members to chart ECHO's future. Phelan will share stories and draw insights - all to nurture our change journey.
Phelan Fretz Bio
Phelan loves the outdoors and spends time skiing, cycling, hiking, birding or other outdoor pursuits. He arrived in Burlington in 2002 after 20 years in the museum industry to lead the opening of the new ECHO, Leahy Center for Lake Champlain. He has served in leadership positions at The Museum of Science and Industry in Chicago, The Academy of Natural Sciences in Philadelphia and the New England Aquarium in Boston. In 2008, he received the national Noyce Leadership Award for museum service. He received his B.S. from the Pennsylvania State University and M.S., M.Ed. and Ph.D. from the University of California, Davis. Since arriving in Vermont, he has served as Board Chair of the New England Museum Association and the Burlington Business Association, and chairs the New England Museum Director's Roundtable. He lives in Burlington with his wife Laura Botte, a sixth grade teacher at Burlington's Edmund's Middle School.  He has two boys; Caley who is journalist out of Boulder, CO and Ramsay who is in real estate in Boston, MA
Conference Overview
Morning Keynote Address:  Be the Change
Wednesday, March 11th, 8:15 AM to 9:30 AM
Advance registration required in PeopleSoft HR - Use Peoplesoft Code EDU400
Coffee and muffins will be served starting at 8:00 AM
Lunch Provided
Wednesday, March 11th, 11:45 AM
For employees attending our EDU@UVM events
Sponsored by UVM Dining
Separate Registration Required in Peoplesoft HR – Use PeopleSoft Code EDU401
Please notify Professional Development & Training (E-mail Link) by March 3rd if you have dietary restrictions
Afternoon Break and Treats
An opportunity to unplug, mingle and enjoy!
Coffee, cookies, popcorn and hot cider.
Sponsored by Staff Council and PD&T.
Acknowledgements
EDU@UVM is generously supported by Blue Cross Blue Shield of Vermont, Hickok & Boardman, UVM Dining and the Division of Human Resources, Diversity and Multicultural Affairs. Thank you!