News Tool users will now add news stories directly to Drupal.
How to create and publish a story
The Drupal interface is a bit different from what you've used in the News Tool, but you will be able to add and edit all your story content in one system without the importing delays you may be used to with Drupal (that's called a "silver lining").
Step 1: GET DRUPAL ACCESS
If you are not a member of the Drupal group that you are publishing news for, reach out to that group's administrator and request to be added.
Step 2: LOGIN TO DRUPAL
Step 3: ADD CONTENT THROUGH CONTENT TYPE "UVM NEWS STORY"
Add content > UVM News Story
 
Step 4: ADD GROUP INFORMATION
Groups Audience: Set this to the News Tool group that most accurately reflects the banner and menu you would want your news story associated with.
News Groups Approved to Display this Story: Any groups that are added here will automatically have this story appear in their feed upon publication. If you are unsure if this group would want this news story, you can ask them and add them later. Groups here are mapping to the legacy news tool group names. Begin typing and yours will appear. You can add more than one.
Step 5: ADD AUTHOR INFORMATION
Step 6: ADD YOUR STORY TEXT
This information will look familiar to users of the legacy News Tool. Format as normal.
Change in workflow for uploading inline images: When you upload an image in a text field, it is important to double-click on the image, then delete the pre-filled width and height so that the image will scale properly on mobile.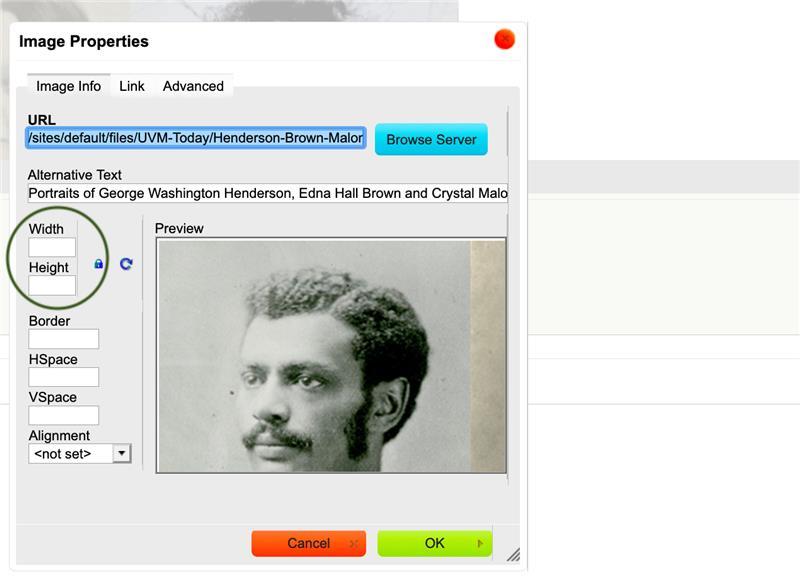 Step 7: ADD RELATED LINKS
Step 8: TEMPLATE ELEMENTS
"Template elements" is the tab in the legacy News Tool where users added images and video. The same is true here. Image size is still 800x400. If you choose a featured video instead of a featured image, you can add this to the Featured Video field using this format if using YouTube (embed link https://youtu.be/yeS6PAqn2pU).
Step 9: PUBLISH YOUR STORY
This interim version of the news tool uses the toggle for "Moderate" when publishing. This will not be a new feature if you've ever published Drupal pages. Note that upon publishing, all groups listed in "News Groups Approved to Display this Story" will receive this story in their feed.
IMPORTANT NOTE: Moderate will be turned on on the morning of January 12. If you attempt to use this method of publishing news BEFORE January 12, your news will publish to the groups listed immediately upon saving.
If you'd like to test this before January 12 and publish something to your unit's news feed that you wish to get rid of, you simply change the "Primary News Group" field to "XXXXDeleteXXXX" group like you would normally in order to delete a Drupal page.

How to see all of your group's news stories
Users will navigate to their Drupal Workbench in order to find the list of all stories related to their groups. Once you sort by content type, in this case "UVM News Story," you will receive a list of results by group (all groups in which you are a user). You can also search by name, or part of a story's name, to locate an individual story.
Shortcut: "All My Content" button in top menu, sort by content type:

How to "get" another group's story to appear in your feed
Similar to the "old" News Tool, you still have to ask the story owner to add your news group to their "News Groups Approved to Display this Story" field. The main difference here will be that you will get the story upon save and will not have to approve it in a separate step.
Get help!
We realize change can be tricky, especially when it changes your workflow. Please stick with us as we work toward improving your news experience. If you need help please drop by Web Help Hours for live assistance.