A Theater Performance and Discussion
Cuts: Responding to Student Climate Concerns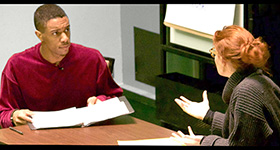 The CTL welcomes the University of Michigan Center for Research on Learning and Teaching Players to UVM on May 14, 2019 for a performance and discussion of Cuts: Responding to Student Climate Concerns. Actors will perform a sketch about an African-American student who, at the end of an office-hour meeting, tells their instructor about a set of racially problematic comments that were made by students (and ignored by a professor) in another class. This sketch raises issues of how to work with students around climate issues, and discussion is interwoven throughout the performance.
Audience remarks:
"It's compelling to see these behaviors acted out, rather than just discussing hypotheticals. It's also useful to hear and practice using the language of inclusive teaching. The session leader was really a role model in that way."
"Beautiful work! So difficult and so important. Great job."
"It was valuable seeing how students can express challenges differently, thinking about how to work with anger, and hearing instructors' perspectives on different ways of taking action."
In the session, participants will:
Consider the impacts of an 'isolated' bias incident on a targeted student
Reflect on the ways they listen to others' stories about negative experiences of climate
Develop strategies for responding to concerns shared with them in ways that might mitigate rather than exacerbate existing climate concerns
From their website: "Though many universities aspire to cultivate a climate that is welcoming to the members of their diverse student, faculty, and staff bodies, we know that the lived experiences of many in our communities don't always align with these aspirations. In this […] session, participants will think together about the many forces that shape campus climate and work toward developing or refining a skill set that will allow them to respond productively and compassionately to individuals who have negative experiences of climate at their universities."
These actors use performance and dialogue to explore how to create learning environments in which diverse students and instructors can excel. The use of theater in professional development enables the audience to experience multiple perspectives on complex issues in academic life and to engage in the tension that can arise when these viewpoints intersect. Performance allows viewers to step back, observe, and pay attention to familiar interpersonal dynamics, while at the same time being emotionally engaged with what's happening on stage and critically reflecting on how this situation relates to professional practice.
UVM Co-Sponsors and Supporters:
Center for Teaching and Learning
Office of the Provost, Faculty Professional Advancement Program
Office of the Vice President, Division of Human Resources, Diversity and Multicultural Affairs
Diversity, Engagement & Professional Development
Center for Cultural Pluralism
Date: May 14, 2019
Register: Go to calendar posting to see times and to register.
Location: Silver Maple Ballroom, Davis Center
Website: University of Michigan Center for Research on Learning and Teaching Players
Follow-up Workshop
On May 15th, Cynthia Reyes (Associate Professor, Education) will present a workshop at the CTL about using role-play as a teaching technique, particularly in Diversity 1 courses. Read more and register on the Events Calendar.