Blackboard – Course Menu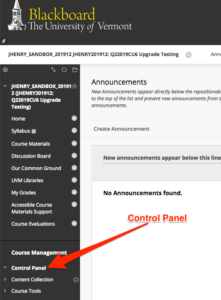 The Course Menu, to the left of the Blackboard window, acts as the primary way to navigate a course. It contains links to content areas in the course, to tools that students can use to communicate with you or each other, to helpful UVM resources, to various tools for writing, or to their grades. Every course at UVM comes with a pre-set menu, but you can change, delete, or add to this menu as needed.
As the course Instructor or TA you will also see the Control Panel area of the menu. This area contains the functions you will need as the owner of the course to:
record student grades,
copy or archive the course so that you can re-use the content in later courses,
create student groups,
access other course tools,
track student activity.
How To Use the Course Menu:
« Previous page: Edit Mode
» Next page: Course Banners