Designing for Learning Program
The Designing for Learning Program helps faculty reimagine their courses without barriers to learning. While working on a particular course, faculty participants will:
Learn strategies for removing obstacles to learning
Explore evidence-based practices for course design
Experience ongoing collegial conversations about teaching and learning
Create an inclusive, empathetic, and action-oriented teaching community
Receive follow-up support from the CTL and WID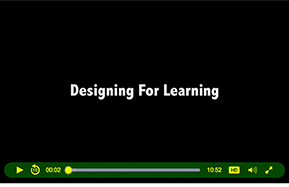 Participants talking about the Designing for Learning Program
The program, offered in May, involves two and a half days of interactive workshops. We'll identify what prevents students from succeeding in a given course, options for removing barriers to desired outcomes, and course design that support an inclusive learning environment. Program facilitators Annie Murray-Close (CTL), Susanmarie Harrington (WID), and Holly Buckland Parker (CTL) draw on their expertise in their disciplines and in faculty development to create a productive and collaborative experience.
Registration for May 2020 opens soon!
View previous program participants.
Co-sponsored by Center for Teaching and Learning and The Writing the Disciplines Program.