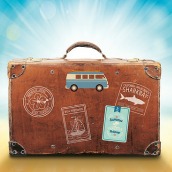 Summer is fast approaching...make sure you'll be ready for any international travel plans. While international travel affords expanded opportunities, in today's changing world it also brings additional considerations. From recent European terror attacks to the Zika virus, travelers need to know the steps they should take to better protect themselves and help ensure a safe and successful trip.
If you are traveling abroad for UVM-approved business, research, or study, a few pre-trip planning steps are critical for your safety. In addition to obtaining the required UVM travel authorization prior to traveling internationally, employees should become familiar with the services of our partner, International SOS (ISOS). Employees are strongly encouraged to obtain a wallet card with ISOS contact information as well as register their trip so that travelers can be quickly located and assisted in emergencies. The ISOS website describing employee services can be accessed at https://www.internationalsos.com/member-zone and by entering UVM's member number 11BSGC000020 in the member log in field. For questions on coverage provided, call Risk Management at (802) 656-3242.
It is always a good idea to enroll your trip with the U.S. Department of State's STEP (Smart Traveler Enrollment Program). This will allow the government to send you updates about travel alerts and recommendations regarding the locations you will be visiting. Even if you're not enrolled, their website provides the latest information regarding your destination, see: travel.state.gov
UVM has developed an International Travel Preparation Checklist and a separate International Travel FAQ to help your trip be successful.
These documents help you to locate information on necessary travel documents, vaccinations, financial information, insurance coverage, possible restrictions on bringing equipment or other technology into foreign countries and other compliance and safety tips.
Then...bon voyage, adiós, arrivederci, totsiens, zàijiàn, auf wiedersehen!