Stay in the heart of it all:
Get caught up in the excitement of Commencement weekend by staying in our centrally located University Heights North complex.
On the morning of commencement, wake up and relax knowing you are less than a five-minute walk from all major on-campus ceremonies.
Staying on campus will offer you the satisfaction of avoiding traffic, and parking is conveniently located next to housing.
Unbeatable value and affordability:
Stay in comfort at our University Heights accommodations, which include full linen service, complimentary wireless internet, and semi-private bathrooms
Our friendly concierge desk staff will be on hand to guide you around campus to the various ceremonies or to guide you to any downtown destination to celebrate your graduate's big day
Room description and rates:
Rooms have semi-private bathrooms shared by no more than four individuals
If you book a double room you are paying for two long twin beds and may bring one guest
If you book a single room you are paying for one twin long bed
There is a two-night minimum
Rooms are available for the nights of May 17-20
Provided in rooms:
Bed, dresser, wardrobe, desk and chair
Recycle bin and trash can
Linen Package (pillow and pillowcase, a mattress pad, two flat sheets and blanket, bath towel and facecloth) An exchange of linens or additional blankets may be requested at the University Heights North front desk.
A bar of soap and plastic cup
Parking:
Parking for all overnight guests is available free of charge in lots near University Heights North.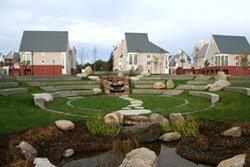 Single Room with Linen: $88.00 per night
Double Room with Linen: $126.00 per night
PLEASE NOTE: If you opt to stay until Monday, May 20, there will be a campus-wide maintenance on Sunday May 19, resulting in a loss of hot water after 3:00 PM
Register online or over the phone by calling our main office (Mon.– Fri. from 8:00 a.m. – 4:30 p.m.): 802-656-5665, Ext. 2
We look forward to seeing you on campus!