The following UVM/CESS templates are available for your convenience to create posters or flyers for announcements, events, special lectures, presentations, call for proposals, research/scholarship opportunities, and so on.
These 11x17 poster templates are PDFs that can be edited and customized with your own text, graphics and images. You will need Adobe Acrobat Pro to edit the PDFs. You can also contact UVM Print/Mail to help you.
Fonts and color palette in these examples align with the UVM Creative Style Guide. Text and background color combinations in these example meet or exceed Web Content Accessibility Guidelines (WCAG).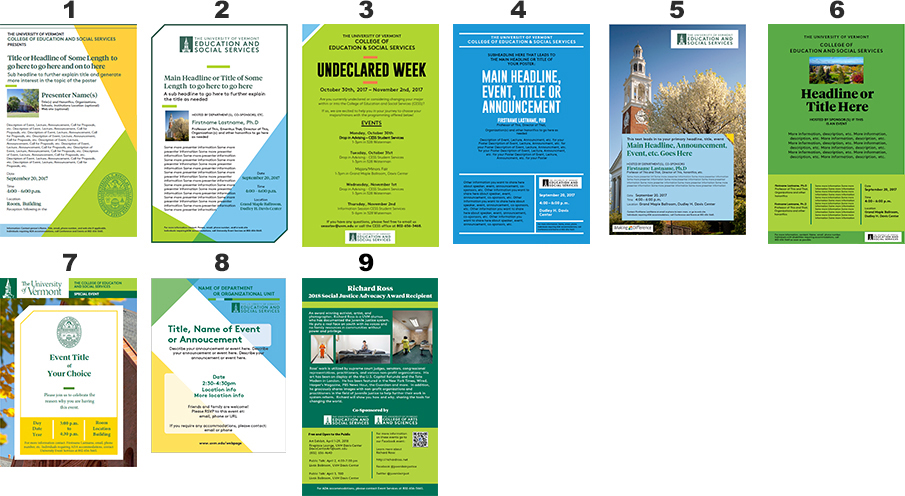 The images above show the general format of each template. Click the links below to download a template:
Template 1 |
Template 2 |
Template 3 |
Template 4 |
Template 5 |
Template 6 |
Template 7 |
Template 8 |
Template 9
Accessibility
It is important to be aware of the color combinations you use when placing colored text on a colored background so your poster or flyer is accessible to all audiences.
To help you understand Web Content Accessibility Guidelines (WCAG), please use this reference sheet —
WCAG 2.0 Color Contrast Ratios and the UVM Color Palette — for color contrast combinations within the UVM color palette that meet and exceed accessibility standards.