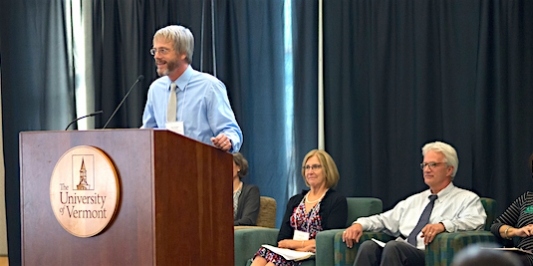 Every year, the College of Education and Social Services at the University of Vermont, together with Vermont supervisory unions and school districts, the Vermont Agency of Education, and the Vermont NEA, join to honor the accomplishments of our state's outstanding educators.
The 37th Annual UVM Outstanding Teachers Day took place on Thursday, October 12, 2017, at the Dudley H. Davis Center. It was an exciting event where the 2017 Outstanding Teachers from every school district in Vermont were honored. We also had an exciting new addition to our ceremony. The Vermont Agency of Education announced the 2018 Vermont Teacher of the Year: Essex High School English teacher Linda Cloutier-Namdar. Here is the official press release.
We are excited and proud to host the event at UVM on October 1, 2018. The 2018 Vermont Teacher of the Year will be announced during the ceremony. This is an RSVP event.
Recipients
Please see below the lists of all our Outstanding Teacher Day award recipients.