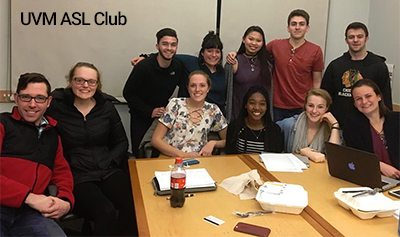 Our primary goal is to offer students a variety of courses to prepare them for the diverse needs and interests in American Deaf culture, as well as other cultures where ASL is used (i.e., Canada, Nigeria, etc.). It is our long-term goal to set up an ASL/Deaf Studies minor allowing students from various programs to enjoy this option.
We believe it's important for students to receive an education in which they are able to apply their knowledge to real-world experiences. Since American Sign Language is currently the fourth most widely used language in the United States, students can use their knowledge of ASL and Deaf culture in fields of work such as health care, law enforcement, human services, education, and more.
Our Instructors
Our lecturers are all members of the Deaf community, being Deaf themselves, and have the education and training to teach American Sign Language and Deaf culture. Instruction includes cultural experiences in the local Vermont Deaf community, readings on current Deaf events, and access to the web-based ASL Language Lab for beginning levels.
Putting Learning into Practice
All American Sign Language courses offer the small-class learning environment that students need to develop their foreign language skills. In addition, students are both required and encouraged to participate in many extra-curricular ASL social activities available for informal learning both on and off campus, or even to reside in the ASL House at Living/Learning.
Monthly Greater Burlington Deaf Club (GBDC) events for ASL conversation, our annual Deaf Awareness Week for current issues, and ASL Skit Night (once a semester) for entertainment are several of the many events that provide students opportunities to put learning into practice and make connections to further their studies, travel, or career interests in the Deaf community. Many of our students gain life-enriching experience by studying at Gallaudet University upon graduation.
Placement Assessment for American Sign Language courses
We encourage students who are considering enrollment into American Sign Language courses, and who have taken an ASL course(s) prior to coming to the University of Vermont, to take a language placement assessment (an interview with ASL faculty member). The assessment determines language proficiency and which course best fits each student's competence and knowledge of ASL. All students wishing to take the assessment should contact Dr. John Pirone at John.Pirone@uvm.edu to schedule an appointment.