See how Briana Martin, Chris Magistrale, Jamilah Vogel, and Song Nguyen are making an impact in their communities.
Meet a Few CESS Alumni
Tom Payeur (G'12)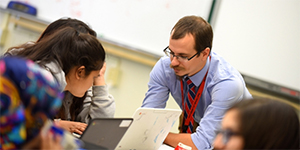 "Allowing students the opportunity to embrace change, become frustrated, and struggle to articulate what they are going through is an awe-inspiring experience." Find out how Vermont Teacher of the Year Tom Payeur is working to address educational inequities in his culturally diverse classroom in Winooski.
Shawna Wells ('04)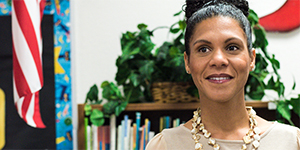 "UVM changed my trajectory as a person because I got the opportunity to work with a lot of people who really cared about humanity," says Shawna Wells ('04), who is passionate about her work to transform schools in underserved communities around the country. See how Shawna is working to build schools and opportunities.
Nydia Guity ('09)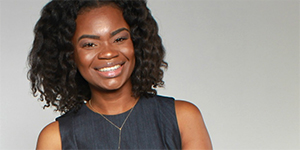 "It's rewarding to hear that I helped someone get back in touch with their own light to work towards their desired goal. I really believe in helping people to help themselves and take the lead in their life." Find out how Licensed Clinical Social Worker (LCSW) Nydia Guity is guiding the healing process in Atlanta, Georgia.
Celia Cuddy (G'98)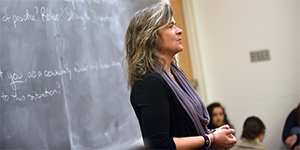 "I love that social work is explicit about our professional commitments to working for social justice. This shapes our practice at all levels as we seek to understand individual experience in the context of the political, social, and cultural landscape," says Celia Cuddy, recently honored with a special award as an outstanding teacher of Social Work at UVM. 
Darrell Goodwin (G'05)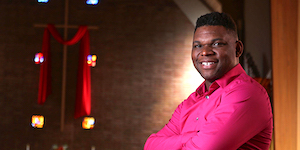 "At UVM, I immediately saw invitations to those inclusive conversations that I couldn't have imagined happening in college," says Darrell Goodwin, a 2005 graduate of the Higher Education and Student Affairs (HESA) master's degree program. Building connection is a key part of the work in his new role as the United Church of Christ's Executive Conference Minister for Southern New England. Goodwin is the first African-American LGBT individual to hold this rank in the church nationwide.
Nick Walket ('10)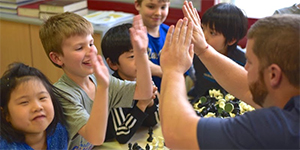 "I owe a lot to UVM. The encouragement and dedication from professors motivated me. When I graduated, the support and mentoring I received helped to provide me with the tools necessary to enter the teaching world confidently." Find out how Nick has been teaching abroad and exploring the world since graduating from UVM.
Tegan Garon ('16)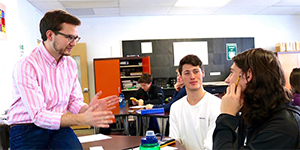 "Students now know that every day in my classroom will be different from the previous day, and I've loved using the element of surprise to engage them." Tegan has a passion for teaching "real math" to the students at his high school.
Where are they now?
CESS alumni are making a difference all around the world. Here are just a few of them:
Samantha Serrantonio ('20), Teacher, Highgate Elementary School, Vermont
Gary Margolis (G'96, '01), President and CEO, Social Sentinal
Maura Satti ('13), Social Worker, Yale New Haven Hospital, Connecticut
Abby Smith ('20), Teacher, Fort Morgan Middle School, Colorado
Grace Colbert ('18), Elementary School Teacher, Teach for America, Boston, Massachusetts
Ben Lovelette ('20), Ben Lovelette, Teacher, St. Albans City School, Vermont
Gina Abbiati ('16), Employment Consultant, Vermont Association of Business, Industry, and Rehabilitation (VABIR)
Winny Looby (G'13, '17), Disability Studies Project Coordinator, Center on Disability and Community Inclusion, University of Vermont
Leo Lambert (G'78), President Emeritus, Elon University, North Carolina
Kia'Rae Hanron ('20), Arts Learning Advisor, Clemmons Family Farm
Mark Olofson (G'17), Director of Educator Data and Preparation Program Management, Texas Education Agency
Luke Quinn ('08), Early Headstart Home Visitor, Children's Home Society of Washington (Seattle/Auburn)
Austin Brown (G'16), Associate Director of Research and Programming, Center For Young Adult Addiction and Recovery at Kennesaw State University, Georgia
Kathryn Haber ('09), Therapist, Summit Achievement Wilderness Program, Maine
Dan French (G'14), Vermont Secretary of Education
Marielena Szumowski ('10), Services Coordinator, Pathways Vermont
Joseph Peters ('02), Counseling Services Leader, Cape Fear Hospice and Lifecare Center, Wilmington, North Carolina
Erin O'Keefe ('13), Program Manager, Vermont Dept of Health, Division of Alcohol and Drug Abuse Programs