Educator Preparation
Educator preparation programs in the College of Education and Social Services span the Pre-Kindergarten through Grade 12 spectrum, leading to nearly 20 endorsement areas. Programs go through both State approval processes and national accreditation review.
State Program Approval Processes (ROPA)

Professional education programs leading to licensure are approved by the State of Vermont through the Results Oriented Program Approval (ROPA) process, which is a performance-based approach to the review. CESS educator preparation programs are approved by the Vermont Standards Board for Professional Educators.
National Accreditation

In addition to State approval, the University of Vermont's programs are the only nationally accredited educator preparation programs in Vermont. UVM has been accredited by the National Council for the Accreditation of Teacher Education (NCATE) since 1954.
In 2010, NCATE's Unit Accreditation Board voted to continue accreditation without qualifications through 2017.
Counselor Preparation

The University of Vermont Graduate Counseling Program is designed to prepare students with the professional knowledge and skills they need to act as facilitators of change and growth for individuals, groups, and organizations.

UVM's Counseling Program has two tracks: School Counseling and Clinical Mental Health Counseling. Both are accredited by the Council for Accreditation of Counseling and Related Educational Programs (CACREP).
In July 2014, the CACREP Board of Directors reviewed the program's mid-cycle report and voted to extend accreditation status of the School Counseling and Clinical Mental Health Counseling programs through the remainder of the eight-year cycle ending October 31, 2020.
Social Worker Preparation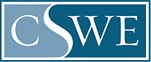 The Department of Social Work's mission is aimed at developing leaders who can work across disciplines to address broader concerns related to human service needs of vulnerable populations.

The University of Vermont hosts the only master's program in the state. And UVM is one of the few institutions in northern New York and New England with both accredited MSW and BSW degree programs.
The most recent accreditation review by the Council for Social Work Education (CSWE) occurred in February of 2011, resulting in the CSWE's Council on Accreditation to accredit the programs through 2019.