Department and University Awards for Graduate Students
There are several awards programs in the Department and University for graduate students.
Each year at Honors Day the Department gives the Kenney Award to the outstanding graduate student in mathematics. The Department also gives the Sang Kil Nam Scholarship Award to an outstanding undergraduate or graduate student in Mathematics.
The Department has one free one-year membership in the Mathematical Association of America (MAA) and several one-year American Mathematical Society (AMS) memberships. Each year the Director of the Mathematics Graduate Program awards these to the most qualified eligible graduate students. Priority for these goes to second-year M.S. students. No student will receive the award more than once.
Each year, the Graduate College holds a university-wide competition for the Graduate Student Teaching Assistant of the Year. The Department may nominate up to three students for this award (two in mathematics, one in statistics).
Also administered by the Graduate College is the Doctoral Student Scholar Award for outstanding work by a Ph.D. candidate. The recipient receives recognition and a $1,000 prize at the Graduate Hooding Ceremony.
Each summer, the Graduate College offers a number of Graduate Student Summer Research Assistantships. For details, please contact the Graduate College.
Each fall, the University initiates a Student-Faculty Research Program. Students (junior/senior undergraduates and first year graduates) may apply for funding of a joint research project with a faculty member. Funding - including a stipend and supplies - is given for either the spring or summer. Application to this program is competitive, and requires submission of a proposal for review by a faculty panel. More information, including deadlines, application forms, etc. is available from UVM's Office of Sponsored Programs (on their web site as well).
Each year the Graduate College hosts a Graduate Student Research Day around April 1st. Students engaged in research projects are strongly encouraged to participate.
Career Opportunities
A graduate degree in the mathematical sciences will give you good preparation for a career in business, industry, government, teaching or research. Graduates of our programs are employed in the computer, communications, information, financial, and pharmaceutical industries; in engineering and consulting firms; in the insurance industry as actuaries; in schools, colleges, and universities; in goverment agencies; and in a wide variety of other occupations requiring strong analytical and problem solving abilities.
Career Resources
Financial Support
All applicants to the Mathematics graduate program are considered for Graduate Teaching Fellowships and Graduate Research Fellowships. The department typically supports a total of 15 GTF's, while individual grants in the department support 5-10 GRF's. These 20-25 positions are distributed among the new and continuing M.S. and Ph.D candidates. Admission to the PhD. program generally carries with it a commitment of the department's financial and human resources sufficient to support the timely completion of the degree.
Housing
While there is some on-campus housing for graduate students, most graduate students live off campus in shared housing or in apartments.
Housing Resources
Graduate Student Research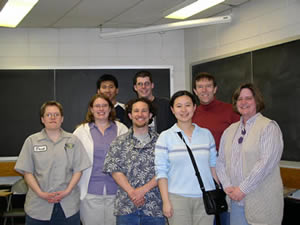 From the very beginning of his or her entrance into the PhD program, each student is matched with a faculty advisor possessing expertise in the specific area of interest. The student and advisor then work closely together to select a suitable thesis topic. The advisor makes sure that the student gains the necessary background and the tools to conduct original research on this topic. This process may include independent study courses, seminars and informal discussions involving a community of faculty and student researchers, participation in conferences, and research assistantship positions. Then with the advisor's support, the student completes a professional-quality research project.
Students working towards an MS degree also have the option of writing and defending a thesis in an area of interest. This takes the place of a standard oral examination in that area. Original discoveries are not required in this thesis, but faculty members and students have established that they certainly can happen, and make for a very rewarding experience for all parties involved.