The Ecological Engineering Residential Program is one of GreenHouse's nested programs.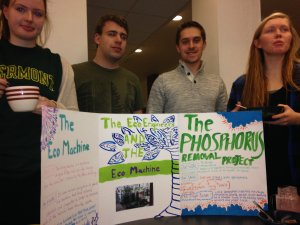 Students in the program will be involved in ecological design projects throughout that foster collaborative teamwork, teach and hone leadership skills, and provide hands-on opportunities to craft solutions to challenges faced within the local community.
This program embraces the notion that place-based ecological design emerges from the intersection of three main elements: ecological literacy, engineering knowledge and skills, and authentic social engagement.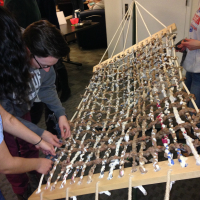 Students in the Ecological Engineers program have been collaborating on several projects including exploring new mechanisms for phosphorus removal in the living machine, proposing energy efficiency and renewable energy projects within the GreenHouse community, designing and creating a solar-powered speaker system, and designing and building a hammock made out of re-used plastic bags.
GreenHouse
GreenHouse is one of UVM's Residential Learning Communities, providing environmentally-themed programming for over 200 students from a range of majors. Established in fall 2006, GreenHouse is located within the University Heights South (UHS) Residential Complex -- a LEED-Certified building designed to be energy efficient and incorporate local and recycled construction materials. The educational programming at the GreenHouse is designed to promote ecological literacy, instill a strong sense of place, and provide a myriad of opportunities to engage in ecological design. GreenHouse provides an opportunity for students to live in an ecologically-aware community with an active and supportive learning atmosphere. Ecological Engineers are full members of the GreenHouse community and have the opportunity to participate in a wide-range of community events, workshops, and lectures throughout the academic year. All GreenHouse students enroll in a one-credit course known as Ecology of Place (NR 15) which provides an introduction to the Burlington landscape and foundation concepts in ecological design. Ecological Engineers also participate in specially developed workshops, projects, and seminars designed to complement their engineering coursework.