Our Mission
Our mission is to equip faculty and staff with the cultural and social justice competencies necessary to function at their best in their inclusive excellence, leadership and pedagogical practices, so the university can provide the highest quality of education to all.
Sherwood Smith, Ed.D, He/Him: Senior Executive Director - Diversity, Equity and Inclusion, & Director - Center for Cultural Pluralism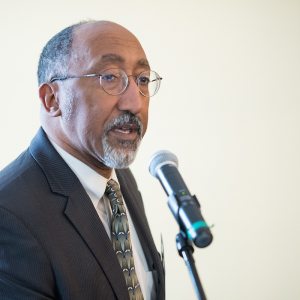 Sherwood Smith was raised on the east coast of the U.S. He moved west for six years, which included earning a B.S. in Zoology from Washington State University. His love for travel has taken him to work in Antarctica, Peace Corps in Tanzania, and Kenya as an Academic Director for the School for International Training program. Working with students has been a large part of his life with experience in student affairs administration at Washington State University, Cornell University and Penn State University as the Assistant Director for Residence Life.
Sherwood came to the University of Vermont in 1995 on a Doctoral Fellowship. Since then he has served as the Assistant Director of the ALANA Student Center, Director of the Race and Culture Course and currently has appointments as the Senior Executive Director for the Vice President for Diversity, Equity and Inclusion, as the Director of the Center for Cultural Pluralism and a Lecturer under the Department of Leadership & Developmental Sciences.
His work involves professional development training for faculty and staff, conducting research and teaching graduate courses in Educational Foundations and undergraduate courses in Human Development & Family Studies. Most recently he co-edited a two part series titled: Our Stories: the Experience of Black Professionals on Predominantly White Campuses. He enjoys cooking, bicycling, fencing and is an amateur herpetologist.
Contact: Sherwood Smith (email link)
Masha Shelukha, She/Her: Administrative Assistant - Center for Cultural Pluralism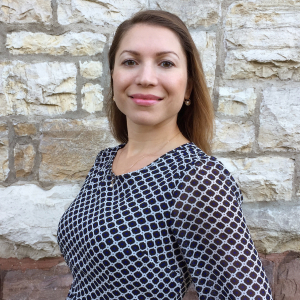 I provide executive support for the Senior Director for the Diversity, Equity and Inclusion. My responsibilities include managing the budgets, logistical support for the events/programs, supervising student staff and act as an Office Manager for Allen House.  
I was born in West Siberian region of USSR and grew up in Post-Communist Russia. At the time, The Iron Curtain has fallen, and I was fortunate to catch a travel bug from early childhood. Constant thirst of adventure took to me to the many unusual and amazing places on earth, where I had a chance to experience living amongst other cultures, to get education in Hospitality and Travel Industry and truly become a person I am today.
My first introduction to life in Vermont was while in High School. Many years later this unique state became my home, where I live a typical life of a Vermonter filled with spending time on the lake, hiking, snowshoeing, practicing hot yoga, dance, traveling to Montreal and enjoying food from the local farms.
Contact: Masha Shelukha (email link)
Marie Waterworth, She/Her: Program & Event Coordinator - Center for Cultural Pluralism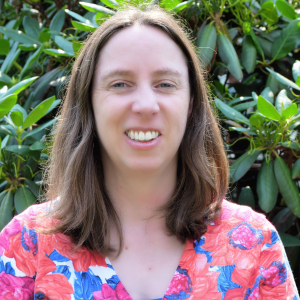 Marie is the Program and Event Coordinator in the Division of Diversity, Equity and Inclusion (DEI). She is responsible for the planning and coordination of DEI's signature diversity and engagement campus events which include: Rev. Dr. Martin Luther King, Jr. Celebration, Education and Learning Series, Blackboard Jungle Symposium, and the UVM-Abenaki Summer Happening Program. Marie has been with UVM since 2008. She has worked in higher education for 17 years.   
Contact: Marie Waterworth (email link)