Indigenous Peoples' Day: History, Meaning and Critical Current Issues
On October 11th, 2021 the University of Vermont acknowledges the Indigenous Peoples' Day by hosting a community discussion with Aaron York (Nulhegan Band of the Coosuk Abenaki Nation),  and the DAWNLAND documentary film screening, which tells an important story of Native American children systematically forced by government agents from their homes and placed with white families for most of the 20th century.
2021 Program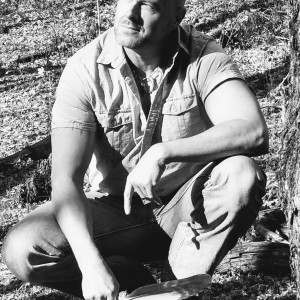 DAWNLAND Film screening and Community Discussion
In-Person at UVM DAVIS CENTER LIVAK BALLROOM 
Monday, October 11th
12:00-1:30 P.M. Film Screening 
4:30-6:00 P.M Community Discussion with presenter Aaron York 
Join the event virtually
Stream the event via Teams Live
This event is free and open to the public. 
Presenter
Aaron York, an internationally celebrated  traditional artist, educator, public speaker and mentor.  He is the owner and founder of the Red Child Studio of Fine Wabanaki Arts.  Although best known for his skills as a birchbark canoe artisan, he has also revived several other rare Wabanaki art forms such as brides boxes and highly embellished crooked knives. His pieces are of equal complexity to the ancestral examples known in museums and private collections.  As a result, his arts can be found in museums and high-end private collections resting aside pieces of Wabanaki greats such as Tomah Joseph and Eugene Francis of the 1800s.  Aaron's arts have earned many prestigious publications as well placement Hollywood films, commercials, documentaries and radio worldwide.

In 2005, Aaron was asked by the Ministikwan Cree First Nation in Saskatchewan to go west and help them rediscover their traditional canoe forms.  Since then, he has worked extensively with several western First nations in Canada to revive their aboriginal watercraft.  In return for his teaching out west, he was immersed in all other aspects of Algonquian culture that he had been longing to learn.  Aaron attributes being well rounded culturally to travelling to cousin nations where he found missing pieces of his nation's traditions that were lost to colonization.  Aaron now has strong family ties in the treaty 6 and treaty 7 regions of Saskatchewan and Alberta.  In short, his time and bond with his western Cree cousins was life altering, and the quality of his art is what he attributes to making that relationship possible.
Additional Resources 
Film Dawnland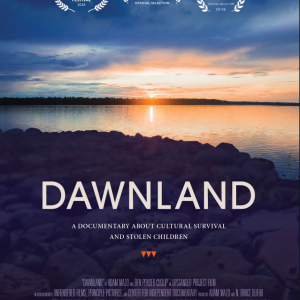 Film is available through UVM Howe Library on demand:
Click here to view the film (use the password below)
Password: silver.five.dove
Directors: Adam Mazo, Ben Pender-Cudlip
Producers: Adam Mazo, N. Bruce Duthu, J.D. (Houma)
Executive Producers: Heather Rae, Beth Murphy, Shirley K. Sneve (Rosebud Sioux)
Director of Photography: Ben Pender-Cudlip
Editor: Kristen Salerno
Composer: Jennifer Kreisberg (Tuscarora)
Learning Director: Mishy Lesser, Ed.D.
Impact Producer: Tracy Rector (Multicultural), Adam Mazo
Senior Advisor: Chris Newell (Passamaquoddy)
"My foster mother told me … she would save me from being Penobscot."
For most of the 20th century, government agents systematically forced Native American children from their homes and placed them with white families. As recently as the 1970's, one in four Native children nationwide were living in non-Native foster care, adoptive homes, or boarding schools. Many children experienced devastating emotional and physical harm by adults who mistreated them and tried to erase their cultural identity.
Now, for the first time, they are being asked to share their stories.
In Maine, a historic investigation—the first government-sanctioned truth and reconciliation commission (TRC) in the United States—begins a bold journey. For over two years, Native and non-Native commissioners travel across Maine. They gather testimony and bear witness to the devastating impact of the state's child welfare practices on families in Maliseet, Micmac, Passamaquoddy and Penobscot tribal communities. Collectively, these tribes make up the Wabanaki people
The feature-length documentary DAWNLAND follows the TRC to contemporary Wabanaki communities to witness intimate, sacred moments of truth-telling and healing. With exclusive access to this groundbreaking process and never-before-seen footage, the film reveals the untold narrative of Indigenous child removal in the United States.
The TRC discovers that state power continues to be used to break up Wabanaki families, threatening the very existence of the Wabanaki people. Can they right this wrong and turn around a broken child welfare system? DAWNLAND foregrounds the immense challenges that this commission faces as they work toward truth, reconciliation, and the survival of all Indigenous peoples.
Living at the easternmost edge of Turtle Island, the Wabanaki people are the first to see the new day's light. If harmony and justice begin in the east, as some prophesize, surely the TRC is a sign of this beginning.
EMMY® AWARD-WINNER – OUTSTANDING RESEARCH
JURY AWARD WINNER – BEST DOCUMENTARY WOODS HOLE FILM FESTIVAL, BUFFALO INTERNATIONAL FILM FESTIVAL
AUDIENCE AWARD WINNER – BEST DOCUMENTARY, TACOMA FILM FESTIVAL
2020 Program
Panel Discussion
Panelists: 
Judy Dow, a nationally known Abenaki educator and artist who has conducted research regarding the structure and significance of Abenaki kinship systems, as well as the Vermont Eugenics Survey that targeted her family. She also utilizes her artistry in Abenaki basket making to make connections to the broader eugenics movement and its lasting effects. Judy will provide unique insight into the familial and communal impact of sterilization efforts in Vermont.
Nancy Gallagher, the author of the book "Breeding Better Vermonters: The Eugenics Project in the Green Mountain State," (University Press of New England, 1999). Jeffrey Marshall from UVM Special Collections notes that Gallagher is "probably the most knowledgeable local scholar to speak on eugenics in Vermont." Through her research and continued engagement with the topic, Gallagher will be able to provide historical context and answer questions related to UVM's involvement with eugenics.
Lacey Sloan, a biracial Indigenous cisgender woman (Osage nation), wanderer and Associate Professor in the Department of Social Work at the University of Vermont. Her current areas of focus are the development of social work education and practice based in local and Indigenous knowledge; the intersection of Indigenous knowledge and practices, environmental justice and peace; and, violence against women. Her decades of commitment to social justice will inform her reflection on the film.
Adrian Ivakhiv, UVM Professor of Environmental Thought and Culture. Prof. Ivakhiv is a cultural theorist and ecophilosopher, whose research and teaching are focused at the intersections of ecology, culture, identity, religion, media, philosophy, and the creative arts. 
Moderator:  Alan Maynard, UVM Professor of Nursing & Health Sciences. Areas of expertise and research: Study of ethnic and racial diversity in the healthcare workforce, Recruitment and retention of underrepresented minority students and faculty, Concussion policy and law.
The University of Vermont acknowledges this historic event by hosting a panel discussion with invited guests and the Amá film screening, which tells an important and untold story: the abuses committed against Native American women by the US Government during the 1960s and 70s.  
Film Amá
The film Amá is available at the UVM Howe Library.
Directed by Lorna Tucker
Produced by Ged Doherty, Colin Firth, Lorna Tucker, Nuala O'Leary
Cinematography: Andrea Vecchiato
Editor: Claire Ferguson
Native Advisor: LaNada War Jack
A Raindog Films Production in association with Bedlam Productions
Film Description:
Amá (mother) is a feature length documentary which tells an important and untold story: the abuses committed against Native American women by the United States Government during the 1960's and 70's: removed from their families and sent to boarding schools, forced relocation away from their traditional lands and involuntary sterilization.
The result of nine years painstaking and sensitive work by filmmaker Lorna Tucker, the film features the testimony of many Native Americans, including three remarkable women who tell their stories - Jean Whitehorse, Yvonne Swan and Charon Aseytoyer - as well as a revealing and rare interview with Dr. Reimart Ravenholt whose population control ideas were the framework for some of the government policies directed at Native American women.
It is estimated over a twenty-year period between 1960 and 1980 that tens of thousands of Native American women were sterilized without their knowledge or consent. Due to poor record-keeping during this era the number may in fact be much higher. Many of these women went to their graves having suffered this incredible abuse of power.
The film ends with a call to action – to back a campaign to get a formal apology from the American government, which would then open the door for the women to bring forth a lawsuit. This call to action will be supported by an online petition on the film's website.
Amá was co-produced by Raindog Films, a London-based production company helmed by Academy-award winning actor Colin Firth and prolific film producer Ged Doherty, and the Roddick Foundation.
The film had its world premiere in London on December 6, 2018 during the Global Health Film Festival and its U.S. premiere on February 7, 2019 during the Santa Barbara International Film Festival.
Amá has been picked up for distribution by Dartmouth Films, which is working to have the film acquired for national and global audiences while also executing an outreach plan to ensure that the film is screened widely in Native American communities and in major film festivals to learn more information about the film.
2019 Program
October 14, 2019 was the first Vermont official Indigenous Peoples' Day. The bill made Vermont one of the first states to legally rename Columbus Day, following the example of New Mexico, Maine, Alaska, North Carolina, Minnesota, and South Dakota (where the second Monday in October is called Native American Day).
The University of Vermont acknowledged the first official Indigenous Peoples' Day in Vermont by inviting a keynote speaker Sarah Adams-Cornell, an advocate for Native American culture, education and rights. She is a citizen of the Choctaw Nation of Oklahoma, who co-created a inter-tribal women empowering organization called "Matriarch" in Oklahoma, serves on the Board of Directors for ACLU of Oklahoma and is an activist in Residence at the University of Oklahoma. Her work encompasses child welfare, environment justice, LGBTQ equality, Native mascot issues and women's rights.
Sarah has worked alongside other advocates to eliminate Land Run Reenactments and Native mascots in OKC Public Schools and co-created a new program called Oklahoma History Day, a diverse and accurate account of Oklahoma history through statehood.
Her talk will expand our understanding of the significance of this holiday, both historical and within the larger national conversations on Indigenous rights.   The goal is continue to inform our UVM communities of learning, how to address injustice through education, openness, integrity, justice, respect and responsibility.
Speaker Biography
Sarah Adams-Cornell is an advocate for Native American culture, education and rights. She is a citizen of the Choctaw Nation of Oklahoma and serves on the Board of Directors for Sovereign Community School where she focuses on community engagement. Sarah co-created an intertribal, empowerment organization called Matriarch that serves indigenous women in central and NE Oklahoma. Sarah is the Vice President of the Board of Directors for the ACLU of Oklahoma. She also serves on the Board of Directors for Live Indigenous OK and worked alongside other Native advocates to see Indigenous Peoples' Day recognized in OKC. Sarah is a board member of Not Your Mascot, proud ally member of Central Oklahoma Two Spirit Society, serves on the leadership team of Women's March OKC and was Activist in Residence at the University of Oklahoma.
Sarah was awarded the NCAIED Native American 40 Under 40, Journal Record 50 Women Making a Difference, Phi Mu Woman of the Year, the Gazette's 40 Under 40, Oklahoma Humanitarian Award and Cottey College Young Alumna of the Year.
Sarah has worked alongside other advocates to eliminate Land Run Reenactments and Native mascots in OKC Public Schools and co-created a program called Oklahoma History Day, a diverse and accurate account of Oklahoma history through statehood.
Through Matriarch, Live Indigenous OK and Idle No More Central Oklahoma, Sarah has helped host rallies and meetings throughout Oklahoma to educate and bring light to human and environmental injustices. Both groups champion issues like MMIW, the Violence Against Women Act, preservation of the Indian Child Welfare Act, opposition to Tar Sands pipelines and DAPL, protection of sacred sites, healing generational trauma, supporting Native youth and preserving Native traditions.
Sarah values the traditional ways of her people. She and her daughters have learned the Choctaw language and enjoy singing, dance, beading, basket making, dress making and history classes to help preserve, pass on and celebrate their Choctaw heritage.
She attended Cottey College and the University of Oklahoma and has two daughters, Bella and Gabbie. Sarah works for her parent's company, RedLand Sheet Metal and lives in Oklahoma City.