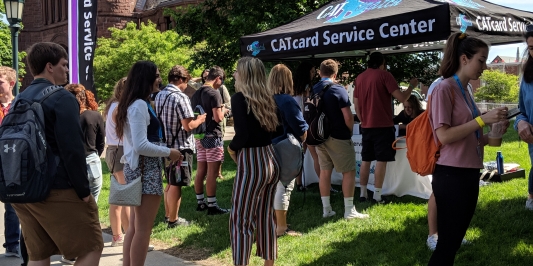 New students MUST submit a photo before arriving to campus!
Getting your CATcard is one of your first steps to life on campus.  The CATcard is the official identification card for students, faculty and staff here at the University of Vermont.  It provides access to CAT$cratch UVM's prepaid debit account, meal plans, library, printing, fitness center and serves as a free bus pass for the GMT bus system.  It will be programmed with access to your residence hall and any other door access that may be required.
How do I know if my photo was accepted?
In the WEBcard Center you should set your NOTIFICATION PREFERENCE to be either Email or Text.  The system will use the method you've choosen to notify you if your photo was accepted or rejected.
I'm not sure I received notification that my photo was accepted, how do I check now?
Log back into your WEBcard Center account and select SUBMIT PHOTO.  It will say CURRENT PHOTO (that means accepted) or PENDING.
When and where do I get my CATcard?
New students MUST submit a photo before arriving to campus. You do so by signing up for the WEBcard Center. The CATcard team will be available to distribute your CATcard on move in day. The pick up location will be communicated to you later this summer. You will need to bring a government issued photo ID to pick up your CATcard like a drivers license or passport (high school ID's are not accepted).
What does it cost? What if I lose it?
There is no fee for your first card. If you lose your card, sign on to the WEBcard Center or GET Mobile app to put a hold on it which will block anyone from using it. If found you can sign back on to remove the hold. Another option is calling the CATcard Office; after business hours you can call the UVM Police to have them put a hold on it. If you cannot find your card a new one will be reissued for $25.00 and the old one will be permanently deactivated.
What if I dislike my picture or damage my card?
Students replace their card for a variety of reasons. It may be you dislike your picture, damaged your card, or it has been put through the wash. Just bring your most current card to our office and we will reprint you a new one for $10.00.
What is CAT$cratch and why would I need it?
CAT$cratch is UVM's prepaid debit account which works right off your CATcard. Opening a CAT$cratch account is a safe, convenient way to have access to goods and services without always having your wallet with you. Typically you will have your ID card with you as it is needed for your residence hall and to access your meal plan. CAT$cratch has no fees attached so you will never overdraw this account. If you lose a debit or credit card it may take a couple weeks to replace, where as the CATcard can be replaced the same day.
How do I open an account and make deposits?
Opening an account is easy, just print off the application form and either mail it or bring it in to our office. After the account is open you can make deposits in our office, using cash, check, and credit or debit card. If writing a check, make payable to UVM. Deposits can be made through our secure website, just click web deposit or in the GET Mobile app. Credit card deposits are treated as a payment and not a cash advance by your credit card company. The credit card holder must be present when making a deposit in our office. Remember, CAT$cratch rolls over semester to semester and year to year. If you have a balance left when you graduate or leave the University we take a $10.00 closing fee and send you a check for the rest.
How do I check my balance?
Using the WEBcard Center or GET Mobile app you can check your balance and transaction history. Giving your parents your WEBcard password (different from your email password) and your email address will allow them to also check your balance and transaction history.
Where can CAT$cratch be used?
CAT$cratch can be used  for a variety of goods and services including buying books at UVM Bookstore and groceries downtown at City Market. For a complete list of hundreds of locations, check out our on and off campus web pages.
Do I need a debit or credit card?
CAT$cratch cannot be used for cash withdrawals so it is a good idea to have a way to access cash.
What if I lose it, can someone else use it?
Your CATcard is a photo ID which is checked at the time of purchase. Businesses not only check the photo but require a signature as well.
What is the difference between CAT$cratch and meal points?
Meal points will work in Sodexo dining locations which include Brennan's and the Marketplace as well as CATpause Convenience Store and Henderson's Cafe. CAT$cratch also works in all the dining locations, vending machines, the UVM Bookstore, CATpause, Henderson's and over 100 off-campus locations in the Burlington area. CAT$cratch rolls over year to year and semester to semester! Please contact the meal plan office for further points details. 
What is Student Advantage?
Join Student advantage and get discounts at Greyhound, Target.com, and choice hotels, 1-800 Flowers.com, Foot Locker and so much more.  You get a full year of savings for only $30.  Use the Student Advantage MyDeals mobile app and get access to over 350,000 discounts nation-wide.  If you sign-up now for the Student Advantage mobile app you can start saving immediately.  Use the following URL to signup: https://www.studentadvantage.com/uvm  
Still have questions?
For any questions we have not covered, please feel free to call us at 802-656-4509 or email CATcard. We will be doing CATcard presentations during the orientation sessions and will also be available at the resource fair on the second day of each session. See you on campus!