Application Criteria:
Recipients must be full-time matriculated undergraduate or graduate students in the College of Arts and Sciences at UVM at the time the travel occurs.
Prize funds must be used to attend a meeting, conference, symposium, etc., to allow the student to present his/her scholarly work, to perform or exhibit a work of art, or to advance his/her scholarly/artistic abilities.
Priority will be given to applicants who will have a UVM academic mentor attending the same meeting or conference. Mentors must be faculty in the College of Arts and Sciences.
Students applying for funding for events already attended will have lower priority than those applying for future conferences.
About Ronald Suiter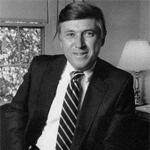 The Ronald Suiter Prize was established in memory of Ronald Suiter, Vice President for Development and Alumni Relations at the University of Vermont from 1988 to 1990.
The prize is uniquely appropriate as a legacy for Ronald Suiter because:
Ronald Suiter's own education was in a college of arts and sciences and the broad nature of the education provided by that college was always of special importance to him. It is, therefore, appropriate that this endowment be awarded through the College of Arts and Sciences at UVM.
As Ronald Suiter developed as an academic administrator, he always maintained a strong belief that his primary responsibility was, as an educator, to improve the educational experiences of students. This endowment will, therefore, be used to provide prizes to students at both the undergraduate and graduate levels.
Ronald Suiter was particularly alert to the importance of scholarly exchange of ideas both in education and in the initial stages of a scholarly career. Additionally, he had a lifelong love of travel, feeling that it enhanced and enriched life in uncountable ways. Therefore, this endowment will be used to allow students to travel to conferences, symposia, workshops, and the like in order to report on their research and/or enhance their scholarly or artistic abilities.
Ronald Suiter believed that mentoring is critical to the professional development of students. With this in mind, in awarding these prizes priority will be given to those students who will be accompanied by a faculty member or staff person.
Ronald Suiter had a strong sense of adventure and it is for this reason that these prizes may be used for travel outside of the United States.