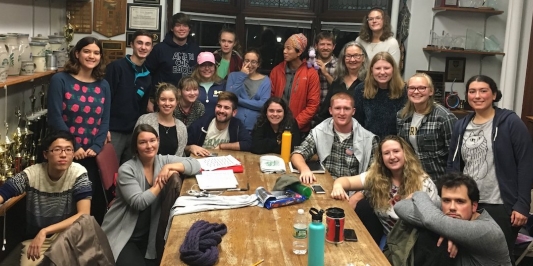 The Lawrence Debate Union (LDU) provides students at the University of Vermont an opportunity to enhance their communication and argument skills through the practice of intercollegiate debate. Debate is widely recognized as an activity that significantly improves students' communication, research, analytical, and critical thinking skills. It is therefore an activity that can sharpen students' academic performance and success in any major or area of study. Debate is an especially important skill in our contemporary society, as it improves your ability to communicate across difference in an increasingly globalized world. And, debate is fun!
Many students assume that if they merely get a college degree it will be their ticket to success. Many other students assume that a high G.P.A. will be their ticket to success. But the real key to success in graduate school, in the professions, in the business world, in public service, and in your personal life is to have abilities and to use them properly. Every project and every task you face will require you to analyze problems, spell out logical alternatives, select the proper alternative, and then persuade others of the correctness of your ideas through clear and organized communication. This is where debate comes in: debate teaches you to be an informed advocate of ideas, and of yourself.
The LDU is open to all UVM students, regardless of prior debate experience or academic focus. Our world renowned coaching staff trains students in debating excellence at all levels. The LDU is comprised of students from all colleges across the University. Students participate in the debate team through engaging in focused practices (led by coaches and varsity debaters) and traveling to intercollegiate debate tournaments at the regional, national, and international level. Students on the debate team have traveled the globe to compete and represent the University of Vermont at the highest levels of debate, from Thessaloniki, Greece to Cape Town, South Africa. In addition, the Lawrence Debate Union is actively engaged on the UVM campus as well as the wider community. Some of our community activities include hosting public debates, the SPEAK Vermont Prison Debate Initiative, the UVM Janus Forum, global debate workshops, Global Gateway Program debate workshops, amongst others. Join us!
The LDU meets every Monday at 6 pm at 475 Main St. All are welcome!
Did you know?
UVM's Lawrence Debate Union is recognized as one of the premiere debate teams in the USA and internationally.
UVM has twice been national champions in debate (in 1950 and 2016).
The team is open to all students--stop by the Huber House at 475 Main St. to find out more!