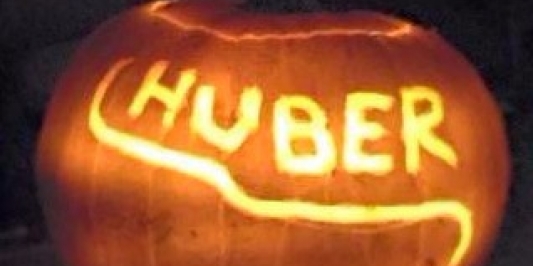 The Lawrence Debate Union at the University of Vermont will host the 2019 Huber Debates on November 2-3, 2019 on the University of Vermont campus.
Robert ("Doc") Huber coached debate at the University of Vermont for over 45 years, winning several national titles. He was a debate innovator, and he was named by the National Communication Association one of the academic organization's outstanding members of the 20th century. He arranged for the endowment of the Lawrence Debate Union and the Lawrence Professorship. We hold this tournament whenever we can to salute his commitment to debate. In addition, the tournament commemorates Doc's successor, Alfred "Tuna" Snider, who passed away in 2015.

The tournament will feature competition in the British Parliamentary/Worlds debate format. WUDC procedures, eligibility and rules. The tournament will feature 5 preliminary rounds of debate and break to semi-final elimination rounds (with novice breakout). Judging will be according to the N-1 rule.
Awards will be presented to teams placing, the top speakers in open and novice, and top ESL speakers. In addition, the tournament will give out the Alfred Tuna Snider top "rookie" speaker award to the top speaker with no middle or high school debate experience in their first year of college debate.
Fees will be $65 per person (debater, judge, observer). Breakfast and lunch will be provided on both Saturday and Sunday. There are VERY FEW hired judges available at $100 per judge. Checks should be payable to the University of Vermont, with "Debate" in the memo. Our federal ID # is 03-0179440. Our Vermont registration certificate # is 10113.
We will apply and enforce the University of Vermont Code of Students Rights and Responsibilities. Please inspect this document. http://www.uvm.edu/policies/student/studentcode.pdf
CA Team: Will be announced soon!
Registration will open at the beginning of September and will close Monday, October 28, 2019 at 10 am.

TOURNAMENT HOTEL
We are very lucky to have the use of the Best Western Windjammer Inn and Conference Center as our main housing source.
WINDJAMMER:
Address:
1076 Williston Road, South Burlington, Vermont, 05403-5718, US
Phone: 802/863-1125
Fax: 802/658-1296
Individual teams need to reserve and pay on their own. Reservations can be made by calling the Sales Manager, Doug McSweeney at 802-651-0638 or contacting him via email at doug@windjammergroup.com
Rates are quite excellent, at $91 for doubles and queens. No more than 5 people in each room.
** The above room rates include continental breakfast
For those from out of town, we will have limited shuttle services between this hotel and the tournament. This is the only hotel where we can provide shuttle service.
The Best Western Windjammer Inn is a 100% non-smoking establishment. If there is evidence that your room has been smoked in, there will be a charge of one nights rent and a cleaning fee of $100.00. Thank you for your cooperation with this policy.
PLEASE RESERVE ROOMS EARLY AS THIS HOTEL WILL PROBABLY SELL OUT.
When the rooms at Windjammer sell out, they will help you find rooms at a nearby hotel at a comparable rate.
DATE OF ARRIVAL:
All rooms must be reserved with a major credit card number, corporate account, or a deposit of the first night's rent including tax, paid in advance.
Please note that rooms reserved on a guaranteed basis will be held all evening. A "no-show" will incur the room cost of that night. There will be no charge for cancellations received 48 hours prior to day of arrival.
Our check in time is anytime after 3 P.M. daily and our check out time is 11 A.M. Late check- outs and early check-ins are not guaranteed. Late check outs must be pre-arranged and approved by the front desk at least 24 hours in advance. Please see the front desk for availability in regards to extending your length of stay.
SHIPPING AND PACKAGES: In the event Group will be shipping packages to Hotel, Group must notify Hotel at least one week in advance. All packages sent to Hotel must include the name of Group, date of program and number of items. Shipment should arrive no earlier than three (3) days prior to event. Hotel has no liability for the delivery, security or condition of the packages.
RESTAURANT:
The Windjammer Restaurant, although a part of the Best Western, is managed separately and has set hours of operation. If any group would like to request that the Upper Deck Pub or Windjammer Restaurant extend their operating hours for their group, this must be arranged with the Restaurant Management team at 802-862-6585.
TOURNAMENT SCHEDULE: Coming soon!
GETTING TO AND FROM BURLINGTON, VERMONT
BY AIR:
BTV IS THE AIRPORT.
BTV IS WELL SERVED BY FLIGHTS FROM CHICAGO O'HARE, NYC (BOTH JFK AND LGA AS WELL AS EWR).
WE SUGGEST JETBLUE THROUGH JFK. LOTS OF GOOD CONNECTING FLIGHTS THROUGH DETROIT AS WELL.
OR TRY GETTING A CHEAPER FLIGHT TO BOSTON AND TAKE THE MEGABUS, SEE BELOW.
BTV IS VERY CLOSE TO CAMPUS. A TAXI IS FAIRLY CHEAP TO UVM OR TO ANY HOTELS WE ARE USING.
THE HOTEL OFTEN HAS A SHUTTLE THAT CAN TAKE YOU TO THE AIRPORT WHEN YOU LEAVE.
BY TRAIN:
AMERICA IS NOT REALLY A PASSENGER TRAIN COUNTRY, BUT IT IS GETTING BETTER. THE PROBLEM
WITH TRAINS TO BURLINGTON IS THAT THEY ARE NOT THAT DIRECT, BUT TAKE YOU TO ESSEX JUNCTION, VERMONT.
THE VERMONTER RUNS DAILY FROM WASHINGTON, DC TO ST. ALBANS, VERMONT, BUT YOU WOULD GET OFF THE TRAIN AT ESSEX JUNCTION.
BY BUS:
GREYHOUND AND VERMONT TRANSIT BUSES NO LONGER SERVE THE OLD BUS STATION, BUT NOW USE
THE AIRPORT HAS A STATION, WHICH IS A GOOD MOVE. HOWEVER, GREYHOUND IS ONLY ADVERTISING BUSES FROM BOSTON AND MONTREAL TO BURLINGTON. NYC-BURLINGTON LOOKS LIKE A DIFFICULT BUS TRIP.
MEGABUS HAS STARTED A CHEAP ROUTE FROM BOSTON & NYC WITH DIRECT BUSES MAKING THE ROUTE IN ABOUT 4 HOURS, ARRIVING AT UVM CAMPUS. THE PRICES ARE CHEAP AND THE BUSES ARE NICE.
http://us.megabus.com/ CHECK THEIR SCHEDULE FOR UPDATES ON TIMES!
BOSTON: DEPART SOUTH STATION
NEW YORK: DEPART 34TH STREET BETWEEN 11TH & 12TH AVENUE