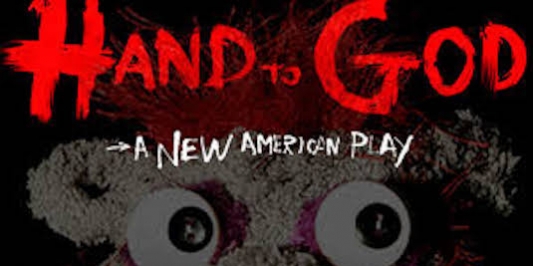 Hand to God
Audition and Performance Information
If you have any questions regarding the audition process please contact Craig Wells at Craig.Wells@uvm.edu
AUDITONS: Tuesday, April 24th at 6:00 PM
CALL BACKS: Thursday, April 26th at 6:00 PM
Audition sign-up sheets and sides will be posted in Royall Tyler Theatre on Wednesday, April 18th.
REHEARSALS: Rehearsals begin Monday, August 27. Rehearsals will be held weeknight from 6:30-10:00 and on Saturdays from 12:00-5:00
PERFORMANCE DATES:
• Wednesday, Oct 3 at 7:30
• Thursday, Oct 4 at 7:30
• Friday, Oct 5 at 7:30
• Saturday, Oct 6 at 2:00 and 7:30
• Sunday, Oct 7 at 2:00
THE STORY: Six months after the death of his father, shy and quiet Jason finds an outlet for his anxiety at the Christian Puppet Ministry, in the devoutly religious, relatively quiet small town of Cypress, Texas. Jason's complicated relationships with the town pastor, the school bully, the girl next door, and—most especially—his mother, are thrown into upheaval when Jason's puppet, Tyrone, takes on a shocking and dangerously irreverent personality all its own. HAND TO GOD explores the startlingly fragile nature of faith, morality, and the ties that bind us.
THE CHARACTERS:
• Jason/Tyrone -- Margery's introverted son/Jason's foul-mouthed sock puppet
• Margery -- Jason's recently widowed mother
• Pastor Greg -- a middle-aged preacher of the church
• Timothy -- a horny, expletive-spouting young man
• Jessica/Jolene -- a nerdy and deadbeat young woman/Jessica's buxom sock puppet

THE SETTING: A Lutheran church basement and other locations in CYPRESS, TX
TIME: The present
"Furiously funny…the play makes us laugh while juggling those big themes that make life so terrifying: death, depression, alcoholism, sexual guilt, emotional repression, religious hypocrisy and the eternal battle between your good puppet and your bad puppet." —Variety.