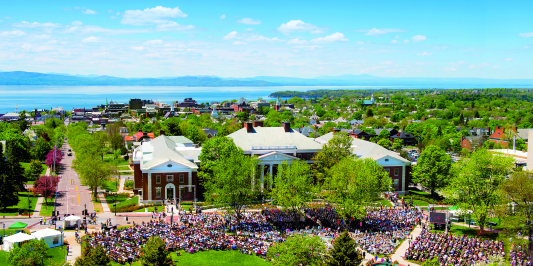 Plan ahead.
Are you interested in continuing your education past your undergraduate degree? UVM offers several 'tracks' that will help you craft your undergraduate experience to help you become an ideal candidate for graduate programs. 
Pre-Health and Pre-Med
Interested in pursuing a career in health? Make sure to work with your academic advisor to plan your course of study and join the Health Professions Interest Group to keep on top of related opportinities. 
Pre-Law
Earning a law degree requires a significant investment in time, energy, and money. This commitment is best met if you spend some time learning about yourself, the law school experience, and the practice of law. To help you with this process, pre-law advising at UVM is provided by the Pre-Law Advisors at the Career Center and several faculty members within the College of Arts & Sciences. 
Graduate School
Whether you are planning to obtain a Masters or PhD, either here at UVM or at another institution, your undergraduate experience can be honed to ensure you are an excellent candidate when it finally comes time to apply. Speak with your advisor and take a look at the Career Center's application guide to see what programs in your field are looking for. 
Want to expedite things? UVM offers Accelerated Masters Programs in several majors.