Launching an Academic Career in Holocaust Studies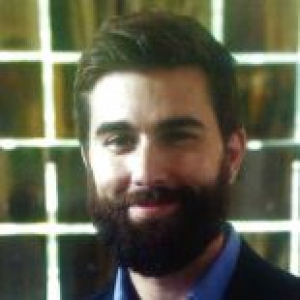 Mark Alexander transferred to UVM with the intent of finishing his B.S. in education and finding a teaching job in Vermont. But after changing his major to history, his academic and career path took a fascinating detour.
Especially influential were classes with professor Jonathan Huener, who teaches in the history department and the Miller Center for Holocaust Studies. "I took several of his classes on the Holocaust and the history of Poland, and he was my academic adviser when I continued at UVM for my M.A. Dr. Huener's insights into the issues we studied in his classes have helped to shape my understandings of the field, and he provided a consistent example of thoughtful academic professionalism that I will probably always hold up as a model for myself."
After completing his M.A. at UVM, Alexander finished coursework for his Ph.D. at George Washington University and successfully defended his dissertation prospectus. His research focuses on the CIA's Cold War efforts to undermine the Soviet Union through the use of Belarusian Nazi collaborators, an interest he developed at UVM. At GWU he has access to a wealth of primary resources in Washington, including the National Security Archive.
Alexander recently completed a year serving as a research assistant for the Eleanor Roosevelt Papers Project at GWU. While annotating documents and correspondence for publication of Volume III of Roosevelt's papers (spanning the early 1950s), he engaged his interests in Roosevelt's positions on the United Nations, McCarthyism, race relations, and the young Israeli state.
He's also working as a contracted research assistant at the United States Holocaust Memorial Museum in D.C. "I'm working on a series of primary source educational supplements based on documents from the archives of the International Tracing Service (ITS)," Alexander says. He explains that the ITS was originally founded during the Second World War to trace missing and displaced persons. The database now contains millions of documents, and in recent years it has become available for public research. The educational supplements he helps produce are intended to expose students in undergraduate college history classes to newly available documents that will provide more dimension to research and perspectives on the Holocaust.
At the end of the spring 2017 semester, Alexander attended the Warren Fellowship in Houston—he'll be returning as a permanent guest faculty member of the Holocaust Museum Houston's teacher training seminars three times a year. He's still deeply interested in education, though perhaps not as a high school teacher. "I had originally intended to go into public education, but I began to think about a career in academia as I attended graduate level courses in history at UVM. I've been pursuing this path as a PhD student, but I have also become very interested in the possibilities of educational outreach that can be done by historians working in museums."