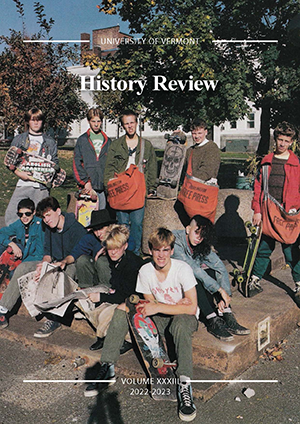 The UVM History Review offers two kinds of special opportunities for UVM students.
Students can participate in the process of editing and producing the Review itself, learning how a scholarly journal comes into being. They can also submit a paper related to history for consideration by the Board of Editors of the Review, gaining experience in the process of critical peer review and revision for publication.
Participate in a student-run and produced scholarly journal.
The UVM History Review is sponsored by the history department and is entirely student run. A history department faculty member serves as an advisor, providing guidance on the editorial process, on the layout, and on publication. Students serving on the Board of Editors formulate editorial policy, undertake the constructive review of each manuscript, and offer detailed suggestions for revision to each author. They then read each revised manuscript, transpose it to digital format, design the layout and illustrations in the Review, and finally send it along to the printer.
Those students who participate in this aspect of the Review gain a complete picture of what is involved in the publishing of a real history journal.
 
Experience contributing to a scholarly journal.
 
For each student who chooses to participate by submitting a manuscript, the experience is one of learning just what is involved in turning his or her writing into a publishable product. Each author needs to meet the editorial criteria of this peer reviewed journal. Each student receives constructive criticism, decides how to respond to that criticism, makes revisions, and re-submits the manuscript. Successful revisions lead to publication.
Respected and recognized review
 
The UVM History Review has been well regarded by student and faculty historians, by the UVM community, and by professional historians nationally. The Phi Alpha Theta Honor Society in History, a national organization of professional historians, graduate and undergraduate students, has twice awarded the UVM History Review first place among all of the student history journals published by all of the history departments in the U.S. The award is the Gerald D. Nash Prize. In addition to recognition in the Phi Alpha Theta national journal, The Historian, the prize awards $250.00 to help continue the publication of the Review at UVM.
The UVM history department takes pride in this student publication. It is available free of charge to our contributing students. Parents of UVM students, and UVM alumni have also taken a special interest in the UVM History Review.
Previous issues: