Recipient of the 2012 Robert V. Daniels Award: Professor Wolfgang Mieder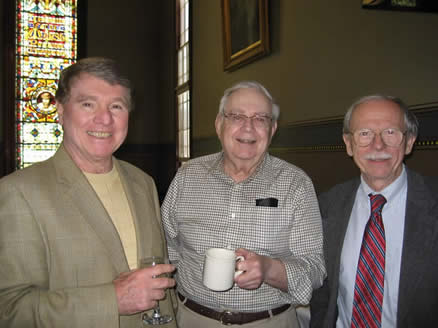 Photo: Prof. Mieder at right.
Prof. Mieder received his Ph.D. from Michigan State University in 1970, and came to UVM in 1971 as an assistant professor. He passed through tenure, associate professor, and achieved the top rank of full professor by 1978, only 7 years after arriving.
He is a scholar of German literature, the history of the German language, fairy tales, and folk songs, and is the world's leading paremiologist.  He also served as chair of the UVM Department of German and Russian from 1977 until 2008.
Prof. Mieder appears to live by an old Latin proverb - "Nulla dies sine linea" (not a day without a line drawn—typically read as—not a day shall pass without something done), having been author or editor of at least 205 books and as author or co-author of 465 articles. Since 1984 he has been the editor of Proverbium: Yearbook of International Proverb Scholarship, an annual book that is published by the University of Vermont with subscriptions from around the world.  In typical generous fashion, Prof. Mieder has personally packed up and shipped copies of Proverbium to well over one hundred scholars in lesser developed countries, and around the world, for 28 years. Proverbium celebrated its 25th anniversary in 2008 with volume 25.  Prof. Mieder is also the editor of the Supplement Series to Proverbium, and has been a guest professor at the University of Freiburg in Germany and at the University of California at Berkeley.

We recognize Prof. Mieder as a renowned and much beloved teacher and mentor, who has impacted deeply countless students in his home department and across the college, but especially in the European and Russian/East European Studies programs. He and his courses have been a pillar of the European Studies Program for decades, and, consummate university citizen that he is, he has been a major supporter and participant in the life of our international studies community – first with the Area and International Studies Program and then with the Global and Regional Studies Program as it is now known. His steady, constructive, and supportive engagement with this broader international studies community is something that is much appreciated by our Program.
Prof. Kevin McKenna, a colleague and close friend, cited one of Prof. Mieder's favorite medieval Latin proverbs – one that truly applies to Prof. Mieder himself: "Bis dat qui cito dat" meaning "He gives twice who gives quickly."  Whether helping his students or his colleagues at UVM and around the world, no one gives more of himself in helping others or does so as quickly and selflessly as Wolfgang Mieder.