Undergrad research leads to grad program at UPenn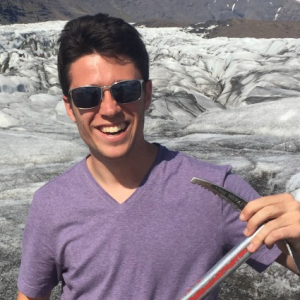 Kyle McCarthy '20 experimented widely with twin interests in data analytics and the environment at UVM, eventually settling on geology as a major.
It wasn't always an easy path. "I switched my major three times," he laughs now. "I came in as a mechanical engineering major and then realized it wasn't for me. I switched to environmental studies but I also wanted something that engaged my technical abilities."
He found the perfect balance in the geology department, which addresses his love for the outdoors while satisfying his talent for data analysis. McCarthy has been accepted to the University of Pennsylvania where he will earn a master's degree in urban and spatial analytics.
"I loved the small classes geology offers," McCarthy said.  "Most of my classes were between 10-15 students, even in introductory courses."
He appreciated the opportunity to work closely with professors, develop close relationships with fellow geology students, and participate in field excursions to explore the many geologically significant sites Vermont has to offer. McCarthy completed two research projects including a class paper that was published in his Crystal Chemistry and Geochronology course, which he calls "one of the most valuable learning experiences I had at UVM."
As McCarthy winds up his studies at UVM, he's working as an intern for the Chittenden County Planning Commission, updating housing databases and creating emergency town maps. "It dovetails closely with what I'd like to do in my career, using data in ways that improves life in communities. So it's really the perfect preparation for what I want to do."
Burlington Region Opportunities
External Research and Internship Opportunities
U.S. Geological Survey (USGS) internships/opportunities:
The USGS offers opportunities for research in a variety of capacities including student employment, volunteerism, post-doctoral work, and more. They offer diverse employment opportunities for students in biology, hydrology, computer science, cartography, geology, administration, and many other fields. Consult the USGS for current openings.
Cardiff University/UVM Exchange Program:
Students can study for an academic year or spring semester. UVM Office of International Education (OIE)
Duke University Integrated Marine Conservation Program:
The Nicholas School  of the Environment brings together the School of Forestry and Environmental Studies, the Department of Geology and the Duke Marine Lab. This program teaches the principles necessary for the conservation and preservation of the coastal and oceanic environment. A tremendous opportunity for students at any level to think about conservation biology and policy, they also offer summer tuition scholarships on a competitive basis. For further information, contact ml_admissions@env.duke.edu, or call (252) 504-7502.
Harbor Branch Oceanographic Institution's summer internship program:
Florida Atlantic University applyto the 10-week program for immersion in a marine science or technology
Offered to qualified undergraduate and graduate students with interests in marine-related fields, the program provides work experience in a research environment. The areas of study may include, but are not limited to: aquaculture, biomedical marine research, marine biology, marine mammal research, marine natural product chemistry, marine microbiology, ocean engineering, and oceanography. Check their Web site for an application form.
National Science Foundation Research for Undergraduates:
NSF funds a large number of research opportunities for undergraduate students through its Web site. An REU site consists of a group of ten or so undergraduates who work in the research programs of the host institution. Each student is associated with a specific research project, where he/she works closely with the faculty and other researchers. Students are granted stipends and, in many cases, assistance with housing and travel. Undergraduate students supported with NSF funds must be citizens or permanent residents of the United States or its possessions. An REU site may be at either a U.S. or foreign location. Learn more about current opportunities on their Web site.
Sea Education Association (SEA):
SEA's programs are designed to develop a student's passion for the application of scientific thinking and method to the marine environment. The experience is enriched when the students connect their investigations to the traditions of maritime culture. Add to this the enduring challenge of individual and community endeavor aboard a tall ship, and you have the recipe for one of the most interesting, demanding, and rewarding academic experiences available to any student, anywhere. Learn more on the SEA Web site.
Juneau Ice Field Research program:
Undergraduate and graduate students participate in an interdisciplinary study of the fifth largest ice field in the Western Hemisphere. The program is offered in cooperation with the University of Idaho's Glaciological & Arctic Sciences Institute, the Juneau Ice Field Research Program (JIRP) and The Foundation for Glacier and Environmental Research (FGER) in Juneau, AK. An environmental science emphasis is also cooperative with the University of Alaska and the University of Idaho. Learn more on their Web site.
Geology summer field camps:
Comprehensive listing, as well as postings on 2nd floor of UVM's Geology Department in Delehanty Hall.
GeoCorps America™: The GeoCorps America™
GSA strives to increase the presence of geoscientists on federal lands, thereby increasing the permanent hiring of geoscientists, enhancing the transfer of geoscience knowledge to land managers and the public, and raising awareness of the geosciences. If you're interested in spending your summer working on an exciting geoscience field project in a national forest or national park, check out the many paid positions on their Web site. The School for Field Studies10: Investigate hands-on, community-focused environmental field work in some of the most beautiful and threatened ecosystems in the world while earning college credit. SFS offers fall and spring semester programs and thirty day summer courses at our field study centers in Australia, British Columbia, the British West Indies, Costa Rica, Baja, Mexico and Kenya. Learn more on their Web site.
The Keck Consortium:
The consortium consists of twelve geoscience departments working together to improve education through research. They sponsor projects involving faculty and undergraduate students in a collaborative effort to solve geoscience problems. Learn more on their Web site.
GeoClub
The Geology Club is open to anyone with an interest in Geology. Club activities include field trips, camping, day hikes, movie nights, guest speakers, etc. Check out our group page on Facebook ("UVM Geology Club") where you can find out about upcoming events. The faculty advisor to the Geology Club is John Hughes.
Geology Seminar Series
Students and faculty interact with seminar guest speakers we invite from around the country, and the world. The UVM Geology Department has a long tradition of offering professional seminars and short courses every semester.  We gratefully acknowledge the Lintilhac Foundation for an endowment making it possible to host our speakers.
Both the Fall and Spring Seminar Series begin at 4:15 pm in Delehanty Hall room 219 University of Vermont, Trinity Campus. Refreshments are served at 4:00 in Delehanty room 316. For further information, contact Assistant Professor Nico Perdrial.
Geology Seminar Series The second half of the Spring 2020 Series is cancelled due to COVID-19.
For more depth of understanding, enroll in the 200 level course Seminar in Geology; attend seminars on current topics in the geosciences, including attendance at departmental visiting speaker series, reading and analysis of related scholarly publications, and oral/written reports.
Honors and Awards
A variety of honors are bestowed on students by the Geology Department in recognition of excellence in coursework and research. The first of such awards is made to the geology student with the most outstanding performance in the Introduction to Earth System Science class: the David Bucke Award. In subsequent years, excellence in research is rewarded by the Hawley, Mudge and Pieratti Awards. At the culmination of a student's academic career, the geology faculty award the Doll Award to the most outstanding geology graduate. Students additionally have the opportunity to join the Geology Honor Society. Admission to this is grade-contingent. The list of names of these recipients include many current outstanding professional geologists.
Charles G. Doll Award
The Charles Doll Award is given to the most outstanding graduating senior in geology. Charles Doll was the state geologist and he began teaching full-time at UVM in 1927. He was chairman of the department of geology from 1946 until his retirement in 1964. He also produced the first state bedrock geologic map. The selection criteria for the Doll Award is based on a combination of overall grade point average, grade point average in geology, undergraduate research and service to the department. The department faculty makes the selection of the Doll winner during the spring semester. The recipient of this award receives a gift and their name is engraved on a plaque that hangs in the department seminar room. The list of Doll Award winners is a distinguished one and includes individuals who have gone on to significant professional achievements.
2020 Charles G. Doll Award winners: Sarah Powers and Landon Williamson
Previous Charles G. Doll Award Recipients:
2019 Erin Dundas and John Sawyer Shaw
2018 Sam Portnoy
2017 Patrick Sullivan and William K. Vincett III
2016 Pat Nee
2015 Christina Strathearn
2014 Travis Dawson
2013 Abigail Ruksznis
2012 Sandra Cronauer
2011Maggie McMillan and Laura Wilson
2010 Graham Hagen-Peter and Hal Earle
2009 Robbie Charnock
2008 Karen Derman and Maartje Melchiors
2007 Lydia G. Smith and Robert K. Zimmermann
2006 No recipient
2005 Andrew Duling
2004 Leila Pascale
2003 Alysa Snyder
2002 Lyman Persico
2001 Andrew McKinney
2000 Sarah Fuller
1999 Simon Rupard
1998 Brad Rosenheim
1997 Tanya Unger
1996 Jeremy Hourigan
1995 Kristine Bryan
1994 no recipient
1993 Kristan Doolan
1992 Matt Robinson
1991 Del Martin
1990 Jesse P. Hunt
1989 Thomas X. Homzo
1988 no recipient
1987 Kevin A. Silva
1986 M. Alisa Borre
1984 Becky Dorsey
The David Bucke Award for Excellence in Introductory Geology
The David Bucke Award is given to the student with the highest grade point average in the Introductory Geology class. The award is named after Dave Bucke, who devoted his career at UVM to the "intro" class. The recipient's name is engraved on a plaque that hangs in the Department Seminar room.
2020 Bucke Award winner: Savannah Zigic
Previous David Bucke Award Recipients
2019 Rachel Galus
2018 Sarah Powers
2017 Brooke Phillips
2016  Sonya Bullon Gluck
 2015 Maria Noth
2014 Erin Kiely
2013 Kaitlyn Vitez
2012 Derek Vines
2011 Douglas MacLeod and Travis Dawson
2010 Abigail O'Donnell and Sandra Cronauer
2009 Amanda Northrop
2007-2008 No recipient
2006 Rebecca Hammer-Lester
2005 No recipient
2004 Jessica Kuonen and Andy Boyle
2003 Robert Zimmermann
2001-2002 No recipient
2000 Benjamin Cichanowski
Hawley Award
The Hawley Award is given to current UVM geology majors, minors and environmental science geology concentrators who seek funds to undertake research with the approval of a faculty mentor and the Department Chair. The award is named after a distinguished stratigrapher and sedimentologist who conducted research in, and became a Vermont resident upon his retirement from the petroleum industry.
2020 Hawley Award winners: Eva Pepe and Katelyn Silvia
Previous Hawley Award Recipients
2019 Corey Beutel, Caleb Bogin, Eryka Collins, Isabelle Ellenthal, Kyle McCarthy, Sarah Powers, John Sawyer Shaw, Lindsey Stinson, Anny Zani
2018 Sam Knapp, Frank Piasecki, Timothy Quesnell, Ryan VanHorn, Erin Dundas, Jesse Lee, Landon Williamson, Lily Zanta
2017 Aaron Shavitz, Paige Greenfield, Morgan Schwartz, Landon Williamson, Christian Wurzburger, Alex Gagnon
2016 Beth Pidgeon, Connor Remington, Garrett Hazebrouck, Kyle Titsworth, Mitchell Miers, Stephen Maglio, William Vincett III, Jack Ehrenkranz, Maxwell Landsman-Gerjoi, Patrick Sullivan
2015 Brendan Auth, Ingrid Evans, Ed Bonner, Michael Chirigos, Elizabeth Pidgeon, Elisabeth McElwee, Amy Lewis, Maxwell Landsman-Gerjoi, Garrett Hazebrouck
2014 Christina Strathearn, Chandler Noyes, Andrew Groth, Lauren Jones
2013 Eric Weber
2012 Douglas MacLeod, Elizabeth Olliver, Jeffrey Tinklepaugh, Eric Weber
2011 Sandra Cronauer, Amanda Northrop
2010 Coleman Adams, Alyssa Findlay, Rachel Gregory, Donald Hefferon, Maggie McMillan, Laura Wilson
2009 Hal Earle, Sam Schultz, Kirsten Stokes
2008 Ian Donovan, Marissa Saccente, Christy Leonard, Edward Greiner
2007 Karen Derman, Maartje Melchiors
2006 Grace Cameron, Jessica Kuonen, Molly Ogden, Lydia Smith
2005 Danielle Eastman, Kristin Katoski, Tristan Hansell, Aaron Hartman, Sean Leavitt, Robert Zimmermann
2004 Elizabeth Mann, Robert Zimmermann
2003 Deborah Shulman, Serena Hollmeyer, Maria Hayes
2002 Megan McGee, Keith Musselman, Nathan Toke
2001 Ben Cichanowski, Paul Meilillo, Alyssa Snyder, Nathan Toke
2000 Ian Hodgdon, Laura Troeger, Lyman Persico, Dale Walker, Andrew Bosley, Andrew McKinney
1999 Megan Duni, Brad Rosenheim, Krista Polley, Megan Hoffeller, John Crockett, Erin Taylor, Dan Eurich, Meg Modley, Sarah Fuller, Patrick Keane
1998 Joya Tetreault, Darrin Santos, Megan Duni, Matt Mudge, Jim Parker, Jeremy Malczyk
1996 Christopher Valin, Ethan Escowitz, David Shaw, Tanya Unger
1995 Erin Golec, Parker Hackett
1994 Kristine Bryan
1992 Kristan Doolan
1991 Audra Brown, Lindsay Gannon
1990 Sarah McFeeters, Donna Gerace
The Mudge Family Award
The Mudge Award, established to support undergraduate research in the Geology Department, is given to current UVM geology majors, minors and environmental science geology concentrators who seek funds to undertake research with the approval of a faculty mentor and the Department Chair. The family of recent UVM geology alumnus Matt Mudge donates funds for the award.
2020 Mudge Award winner: No recipient
Previous Mudge Award Recipients
2019 No recipient
2018 Gene O Desideraggio, Melinda Quock
2017 Peter Sarkis, Amanda Rossi, Katelyn Czyzyk, Sam Portnoy, Erin Dundas
2016 Taylor Norton, Katelyn Czyzyk
2015 No recipients
2014 Jacob Vincent, Christina Strathearn, Eleanor Johnson
2013 Abigai Ruksznis and Elizabeth Olliver
2012 Emily Aldrich, Catherine Jenkins, Taylor Kravits, Elizabeth Olliver, Abigail Ruksznis
2011 Maggie McMillan
2010 Michael Ingram
2009 No recipient
2008 Robbie Charnock
2007 Rachel Lomonaco, Maartje Melchiors
2006 Zach Swander, Jed Greenberg
2005 No recipient
2004 Sean Leavitt, Paul Montane
2003 Greg VanGilder
2002 Richard Morse, Ashley Desmond
2000 Angela Conlan, Laura Troeger
The Pieratti Award
The Pieratti Award is made to undergraduates seeking financial support for summer field studies. The award may be applied to expenses for attending a formal field camp or for expenses related to field experiences arranged between a student and faculty sponsor. Funds for the award are provided by Ms. Denise Pieratti, an alumna of the UVM Geology Department (MS, 1976).
This Award is no longer funded
Previous Pieratti Award Recipients
2012 Samuel Hellman
2008 Christina Leonard and Rebecca Hammer Lester
2004 Rachel Lomonaco
2002 Alysa Snyder, Christyanne Melendez
2000 Laura Troeger
Sigma Gamma Epsilon, UVM Chapter of SGE is Eta Kappa
Sigma Gamma Epsilon, the national Geology honor society, was established in 1915 to recognize scholarship and professionalism in the Earth sciences. Its objectives include scholastic, scientific and professional advancement of its members and the extension of relations of friendship and assistance among colleges and universities which are devoted to the advancement of the Earth Sciences. The general average required for admission to Sigma Gamma Epsilon is a minimum overall average of 2.67 (out of 4.00). A 3.00 grade point is the minimum requirement for all courses in the Earth Sciences.
TARR Award, Honors Society: Sigma Gamma Epsilon, Eta Kappa Chapter:Scholarship is the essential basis of the Award, but personality, leadership, contribution to the school, and ability to get along with people are worthy of consideration. The Award preferably should be granted to a graduating senior. UVM Geology Department began recognizing Tarr Award winners in 2017, as indicated in bold print.
Sigma Gamma Epsilon Inductees 2020: *Senior
Mark Hehlen*
Liviya Kovacevic
Grant Long
Sarah Powers*
Emma Robinson
Timothy Quesnell*
Sigma Gamma Epsilon Inductees 2019: *Senior
Caleb Bogins*
Erin L. Dundas*
Kyle Patrick McCarthy
Griffin Patrick O'Brien
Sarah K. Powers*
John L. Sawyer Shaw*
Landon David Williamson
Sigma Gamma Epsilon Inductees 2018: *Senior
Erin Dundas
Alix M. Ehlers*
Brandon M.Follansbee*
Kyle Partick McCarthy
Samantha Portnoy*
Timothy Quesnell
Amanda Rossi*
John L. Sawyer Shaw
Kyle Titsworth*
Sigma Gamma Epsilon Inductees 2017: *Senior
Jack Ehrenkranz 
Brandon M. Follansbee
Samantha Portnoy
Connor Remington*
John L. Sawyer Shaw
Patrick Richard Sullivan *
William K. Vincett III *
Sigma Gamma Epsilon Inductees 2016: *Senior
Roth Bernstein *
Jack Ehrenkranz  
William G. Klein *
Kyle Titsworth 
Taylor Smith Norton *
Samanth Portnoy   
William K. Vincett III  
Carson Ramsdell Mitchell *
Elizabeth Pidgeon *
Sigma Gamma Epsilon Inductees 2015: *Senior
Brendan Auth
Edward Bonner
Anne Gombosi
Danielle Eden Hill
Carson Ramsdell Mitchell
Royal Mongomery *
Elizabeth Pidgeon
Mariah Schneider
Christina Marie Strathearn *
Sigma Gamma Epsilon Inductees 2014: *Senior
Anne Gombosi
Karen Heffernan*
Elizabeth Pidgeon
Carson Mitchell
Sigma Gamma Epsilon Inductees 2013: *Senior
Julija Cubins
Anne Gombosi
Anthony Haigh *
Danielle Hill
Tyler Mogk
Elizabeth Olliver *
Abigail Ruksznis *
Henry Schmid *
Christina Marie Strathearn
Jeffrey Tinklepaugh *
Eric Weber *
Senior Sigma Gamma Epsilon Inductees 2012: *Senior
Sarah Coon *
Sandra Cronauer *
Jacob Menken *
Elizabeth Ann Olliver
Emily Siegel *
Senior Sigma Gamma Epsilon Inductees 2011: No recipients
Senior Sigma Gamma Epsilon Inductees 2010: *Senior
Sarah Coon
Sandra Cronauer
Elysia Anne Korbet *
Gregory Parrish *
Michael Patrick Tobin *
Senior Sigma Gamma Epsilon Inductees 2009: *Senior
Robert David Charnock *
Edward Greiner *
Rebecca Hammer-Lester *
Gary E. Peters
Angel Marissa Saccente *
Kirsten Elise Stokes *
Michael Patrick Tobin
Arthur J. and Claire Heiser Joseph B. Tinker Memorial Grant
Thanks to a generous donation from Arthur J. and Claire Heiser the UVM Geology Department bestows the annual Arthur J. and Claire Heiser Joseph B. Tinker Memorial Grant to a deserving undergraduate geology major. The award, established in 2008, grants up to $3,000 in scholarship funds, and is applied towards UVM tuition. Recipients have demonstrated both excellence in academic performance, and activity in the UVM Geology Department community. Such activities may include, but are not limited to, the GeoClub, Sigma Gamma Epsilon, Departmental work study, TAAs, independent research, and Perkins Museum guide.
Due to a change in the award conditions, the Geology Department ceased to honor the recipients in 2016.
Previous Tinker Memorial Grant Recipients:
    2015 Edward Bonner
    2014 Brendan Auth
    2013 Molly Conroy
    2012 Abigail Ruksznis
    2011 Matthew Sweeney
    2010 Maggie McMillan
    2009 Graham Hagen-Peter
    2008 Rebecca Hammer-Lester
External Award
Mineralogical Society of America (MSA) Undergraduate Prize:
The program recognizes outstanding students who have shown an interest and ability in the discipline of mineralogy. Each student was cited by his or her department for outstanding achievement in mineralogy-related courses. The MSA Prize allows MSA to join with the individual faculty to formally recognize outstanding students. Each student is presented a certificate at an awards ceremony at his or her university or college. In addition, each recipient receives a student membership in MSA with access to the electronic version of American Mineralogist, and a Reviews in Mineralogy and Geochemistry or Monograph volume chosen by the sponsor, student, or both.
Presented for the first time in 2013, for work completed in 2012, by the UVM Geology Department, since the MSA Undergraduate Prize 1985 inception, for a student's excellent performance in the course Earth Materials. Recipient also receives a letter of congratulations signed by the current MSA President.
2020 MSA Undergraduate Prize Winner: Savannah Zigic
Previous Undergraduate Prize Winners: 
    2019 Alix Ehlers 
    2018 Sarah Powers
    2017 John L. Sawyer Shaw
    2016 Andre Parisi
    2015 Farrah Ashe
    2014 Travis Dawson
    2013 First UVM recipient: Maxwell Nottke
NSF Research for Undergraduates
Students conduct research, develop their professional skills and prepare for a career in science. NSF funds a large number of research opportunities for undergraduate students through Research Experience for Undergraduates (REU), where a site may be at either in the U.S. or abroad, and consists of a group of ten or so undergraduates who work in the research programs of the host institution. Each student is associated with a specific research project, where he/she works closely with the faculty and other researchers. Students are granted stipends and, in many cases, assistance with housing and travel. Undergraduate students supported with NSF funds must be citizens or permanent residents of the United States or its possessions. Learn more about current opportunities for Research Experiences for Undergraduates.
SURGE (Sessions in Undergraduate Research in Geology)
Started by two graduate students in Fall 2013, SURGE is a mentoring program aimed at guiding senior geology majors in accomplishing their goal of completing undergraduate thesis research, as well as how to approach their next steps after college. Through weekly meetings we've discussed topics such as graduate school, reading and digesting scientific papers, writing abstracts, and the UVM thesis guidelines.
Many of the students have chosen to submit their work to regional conferences here in Vermont and Pennsylvania, as well as the annual UVM student research conference. SURGE aims to prepare them for these conferences and give them the necessary skills to present their research at any professional meeting. And when graduation approaches, we set helpful deadlines to keep everyone's research and writing on track.
UVM Fellowships, Opportunities, & Undergraduate Research (FOUR)
If you want to get engaged beyond the classroon and take your academic experience to a higher level, go to FOUR