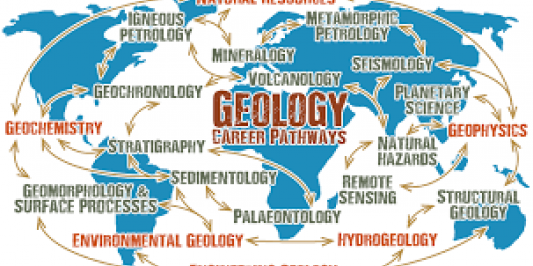 UVM Geology graduates chose careers ranging from environmental bio-geochemist and field geologist to oceanographer and volcanologist.
Earth, a geologically dynamic planet for 4.6 billion years, continues to change. As human intervention and natural forces persist, UVM geology students take their knowledge to Earth's layered structures, to the mountains, fields, and streams, and to the research labs in many rewarding careers.
Geologist with the Bureau of Reclamation in Sacramento, California.
Matthew Merson, (M.S., 2018) Hired to oversee water resource management in central California, including diversion, delivery, and storage projects used for irrigation, water supply, and hydroelectric power.
Project Geologist, Zephyr Minerals Ltd. Cañon City, Colorado
Sam Lagor (M.S., 2016) recently started a 5,000' drilling campaign for the summer, hoping to hit the ore zone at depth and increase our estimated resource. Essentially, we need to prove there are one million ounces of gold in the ground in order to get a mine developed, and we're hoping to bring that estimate up to 250,000 ounces with this drilling campaign. Our team in Colorado consists of three people, so I get to wear a lot of different hats, depending on the work that needs to be accomplished that day. I split my time pretty evenly between working on the computer (3-D modeling and managing databases), working in our core shed (logging core, preparing samples), and working in the field (doing reconnaissance mapping, sampling new road cuts, setting the orientation of the drill rig, etc). I can say that I use skills I gained at UVM quite regularly in my employment, especially when it comes to data analysis and management, and doing structural geology.

I also would like to say that I would not have obtained this job without reaching out to the UVM Geology alumni network. After receiving one of the annual department newsletters, I reached out to Doug Silver ('77) who has an extensive career in the mining industry (in fact, he was just inducted into the National Mining Hall of Fame). He encouraged me to attend the 2017 PDAC conference in Toronto, introduced me to several great connections, and I eventually found this opportunity with Zephyr at that conference. If current students and recent alumni are struggling to kick off their careers, reach out to the people who were in your shoes once! I work alongside one other geologist to establish a drill program for spring 2018 at the Dawson Project in southern-central Colorado. I was responsible for various field work and mapping assignments, including claim staking, assessing historical mining claims for new operations, surface bedrock mapping, trench/road cut mapping, and environmental hazard assessment mapping, all at various scales. I led the organization of a new core shack facility to process and store tens of thousands of feet of drill core. Additionally, I monitored active drilling during the 2018 drilling campaign, and logged thousands of feet of drill core with a new geologic model of formation in mind. Finally, I have worked with several 3-D geologic modeling and map making programs (including Leapfrog Geo, GeoReka, ArcGIS, and Adobe Illustrator) to create various models, cross sections, maps, and other images suitable for press releases and NI 43-101 reports, as well as to identify new drill targets.
Pursuing a PhD in Structural Geology
Hannah Blatchford, (M.S., 2016)
Pursuing a PhD in Structural Geology, Metamorphic Petrology and Geochronology of deep crustal rocks in Norway in the Department of Earth Sciences at the University of Minnesota.
Exploration geologist at Anadarko Petroleum, Texas
Kathryn Dianiska, (M.S., 2015)
Environmental Consulting, New York City
Jacob Menken (M.S., 2014)
Senior Staff Geologist, GeoConcepts Engineering, Inc., A Terracon Company
Karina Heffernan (B.S., 2014) manages field and office operations on large and complicated projects, refines data and samples using background geologic knowledge, completes geotechnical engineering calculations and analyses, performs tasks by applying standard geological principles and theories, and writes reports and proposals.
Ph.D. Candidate, University at Buffalo
Matthew Sweeney (B.S. Geology, BS Applied Mathematics 2012) studies physical volcanology (specifically the explosive interaction between magma and water). He has had the opportunity to do field work on four continents—his primary Ph.D. work has focused on Dotsero Volcano in Colorado.
PhD Candidate, UC Santa Barbara
Graham Hagen-Peter (B.S., 2010) finished his PhD at UC Santa Barbara in the summer of 2015 and then taught for a year at St. Olaf and Carleton Colleges in Minnesota. He is now a post-doc at Aarhus University in Denmark where he is adding geophysics and thermal modeling to his background in petrology and geochemistry.
Hydrologist, U.S. Fish & Wildlife Service
Becky Hammer-Lester (B.S., 2009) completed her master's degree in water resources science at the University of Minnesota and wrapped up a year-long student position as a hydrologist at the U.S. Fish & Wildlife Service.
Assistant Professor of Geology at Utah Valley University
Toke Nathan (B.S., 2003) teaches at Utah Valley University and studies active tectonics of the western U.S. Recently he published an interdisciplinary article in Earth's Future exposing the links between hazards regulations along fault zones in California and the geographies of park space and social vulnerability.
Lake Conservationist and Writer
Professor of Geoscience, Indiana University of Pennsylvania
After graduating from UVM, Jon Lewis (B.S., 1983) earned his PhD at the University of Connecticut and completed a postdoc at UC Davis. He and his students research the ongoing tectonic collision in Taiwan.
Professor and Chair, University of Oregon Department of Geological Sciences
Becky Dorsey (B.S., 1983) continues her research on sedimentary basins and tectonic evolution of the southern San Andreas fault system, and recently started a study of the Miocene-Pliocene Bouse Formation along the lower Colorado River.
Consulting Geologist
Craig Heindel (M.S., 1980) works as a consulting geologist throughout Vermont and the northeast, first through the firm Heindel & Noyes, Inc., and since 2012 with Waite-Heindel Environmental Management in Burlington.
Chief Geologist
Bruce Hill (B.S., 1980) earned his Ph.D. at Stanford in 1984. His work for the Boston-based environmental NGO group Clean Air Task Force involves geologic carbon sequestration, with a focus on the U.S. and China.
Well site Geologist
Kurt Anderson's (1980) contracts take him to the Rocky Mountains and most recently in the San Juan basin where his focus is horizontal wells directed toward the compartmentalized oil remaining. He specializes exploratory projects.
M.S. Graduate Student
Patrick Sullivan, (B.S., 2017) is a graduate student at the University of Utah in the Geography department specializing in remote sensing and GIS.
Analyst in Lab
Eleanor Johnson, (B.S., 2016) in 2018, is an analyst at TestAmerica Laboratories For the past year and a half she has been working in the Geotechnical lab, but has recently begun a transition to PFOA analysis, a growing field for a compound found throughout the world. Eleanor plans to enter grad school within the next year.