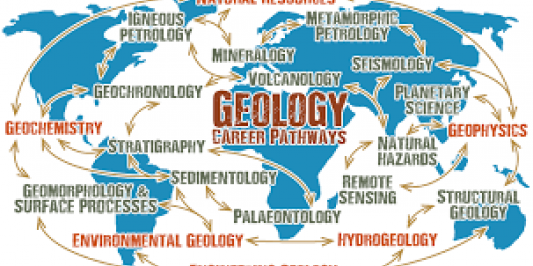 UVM Geology graduates chose careers ranging from environmental bio-geochemist and field geologist to oceanographer and volcanologist.
Earth, a geologically dynamic planet for 4.6 billion years, continues to change. As human intervention and natural forces persist, UVM geology students take their knowledge to Earth's layered structures, to the mountains, fields, and streams, and to the research labs in many rewarding careers.
Because of the broad interdisciplinary focus of the College of Arts and Sciences undergraduate program, geology majors are equipped with a broad range of transferable skills, enabling them to succeed in any profession.
Environmental & Safety Technician
Brandon Follansbee (B.S., 2018) At Rock of Ages in Graniteville VT, his main responsibilities are monitoring five active dimension stone granite quarries and three manufacturing plants that process the stone into monuments, roadside curbing or hardscape products like steps, posts and walkway pavers. He manages programs like stormwater pollution prevention, spill prevention and hazardous waste to name a few at each of these locations.
Graduate Student at the University of Arizona
Sam Portnoy (B.S. 2019)  will be part of the Tectonic Geodesy team for herMS. There is potential for herwork to turn into a PhD, but she is testing out the waters first. Her graduate focus will mostly be rooted in geophysics. Her fieldwork will be in central Italy, where she will be studying fault mechanics and tectonic environments through earthquake, borehole, and gps data. Sam says, "It's the perfect combination of structural geology, tectonics, and geophysics. I am very excited for this next chapter, but will definitely miss UVM"
Geologist with the Bureau of Reclamation in Sacramento, California.
Matthew Merson, (M.S., 2018) Hired to oversee water resource management in central California, including diversion, delivery, and storage projects used for irrigation, water supply, and hydroelectric power.
Associate Geoscientist
Alison Denn (M.S. 2017) works as an environmental consultant with Weston Solutions in the Austin, TX office. She finds solutions for complex environmental issues on behalf of commercial/industrial, local government, federal, and state government clients. She samples air, soil, and water, oversees the installation of monitoring wells, and spends much of her time writing technical reports summarizing the results of their research. It's fast paced and challenging, and she works with great people (other environmental geologists!)
M.S. Graduate Student
Patrick Sullivan, (B.S., 2017)  is a graduate student at the University of Utah in the Geography department specializing in remote sensing and GIS.
Pursuing a PhD in Structural Geology
Hannah Blatchford, (M.S., 2016)
PhD candidate in Structural Geology, Metamorphic Petrology and Geochronology of deep crustal rocks in Norway in the Department of Earth Sciences at the University of Minnesota.
Analyst in Lab
Eleanor Johnson, (B.S., 2016) is an analyst at TestAmerica Laboratories For the past year and a half she has been working in the Geotechnical lab, but has recently begun a transition to PFOA analysis, a growing field for a compound found throughout the world. Eleanor plans to enter grad school within the next year.
Exploration Geologist, Titan Mining Corporation, Vancouver, CA
Sam Lagor (M.S., 2016) is working on Titan's Empire State Mines zinc-lead mining project in Balmat, NY (very close to where I went to undergrad at St Lawrence University).  The mine shut down in 2008 but reopened this past summer under new ownership.
About a month after I started, we brought my UVM colleague John Gilbert on board to help process the incredible load of drill core we receive every day (we currently have 6 drill rigs running 24/7, pulling up up to 2,000 feet of drill core each day).  Our primary responsibilities are making a geologic log of the drill core, taking samples of mineralized zones, drafting cross sections and identifying potential ore bodies as drill targets.
The job is really cool because this is a truly world class deposit (the zinc ore here has been mined since the 1850's), the ore bodies here are very structurally complex but incredibly high grade, and this is the ONLY active mineral industry mining project in the entire Northeastern US.  It's a real treat for an exploration geo to be working close to home.
Exploration geologist at Anadarko Petroleum, Texas
Kathryn Dianiska, (M.S., 2015)
Senior Staff Geologist, GeoConcepts Engineering, Inc., A Terracon Company
Karina Heffernan (B.S., 2014) manages field and office operations on large and complicated projects, refines data and samples using background geologic knowledge, completes geotechnical engineering calculations and analyses, performs tasks by applying standard geological principles and theories, and writes reports and proposals.
Environmental Consulting, New York City
Jacob Menken (M.S., 2014)
Visiting Assistant Professor
Ángel A. García Jr., Ph.D. (M.S. 2012) is teaching at James Madison University (Harrisonburg, VA) in the Department of Geology and Environmental Science. Ángel says he is so proud to be a product of the Geology Department at UVM.
Ph.D. Candidate, University at Buffalo
Matthew Sweeney (B.S. Geology, BS Applied Mathematics 2012) studies physical volcanology (specifically the explosive interaction between magma and water). He has had the opportunity to do field work on four continents—his primary Ph.D. work has focused on Dotsero Volcano in Colorado.
PhD Post-doc, UC Santa Barbara
Graham Hagen-Peter (B.S., 2010) finished his PhD at UC Santa Barbara in the summer of 2015 and then taught for a year at St. Olaf and Carleton Colleges in Minnesota. He moved as a post-doc at Aarhus University in Denmark where he added geophysics and thermal modeling to his background in petrology and geochemistry to Oslo, Norway.
Hydrologist, U.S. Fish & Wildlife Service
Becky Hammer-Lester (B.S., 2009) completed her master's degree in water resources science at the University of Minnesota and wrapped up a year-long student position as a hydrologist at the U.S. Fish & Wildlife Service. 
Assistant Professor of Geology at Utah Valley University
Nathan Toke (B.S., 2003) teaches at Utah Valley University and studies active tectonics of the western U.S. Recently he published an interdisciplinary article in Earth's Future exposing the links between hazards regulations along fault zones in California and the geographies of park space and social vulnerability.
Lake Conservationist and Writer
Professor of Geoscience, Indiana University of Pennsylvania
After graduating from UVM, Jon Lewis (B.S., 1983) earned his PhD at the University of Connecticut and completed a postdoc at UC Davis. He and his students research the ongoing tectonic collision in Taiwan. 
Professor and Chair, University of Oregon Department of Geological Sciences
Becky Dorsey (B.S., 1983) continues her research on sedimentary basins and tectonic evolution of the southern San Andreas fault system, and recently started a study of the Miocene-Pliocene Bouse Formation along the lower Colorado River.
Consulting Geologist
Craig Heindel (M.S., 1980) works as a consulting geologist throughout Vermont and the northeast, first through the firm Heindel & Noyes, Inc., and since 2012 with Waite-Heindel Environmental Management in Burlington.
Chief Geologist
Bruce Hill (B.S., 1980) earned his Ph.D. at Stanford in 1984. His work for the Boston-based environmental NGO group Clean Air Task Force involves geologic carbon sequestration, with a focus on the U.S. and China. 
Well site Geologist
Kurt Anderson's (1980) contracts take him to the Rocky Mountains and most recently in the San Juan basin where his focus is horizontal wells directed toward the compartmentalized oil remaining. He specializes exploratory projects.