Our graduate students present their findings at national conferences such as National Geological Society of America (GSA), Northeast Sectional GSA, National American Geophysical Union (AGU), Vermont Geological Society (VT GSA), and many field-specific meetings and conferences.
Graduate Students Currently Conducting Research
Victoria Treto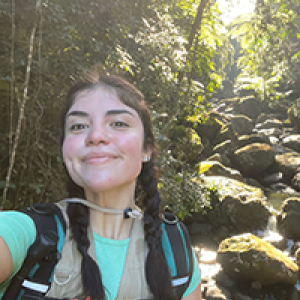 Specialization: Environmental Mineralogy & Remediation
Advisor: Nicolas Perdrial
Research: Assessing Nutrient Sustainability in Forest Management: In-situ weathering of calcium-bearing minerals in forested ecosystems"
Description: I am working on complex, collaborative, multidisciplinary research entitled, "Assessing Nutrient Sustainability in Forest Management", on a USDA Agricultural Food Research Initiative (AFRI) grant. AFRI's mission promotes increasing food production, mitigating impacts of climate variability, and ensuring food safety and security
Kaleb Jones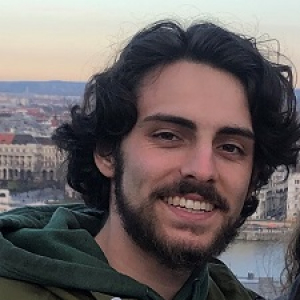 In progress:
Advisor: Andrea Lini
Ashton Kirol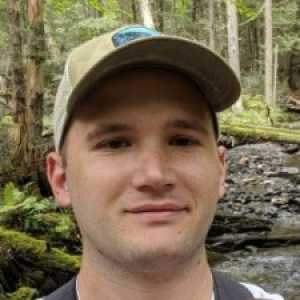 Research: Using computational models and high-frequency sensor data to understand environmental drivers of legacy phosphorus loading and distribution in two eutrophic lake systems of the Lake Champlain Basin
Advisor: Andrew Schroth
Trevor Mackowiak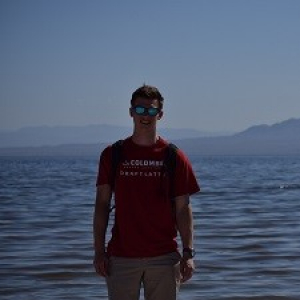 In progress:
Advisor: Nico Perdrial
Manya Ruckhaus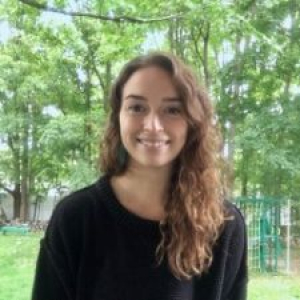 Research: Using Big Data approaches to assess ecohydrological resilience across scales
Advisor: Julia Perdrial
Jarret Pidgeon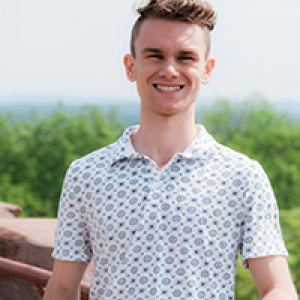 Specialization: tectonics, field geology, and geochronology
Advisor: Laura Webb
Research: Investigating the Mongol-Okhotsk Suture Zone in northeastern Mongolia
Gavin Pirrie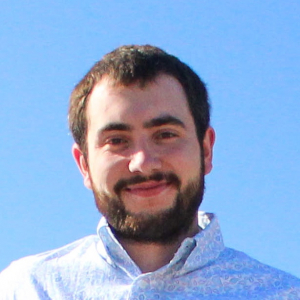 Research: Investigating the Tectonics of the Mongol-Okhotsk Ocean Closure
Advisor: Laura Webb
Siga Juozelskis
Specialization: field geology, structural geology, and geomorphology
Advisor: Keith Klepeis
Research: Addressing Vermont's Intensifying Landslide and Mass-wasting Problem and its Links to Climate Change
Description: I am working on how the Cotton Brook Landslide in Waterbury, VT has evolved over time; linking depositional mechanisms with erosion mechanisms. I am using photogrammetry, DEMs, orthophotos, fieldwork, and GIS to answer my hypotheses.
Sonya Vogel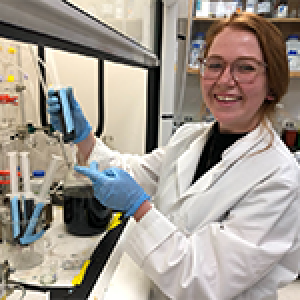 Specialization: Environmental & Water Biogeochemistry
Advisor: Andrew Schroth
Research: Consequences of winter high flow events on nutrient loading to Lake Champlain
Description: Changing winter dynamics in the northeastern U.S. have increased the frequency and magnitude of winter thaws and rain-on-snow events. In my work, we are seeking to improve our understanding of these events with focus on their contribution to nutrient loading in select tributaries of Lake Champlain.
Past Graduate Research Theses
ScholarWorks has titles and links to graduate student theses from 2014 to Present. 
The full-text of some recent Thesis/Dissertation are under embargo, and will only be available for download 1-3 years after the year of publication.
All theses titles for the years 1960 - 2019 are listed below.
2020
Thomas Adler - Combining Complex Systems Tools, Process-Based Modelling and Experiments to Bridge Scales in Low Temperature Geochemistry
Mae Kate Campbell - Quantifying Background Erosion Rates in Cuba Using Cosmogenic Nuclides
Peter Lindquist - The architecture of a lower-crustal shear zone and evidence for along-strike variations in strain localization and partitioning, Fiordland, New Zealand
2019
Adele Conde - Multiscale expression of apatite dissolution
Christopher Eddy - Definition and correlation of the indecision creek shear zone across 1500 km2 in Fiordland, New Zealand
Maxwell Landsman-Gerjoi - Measuring the Influence of Environmental Conditions on Dissolved Organic Matter Biodegradability and Optical Properties: A Combined Field and Laboratory Study
Meagan Leduc - Seasonal Water Column Dynamics Exert Strong Control on the Chemical Partitioning of Benthic Phosphorus Pools of Shallow Eutrophic Freshwater Systems
Griffin Moyer - Strain Accommodation, Metamorphic Evolution, and 3d Kinematics of Transpressional Flow Within the Lower Crust of a Cretaceous Magmatic Arc in Fiordland, New Zealand
Austin Wilkes - Phosphorus Mobility and Speciation Under Dynamic Redox Conditions in Shallow Eutrophic Freshwater Systems
2018
Cheyne Aiken - Geochronologic Constraints On The Timing Of Metamorphism And Exhumation Of The Tillotson Peak Complex In Northern Vermont
Jesse Armfield - Combining Observations Of Soils And Streams To Investigate Trends Caused By Reduced Acid Depositon In The Sleepers River Watershed
Malayika Cincotta - Soil Aggregates: The mechanistic link to increased dissolved organic carbon in surface waters?
Matthew Kraft - From Sea To Lake: The Depositional History Of Saint Albans Bay, VT, USA
Henry C. Maguire - Application Of Geophysical And Geochronological Methods To Sedimentologic And Stratigraphic Problems In The Lower Cambrian Monkton Formation: Northwestern Vermont
Matthew Merson - The Progressive Evolution of the Champlain Thrust Fault Zone: Insights from a Structural Analysis of its Architecture
Grant Reeder - Microscale controls on lead speciation in soils: a framework for sustainable remediation
Evan Tam - Geochronological Constraints On The Timing Of Deformation: An Examination Of The Prospect Rock Fault Footwall In North-Central Vermont
2017
Gina Accorsi - Fingerprinting Wolframite: An Atomic/Crystallographic, Chemical and Spectroscopic Study Along the Solid Solution Series
Jennifer Bower - Speciation, Distribution, Prediction, and Mobility of Lead in Urban Soils: A Multiscale Study
Alison Denn - Detecting Landscape Response To Perturbations By Climate And Base Level In Central Pennsylvania Using In-Situ 10Be and 26Al
John Gilbert - Crustal Deformation During Arc-Flare Up Magmatism: Field And Microstructural Analysis Of A Mid-Crustal, Melt Enhanced Shear Zone
Michael Ingram - 4d Strain Path Recorded In The Lower Crust During The Transition From Convergence To Continental Rifting, Doubtful Sound, Fiordland, New Zealand
2016
Hannah Blatchford - The Structural Evolution Of A Portion Of The Median Batholith And Its Host Rock In Central Fiordland, New Zealand: Examples Of Partitioned Transpression And Structural Reactivation
Sophie Greene - Comparing Meteoric 10be, In Situ 10be, And Native 9be Across A Diverse Set Of Watersheds
Alyson Hampsch - Using Aqueous Soil Extracts to Study Organic Matter Leaching From Soils of Different River Corridor Land Covers in Vermont
Samuel Lagor - The relationship between magmatism, deformation, and metamorphism during the Acadian Orogeny: a case study from the Knox Mountain pluton, Green Mountains, Vermont
Thomas Neilson - Determining impacts of land use on sediment yield in Southwestern Chinese Rivers using 10Be and short lived isotopes
Braden Rosenberg - High flow events as hot moments of reactive Fe and P export: impacts of land cover and seasonality
Ashliegh Belrose - The Champlain Sea/Lake Champlain Transition Recorded In The Northeast Arm Of Lake Champlain, USA-Canada
2014
Ryan Brink- A petrological and provenance comparison of the late Lower Cambrian Monkton (Vermont) and the late Lower/early Middle Cambrian Altona Formations (Northern New York), along the Laurentian margin of Iapetus
Kathryn Dianiski - Structural evolution and deformation of the lower crust: Insights from microstructural analysis and geochronology of Vancouver Arm and Crooked Arm in Fiordland, New Zealand
Jacob Menken - Response of Tourmaline Atomic Arrangement to Thermal Treatments
Alice Newman - Understanding lower crustal deformational processes: A structural and kinematic analysis of Vancouver Arm and Breaksea Sound in Fiordland, New Zealand
Lucas (Luke) Reusser PhD: Quantifying Human Impacts on Natural Rates of Erosion Along Continental Margins
Ana Vang - The Geomorphic Effects of the Vermont Interstate System
2013
Patrick Dyess - Low-temperature TitanIQ thermobarometry of Taconian Cover-rocks of Rochester, VT
Angel A. García Jr. - Elemental Sulfur Nanoparticle Coarsening Kinetics and Changes in Raman and Voltammetric Signals
Steven Gohlke- Insights into the origin of a zone of slipped deformation bands from the Seiyal Fault, Western Desert, Egypt
Alice Nelson - The Concentration of In Situ 10-Be in Fluvial Sediments as a Tool for Deciphering 6 My of Greenland Ice Sheet History from a Marine Sediment Core
Megan Scott - The Tectonic Influence on the Depositional Environment of the Middle Ordovician Middlebury Formation
2012
Christine McNiff - A Structural Evolution of Dome and Basin Development in the Champlain Valley, Vermont
Johanna Palmer -A Paleolimnological Study of Holocene Sediments in St. Albans Bay
Merril Stypula - Evidence for partial melting at northern Tavan Har and relationship to Late Triassic sinistral shear in the East Gobi Fault Zone, southeastern Mongolia
Jeff Webber - Structural analysis of high temperature deformation fabrics within Mesozoic plutonic complexes, central Chile
2011
Kyle Ashley - TitaniQ thermobarometry of fabric development in the Strafford Dome, Vermont: linking microstructures to orogenic processes
Lee Corbett - Investigating the timing of deglaciation and the efficiency of subglacial erosion in Central-Western Greenland with cosmogenic 10-BE and 26-AL
Drew Koff - A multi-proxy paleolimnological study of holocene sediments in Missisquoi Bay, USA-Canada
Eric Portenga - Using 10-Be to constrain erosion rates of bedrock outcrops globally and in the Central Appalachian Mountains
Charles Trodick Jr. - In situ and meteoric 10BE concentrations of fluvial sediment collected from the Potomac River Basin
2010
Joseph Graly - Interpretation Of Meteoric 10Be In Marginal Ice-Bound Sediment Of The Greenland Ice Sheet, West Greenland
Janelle McAtamney - Structural evolution and basin analysis of the Magallanes Basin, Southern Patagonia, Chile
2009
Will Hackett - Modeling of the hydrologic impacts of highway construction and climate change in Vermont.
Lydia Smith - Organic phosphorus cycling, mobility, and bioavailability for cyanobacteria in sediments of Missisquoi Bay, Lake Champlain.
2008
Paul Betka - Evolution and tectonic significance of ductile deformation in the middle and lower crust during contraction and extension in Cordilleran-style orogens
Jane Duxbury - The determination of millenial scale erosion rates using cosmogenic analysis of 10Be in the Shenandoah National Park
Matt Jungers -  Using 10-Be to determine sediment production and transport rates on steep hillslopes in varied tectonic and climatic settings
Julie Rumrill -  Using GPS to assess the spatial and temporal variation of seasonal velocity changes on the Greenland ice sheet, near Swiss Camp Greenland
2007
Corey Coutu - Using the fossil record as a vehicle for teaching evolution: A web based teaching module.
Amanda Getsinger - Coupling physical and chemical studies to assess TTG petrogenesis.
Harry Oduro - The formation, oxidation, and characterization of FeS(aq) molecular clusters - decoupling iron sulfide mineral surface dissolution and oxidation reactions
Colleen Sullivan - Cosmogenic 10Be erosion history of the Blue Ridge Escarpment - A long-lived feature of the southern Appalachians
2006
Heather Burgess - Trophic status of Lake Champlain over 400 years of changing land use: a paleolimnological study
Bethany Zinni - Effects of Ski-area Development on Hydrology and Water Quality at Mt. Mansfield
Phoebe Judge - Strain localization in the upper crust and stress field evolution adjacent to the Alpine fault in northern Fiordland, New Zealand
Daniel King - Shear zone processes in the mid to lower crust and the structural evolution of central Fiordland, New Zealand.
Gregory Lorenson -Application of in situ Au-amalgam microelectrodes in Yellowstone National Park to guide microbial sampling.
2005
Joanna Reuter - Erosion Rates and Patterns Inferred From Cosmogenic 10Be In The Susquehanna River Basin
2004
Eric Reuter (Butler) - Masters of Arts in Teaching - Geoscience education and interpretation based on human interactions with the natural landscape
Rena Ford - Partial Melting under Reducing Conditions: Clues to Primitive Achondrite Formation
Stephen B. Marcotte - Early Cretaceous Orogenesis in Fiordland,New Zealand and Three-Dimensional Visualization of the Earth's Surface.
Robert Price - Testing the Partial Melting of a Basaltic Underplate: Origin of Cretaceous Granitoids in Fiordland, New Zealand
Lucas Reusser - Late Pleistocene Bedrock Channel Incision Along The U.S. Atlantic Passive Margin Measured with 10-Be: Holtwood Gorge, Susquehanna River, Pennsylvania
2003
Andrea Lord - Evolution Rates of Post Glacial Lake Ecosystems in Northern New England: A Geochemical Study Using Lake Sediments 
Adam Parris - Holocene Paleohydrology in the Northeastern United States: A High Resolution Record of Storms and Floods
Corey W. Simonson - Structural and Kinematic Evolution of the Middle Crust During Late Cretaceous Extension in Western New Zealand.
2002
Antignano, Angelo - Experimental Constraints on Granitoid Compositions in Convergent Regimes: A Geochemical Study
Claypool, Alexander - Kinematic Evolution and Exhumation of Early Cretaceous Lower Crustal Granulites During Changes in Plate Boundary Conditions, Fiordland, New Zealand.
2001
Galster, Joshua - Quantifying the Response of Lake Ecosystems to Holocene Deglaciation through the Use of Stable Isotopes
Howse, Rachael - Evidence of Anthropogenic Disturbance and Trophic Change in Recent Lake Sediments: Vermont, USA
Jennings, Karen - Using Alluvial Fan Deposits to Determine the Timing of Ancient Storms in Vermont
Lamon, Thomas C. - Tectonic Wedging in the Northern Vermont Appalachians: An Emplacement Model for the Albitic Core Rocks of the Green Mountain Anticlinorium
Noren, Anders - A 13,000-year Regional Record of Holocene Storms in the Northeastern United States
2000
Hengstenberg, Carey - The Geochemistry and the Emplacement History of the Averill Pluton, Northeast Kingdom, Vermont
Holyoke III, Caleb - An Experimental Study of Melt Migration Mechanisms in Two Common Crustal Rock Types
Mallard, Laura - Stratigraphic, Structural, and Fault History Analyses of the Richmond 7.5' Quadrangle, Northcentral Vermont
1999
Brown, Adam - Phosphorus storage and transport in stream sediments from two reaches of the LaPlatte River over an annual cycle
Brown, Sarah (Lewis) - Geomorphic, Sedimentologic, and Climatic implications of inorganic horizons in Ritterbush Pond, Vermont
Gran, Sara - Cosmogenic Isotopes & Paleoseismology in Israel
Nichols, Kyle - Cosmogenic Isotopes and Sediment Transport in the Mojave Desert
1998
Frederick, Jeffery - A Structural and Kinematic Analysis of the Carrizo Mountain Group of the Northern Carrizo Mountains, Van Horn Texas
Whalen, Timothy - Post-glacial fluvial terrace remnants as recorders of environmental and base level changes and of glacio-isostatic rebound in the Winooski drainage basin, Vermont
1997
Abbott, Michael - Isotopic characterization of groundwater recharge and flow in an upland bedrock aquifer, Vermont
Astley, Beth N. - Holocene lake-level change in Lake Champlain
Church, Amy - Fan deposits in northwestern Vermont: Depositional activity and aggradation rates over the last 9,500 years
Marsella, Kim - Timing and the Extent of Glaciation in the Pangnirtung Fjord Region, Baffin Island: Determined by using in-situ produced cosmogenic 10^Be and 26^Al
Richardson, Alexis - Lithology, Stratigraphy and Geochemistry of the Standing Pond Volcanics in Northeastern Vermont
Schoonmaker, Adam - Stratigraphy and Structure of the Enosburg Falls Area: Implications for extending geotectonic structures of Quebec into Vermont
1996
Cherichetti, Lars - Internal stratigraphy of the Pinnacle Formation in Northern Vermont as a means for determining Iapean rift environment
Goldberg, Jonathan - The Middle Cambrian, Lower Monkton Quartzite, provenance and depositional history
Li, Lin - Quaternary Environmental Changes inferred from Pollen Analyses in Ponds, Green Mountains, Vermont
1995
Clapp, Erik - The Storage and Transport of Phosphorus and Fecal Coliform Bacteria in the Channel Sediments of Englesby Brook
Larsen, Patrick - In-situ production rates of 10Be and 26Al from the terminal moraine of the Laurentide ice sheet, north-central New Jersey
Schuck, Russell - An Historical Record of Arsenic Contamination in the Sediments of Arrowhead Mountain Lake, Milton, Vermont
1994
Malinowski, Kent - Application of Rift Models as Applied to the Cambrian-Proterozoic Z Rift-Drift Stratigraphy of the Quebec Reentrant
Martin, Delbert - Geology of the Mississquoi Group and the Acadian Orogeny in central Vermont
Schlegel, Mary Ann - A paleoenvironmental study of the southern Champlain Sea
1993
Armstrong, T.R. - Tectonic Evolution of the Taconian Hinterland, Granville Hancock area, central Vermont
Bechtel, Stephen C. - Stratigraphy, Sedimentology and Cement Diagenesis of the Black River Group in the Champlain Basin, Vermont
Delclos III, Lawrence - Lithologic, Petrologic and Chemical characteristics as Discriminators in the Correlation of Oligocene Tuffs in the East and West Tintic Mtns., North-central Utah
Hildreth, Stephen C., Jr. - Fluid inclusion and sulfur isotope studies of sulfide-bearing fissure veins, East Tintic Mts., Utah
Rose, Hugh - Stratigraphy, characterization of metavolcanic rocks, and structural evolution, in a cross section through the taconide zone, internal domain, eastern townships, southern Quebec: regional implications
Thibodeau, Peter - The evolution and distribution of natural gas in Lake Champlain sediments
1992
Gurney, Steven - Trace metals in Fluvial Sediment Affected by the Hartford, Vermont, Landfill
Howe, Jeffrey - Fluid inclusion characteristics of associated quartz and fluorite veins in a climax-type porphyry molybdenum system, Mt. Emmons, Gunnison County, Colorado
1991
Balogh, Adam - Lead-Zinc Sulfides in the Dunham Dolomite, Northwestern Vermont: Implications for Models of Mississippi Valley-type Deposits
Falta, C.K. - Tectonic geology of the Rochester-Hancock area, Rochester Quadrangle, central Vermont
Hawley-Hadley, Ann - Sedimentology and Stratigraphy of the Rugg Brook Formation of northwestern Vermont
Kimball, Christine - Tectonic geology of the Rochester-Hancock area, Rochester Quadrangle, central Vermont
Zuegg, Paolo - Near surface trace metal diagenesis in Sediments from Shelburne Bay and Cumberland Bay, Lake Champlain
1990
Colpron, Maurice - Rift and collision tectonics of the eastern townships Humber Zone, Brome Lake area, Quebec
Hyde, Karen - Internal cycling of phosphorus in Malletts Bay, Lake Champlain
Macbeth, Alexander - Geology of the southwestern East Tintic Mountains, central Utah
Warren, Marian - Rift History and Subsequent Collisional Behavior of the North American Iapetus Margin, Lincoln Massif, central Vermont: An Open and Shut Case
1989
Carr, Michael - Secular variation in the geomagnetic field recorded in lake sediments, Lake Champlain, New York and Vermont
Cua, Athene - Geology and Geochemistry of Metabasaltic Rocks from the Roxbury Area, Central Vermont
Gutscher, Marc-Andre - Paleomagnetism of Oligocene volcanics in the East Tintic Mts, Utah
Kraus, Jerome F. - Geology of the Northfield Mtns., central Vermont
Mock, Timothy - Stratigraphic, Structural and Metamorphic evolution of the Richford-Cambridge Syncline, northern Vermont
Prewitt, Jeffrey M. - Bedrock geology of the Warren-Granville Gulf area, central Vermont
Walsh, Gregory - Tectonic geology of the Fayston-Waitsfield area, central Vermont
1988
Haydock, Samuel - Bedrock Geology of the Mt. Ellen-Waitsfield area
1987
Dowling, William - Depositional Environment of the Lower Oak Hill Group, Southern Quebec: Implications for the Late Precambrian Breakup of N. America in the Quebec Reentrant
Whittemore, Arthur - Commingling of Magmas in the Belknap Mtns. Complex, central New Hampshire
1986
Butler, Robert - Sedimentology of the Danby Formation,Vermont
Dello Russo, Vincent - Geology of the Eastern part of the Lincoln Massif, central Vermont
Lapp, Eric - Detailed Bedrock Geology of the Mt. Grant-South Lincoln Area, central Vermont
MacLean, David A. - Depositional Environments and Stratigraphic Relationships of the Glens Falls Limestone, Champlain Valley, Vermont and New York
O'Loughlin, Sharon - Bedrock Geology of the Mount Abraham-Lincoln Gap Area, central Vermont
Parker, Ron - Lithofacies, Paleoenvironments and Tectonic History of the Deschambault Limestone, Southeastern Quebec
1985
Fowler, Bruce A. - Flux Characteristics of Phosphorus Rich Sediments from St. Albans Bay, Lake Champlain
Johnson, Gregory D. - The Effects of Stevens Brook Wetland on Nutrient Loading to St. Albans Bay
Leonard, Katherine E. - Foreland Fold and Thrust Belt Deformation Chronology, Ordovician Limestone and Shale, Northwestern Vermont
Pyke, Annie - The geology of the Hampshire Hills, northeastern New Hampshire and Western Maine
Strehle, Barbara - Deformation mechanisms and structural evolution of fault zone fabrics in northern Vermont: A comparative study
1984
Rathburn, Tony - A paleoecological study of late-Pleistocene ostracodes from the southern Champlain Sea
Teetsel, Mike - Sedimentology of the Taconic Foreland Basin Shales in north-western Vermont
Ackerly, Spafford - Phosphorus Relations in St.Albans Bay
1984
Brother, Michael R. - Surficial Geology and Late Pleistocene Glacial History of the Elizabethtown, New York Region
1983
DiPietro, Joseph - Contact Relations in the Late Precambrian Pinnacle and Underhill Formations, Starksboro, Vermont
Jamallo, Joseph M. - Delineation of Bedrock Fracture Trace Zones by Remote Sensing and Magnetics and their Hydrogeologic Implications
Martin, Linda - Tectonic Stratigraphy: The Nature of the Bonsecours-Sweetsburg Contact North of Lac Trousers near Eastman, Quebec
Myrow, Paul M. - A Paleoenvironmental Analysis of the Cheshire Formation, west central Vermont
1982
Bataller, Sue - Felsic Igneous Rocks of the Serpentinite Belt of Southern Quebec
Gregory, Guy - Depositional environments, Lower Cambrian Dunham Dolomite,north-western Vermont
Ladue, Winslow - The glacial history and environmental geology of Jericho, Vermont
Pingree, Rodney I. - Paleoenvironment of the Hungerford slate and Gorge Formation in northwestern Vermont
Roy, Dana - The structure and stratigraphy of the ultramafic belt, Troy, Vermont, and its significance in northern New England
Smith, Gerard J. - Bedrock Geology Within the Baie Verte-Brompton Zone, Eastman Quebec
Tauvers, Peter - Basement-Cover Relationships in the Lincoln Area, Vermont
1981
Butts, Charles - Relationships among selected hydrologic and geochemical parameters of the Browns River in northwestern Vermont
Hoar, Robert - The bedrock geology of the Coventry area, Vermont
Winner, Phil - Petrology of Chagnon Mountain, Quebec, with implications to selected ultramafic, Gabbroic, and Volcanic Rocks Near North Troy, Vermont
1980
Beblowski, Peter L. - The deglaciation of the Belvidere-Eden area of north central Vermont
Gale, Majorie Hollis - Geology of the Belvidere Mt Complex, Eden and Lowell, Vermont
Gale, Peter - Geology of the Newport Center area northern Vermont
Haworth, Leah Ann - Recent sediment dating and sedimentation rates in Malletts Bay, Vermont
LeClair, Lisa D. - Seismic reflection investigation of bedrock faults in central Lake Champlain
1979
Carter, Craig - Interpretation of the Hinesburg thrust, north of the Lamoille River, northwestern Vermont
Heindel, Craig - Glacial geology, hydrogeology, and road salt effects on groundwater in the Williston area, Vermont
Schwarm, Thomas - Analysis of till fabric in north-western Vermont
Steffe, David D. - The chemistry of calcic and subcalcic amphiboles from selected igneous and metamorphic environments
Stoner, D.W. - The Hydraulic Properties of the Cabot Soil
1978
Becker, L.R. - A survey of a sandy beach and bay, Appletree Bay, Lake Champlain, Vermont
McIntosh, Mary - Impervious Surfaces and Their Effects on Runoff
1977
Acomb, T.J. - Watershed analysis: The Mendon Brook Basin, Mendon, Vermont
Aubrey, W.M., III - The structure and stratigraphy of the northern ridges of Camels Hump Mtn., Camels Hump Quadrangle, north-central Vermont
Badger, R.L. - Stratigraphy and origin of the Umbrella Hill Conglomerate
Bottner, Roger - Wallrock alteration associated with the Mesozoic Pyrrhotite Mineralization at Cuttingsville, Vermont
Detenbeck, J.C. - Stress and strain analysis of dolomite and quartz lamellae, Colchester Pond west central Vermont
Knapp, D.A. - Structure and stratigraphy of the Lower Paleozoic section along the east limb of the Berkshire Massif, southwestern Massachusetts
Slavin, E.J. - Process and mechanism of stream bank failures along Brown's River, Vermont
Turner, P.J. - Seismic reflection survey in Lake Champlain
1976
Eiben, D.B. - Stratigraphy and structure of the Stimson Mountain area, Camels Hump Quadrangle, north central Vermont
Pieratti, D.D. - The origin and tectonic significance of the Tibbet Hill metavolcanics, northwestern Vermont
Corneille, Edwin S. - Bostonite and Lamprophyre Dikes from the Champlain Valley, Vermont
1975
Gillespie, R.P. - Structure and stratigraphy along the Hinesburg thrust, Hinesburg, Vermont
Kolar, Brian W. - Physical and Chemical Characteristics of Selected Metabasites in West-Central Vermont
Marcotte, Ronald A. - A Paleostress Analysis of a Major Fold in the Southern Part of the Hinesburg Synclinorium
McHone, James G. - Petrochemistry and Genesis of Champlain Valley Dike Rocks
Noyes, Jeffrey - An Evaluation of Hydraulic Conductivity Tests and Data
Setright, Lynn M. - Trace Element Distributions in Cumberland Bay Sediments
Thompson, Peter J. - Stratigraphy and Structure of Shattuck Ridge, Bakersfield and Waterville, Vermont
Thompson, Roger - Landfill Influenced Degradation of Stream Water
1974
Dean, Steven, L. - Water Resources Investigation for Madaket Natucket Island, Massachusetts
Moore, John S. - The Origin and Geolimnology of Joes Pond, Vermont
1973
April, Richard H. - Trace Element Distributions in the Sediments of Lake Champlain
Malter, John A. - Potential Problems of Oil Pollution on Lake Champlain
Mullen, John C. - Environmental Geology of Milton, Westford, and Underhill, Vermont
1972
Caldwell, Katherine G. - Petrographic and Chemical Analysis of Rocks from the Newton Area, Connecticut
Chase, Jack S. - Operation Up-Sails: Sub-Bottom Profiling in Lake Champlain
Sherman, John W. - Post-Pleistocene Diatom Stratigraphy in Cores from Lake Champlain, Vermont
1971
Arndt, Richard E. - Mineralogy and Petrology of a Diabase Dyke and Adjacent Sokoman Iron Formation, Howells River Area, Labrador
Closs, Lloyd G. - Geology of the Waite Lake Mines Property, Duprat Township, Quebec
Stone, Byron D. - Deglaciation Events in Part of the Manchester South 7.5' Quadrangle, South-central New Hampshire
Thompson, Woodrow B. - The Drainage and Glacial History of the Still River Valley, Southwestern Connecticut
Waite, Burt A. - Environmental Geology of the Huntington Valley, Vermont
1970
Dinger, James S. - Stratigraphic, Structural, and Petrofabric Investigations of Lake Ice, Lake Champlain, Vermont
Fillon, Richard H. - Sedimentation and Recent Geologic History of the Missisquoi Delta
Johnson, Philip H. - The Surficial Geology and Pleistocene History of the Milton Quadrangle, Vermont
Sarkisian, Arthur C. - A Petrofabric Analysis of the Monkton Quartzite in West-Central Vermont
Thresher, John E., Jr. - Bedrock Geology in the Richmond Area, Vermont
Townsend, Peter H. - A Study of Heavy Mineral Dispersal from the Ausable and Lamoille Rivers (Lake Champlain)
1969
Englund, Evan J. - Experimental Studies of the Origin and Thermal Metamorphism of Chondrules in Chondritic Meteorites
Johnson, David G. - Ferromanganese Concretions in Lake Champlain
Kasvinsky, J. Robert - Evaluation of Erosion Control Measures on the Lower Winooski River, Vermont
1968
Blakeman, William B. - A Study of the Mineralogic and Magnetic Characteristics of Metamorphosed Iron Formation from the Julian Deposit, Wabush Lake Area, Labrador
Clement, Richard F., Jr. - A Study of the Sediment Size Distribution of Mallets Bay
Jenks, Maurice L. III - Bedrock Geology and Garnet Analysis of the Northwestern Portion of the Woronoco Quadrangle, Massachusetts
Kodl, Edward J. - Surficial Geology of the Amsterdam Region Lower Mohawk Valley, New York
Millett, John A. - The Clay Mineralogy of the Bottom Sediments of Champlain Basin from Thompson's Point Vermont to the Ausable River, New York
1967
Clement, Richard F. - A Study of the Sediment Size Distribution of Malletts Bay
1962
Dimon, James R. - Petrography of the Laccolith at Barber Hill, Vermont
1960
Cline, Lawrence B. - The Origin of Talc at Johnson, Vermont, and the Geology of its Occurrence
Ogden, Duncan G. - Geology and Origin of the Kaolin at East Monkton, Vermont