Delehanty Hall: Geology Homebase
The Geology Department's most valuable facility is its homebase: the 40,000 square foot, Delehanty Hall, located on UVM's Trinity Campus. Geology faculty and students work and study in new classrooms, laboratories and office space, and in the field.
Vermont: Our Outdoor Classroom
Our own, local natural surroudings provide some of the richest discoveries for a geology major. The University of Vermont is located in Burlington, on the eastern shore of Lake Champlain in the deformed foreland basin of the Appalachian Mountains. Without question, UVM is superbly situated to take advantage of a wide variety of geologic outdoor laboratories for both teaching and research. All of these environments serve as rich research areas for students and faculty.
West of UVM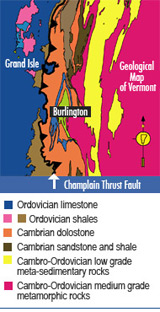 To the west lie New York's Adirondacks where unusual metamorphic and igneous rock compositions attest to the extremely high temperatures associated with the Precambrian Grenville orogeny (mountain-building).
The Champlain Thrust: A natural wonder in Vermont -- The thrust is the most westerly evidence of the 200 mile long "reverse thrust" of the Taconic Orogeny. What is the Champlain Thrust?
East of UVM
To the east lie the Green Mountains. These ranges are composed of stacked slices of mid-crustal rocks that were transported and uplifted along huge thrust faults during the Taconic and Acadian orogenies. The orogenies resulted from the collision of numerous exotic and native terranes onto the ancient continental margin of North America as the Pangean supercontinent was assembled.
Burlington's Pedestal
Burlington itself sits on the sedimentary rocks of a Cambro-Ordovician platform, a sequence of carbonate and clastic rocks which record sedimentation on the margin of the ancient Iapetus Ocean. On top of these rocks are Pleistocene glacial sediments that preserve a variety of lacustrine, pro-glacial and glacial environments. These sediments preserve flora and fauna and various grain compositions that record the interactions between a variety of biological, geochemical and physical processes. Learn about the "Champlain Thrust" geologic feature: the world's oldest reef in the Champlain Islands.
Beyond Burlington
Ask a professor or advisor about the many opportunities to practice and study geology outside of Vermont.
Transportation
We maintain a fleet of five 12-Passenger vans regularly used for travel to teaching (field labs) and field work.
The Perkins Geology Museum
The Perkins Geology Museum, located on the University of Vermont's Trinity Campus, houses many geological resources, and is dedicated to presenting geologic concepts, processes and samples to entertain and inform students, scholars, and the inquisitive public. The collection in Delehanty Hall provides a strong resource for students, geology buffs, kids and community members.
More about Perkins Geology Museum
The Musem showcases many features of Vermont geology and geologic samples from around the world.
Perkins Museum of Geology Visitor Highlights
The Perkins Museum of Geology is an impressive collection of rocks, minerals and fossils from Vermont and around the world, such as:
Dinosaur footprints: Jurassic period trace fossil.
Bedrock Geologic Map of Vermont: the largest permanent installation of the map in the state.
The Vermont Collection: Rocks, Minerals, and Fossils.
The Dark Room: See minerals in a new light!
Hologram: life-sized hologram of a Triceratops skull.
Marine Life, Modern and Ancient: marine invertebrate fossils, many preserved in limestones of the Middle Ordovician Chazy Group.
Rock-forming minerals: some of the finest mineral specimens from the Perkins Museum collections.
The Museum is also home to the Vermont State Marine fossil: The Charlotte Whale, a 12-foot beluga whale skeleton, as originally re-assembled. Learn why whales once swam where cows now roam.
Samples of the dynamic rock cycle: igneous-sedimentry-metamorphic . . .
The Museum is open to all, free of charge, and is accessible. To schedule a visit with a group or request educational handout materials, please send an email geology@uvm.edu. The Perkins website also offers a gateway to the Perkins Digital Archive of rocks, minerals and fossils, as well as the digital Vermont Landscape Change Program.
Laboratories and Specialized Equipment
UVM Geology undergraduate and graduate students have opportunities to conduct research in faculty and department advanced laboratories using analytical and computational equipment.
Computer Laboratory
This laboratory has 27 Mac® computers with a comprehensive software package that allows students to write reports, create databases and work on illustrations, just to name a few. There are also three scanners and a printer. Thanks to the support from the College of Arts and Sciences Dean's office we are able to get new computers every 5 years.
Digitization Laboratory
This laboratory has a map scanner, a large format HP® plotter and equipment to process photographs, film and slides into digital documents. In addition, there are 4 Dell® computers with geochemical simulation software as well as programs that allow researchers to analyze and visualize map data.
Environmental Biogeochemistry Laboratory
Research in the Environmental Biogeochemistry lab includes experimental laboratory and field approaches and houses state of the art analytical instrumentation. This includes a Dionex for anion analysis, a high sensitivity Shimadzu Carbon and nitrogen analyzer, and a Horiba Aqualog Fluorescence spectrometer for dissolved organic matter (DOM) analysis. Furthermore, the lab is equipped with two fume hoods, has extensive bench space for graduate and undergraduate researchers and hosts standard equipment for soil and aqueous geochemical analyses.
Environmental Stable Isotope Lab
Isotope analysis has become a standard tool for geologists, biologists, ecologists and all scientists studying elemental or material cycles in the environment as well as global climate and environmental change. This facility is equipped with two V.G. SIRA II stable isotope ratio mass spectrometers able to analyze stable isotopes of C, O, N, H and S. There are two gas extraction lines which are used for the preparation of gas samples needed for the isotopic analysis of organic materials, natural waters, and carbonates. A CE Instruments NC2500 elemental analyzer, which is interfaced to the mass spectrometer allows for automated analysis of C and N isotopes in organic materials.
40Ar/39Ar Geochronology Laboratory
40Ar/39Ar geochronology is a versatile method capable of dating a wide variety of geologic materials with respect to both composition and age, and applications range from dating discrete events to constraining thermal histories. The 40Ar/39Ar laboratory at UVM specializes in constraining tectonic histories, and is optimized for conducting high-resolution step-heating analyses of single grains or small aliquots of K-bearing minerals. The laboratory houses a Nu Instruments Noblesse magnetic sector noble gas mass spectrometer and a dedicated ultrahigh-vacuum extraction line with automated gas handling.
Inductively Coupled Plasma Laboratory
The ICP housed in the Geology Department is suitable for measuring accurate elemental concentrations from major to trace levels. It is equipped with two instruments: a monochromator and a polychromator thus providing high resolution and sensitivity in all different wavelengths. It is a versatile research tool used in a wide variety of applications, from rocks, to soils as well as waters from Lake Champlain.
Limnogeology Lab
The department's Limnogeology Laboratory investigates lake sediments of various temporal and spatial scales in order to reconstruct environmental changes of the past. These include for instance climate change, catastrophic events or human impact. Understanding the variability and the thresholds of lake systems will help us predict their response to future climate and environmental changes.
Environmental Mineralogy and Chemistry Lab
The Environmental Mineralogy and Chemistry laboratory is equipped for solid phase analysis with a Rigaku MiniflexII X-ray diffractometer, a Thermo Niton XL3t X-ray Fluorescence analyzer, and a fully automated Beckman Coulter LS 230 Laser diffractometer particle size analyzer. For aqueous analysis, the laboratory houses a Dionex ion chromatograph, configured for inorganic anions (chloride, nitrate, nitrite, phosphate, sulfite, sulfate). The laboratory is equipped with standard equipment for sample preparation such as grinding equipment, and environmental shaker, fume hoods, a nanopure water system, balances, pH meters, sonicator, centrifuges, water baths and ovens.
Melosira Lab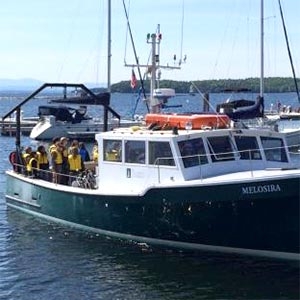 The University of Vermont's research vessel Melosira provides convenient and immediate access to Lake Champlain for appropriate classes.
Petrology Laboratory
There are 19 Nikon® microscopes for teaching in this laboratory. There is also one research microscope with a wide range of objectives for use in different applications.
Sample Preparation Laboratory
The equipment in this laboratory is used to process bulk samples for thin sectioning or geochemical analysis. Rock crushing equipment includes a jaw crusher, a disk grinder, a ball mill and a shatter box, thus providing a wide range of size fractions needed for the different applications. There are three rock saws used to cut rock chips used for thin sections.
Sedimentary Petrology & Carbonate Sedimentology Lab
The lab is designed to facilitate interpreting the origin and evolution of sedimentary basins, and how interpreting the stratigraphy and petrology of sedimentary rocks can help us reconstruct their evolution.
Structural Analysis Laboratory
Students and visitors using the department's Structural Analysis Laboratory work on projects designed to determine the three-dimensional architecture, kinematics, and tectonic evolution of both continental and oceanic lithosphere.  We apply map and image analyses, microstructural analyses, 3D modeling and visualization techniques, and strain measurement techniques on rocks, minerals, and regions.  A primary goal is to examine the relationships among a wide variety of geological processes that occur at different depths within the Earth's crust.
X-ray Powder Diffraction and X-ray Fluorescence Laboratory
The Department of Geology houses an NSF-funded X-ray laboratory that includes a Rigaku MiniflexII Powder Diffractometer with PDXL software and an ICDD database. The diffractometer is heavily used by scientists and engineers across campus, and its use illustrates the need for an additional diffractometer on campus. The laboratory also includes a portable X-ray fluorescence analyzer that is heavily used in studies of environmental materials.
X-ray Single Crystal Diffraction
The Department of Geology shares a Bruker ApexII Single Crystal Diffractometer with the Department of Chemistry. The instrument was obtained on a joint NSF proposal by researchers in the two departments. The instrument is heavily used in structure studies of minerals, and will be relocated to the new STEM building in May.