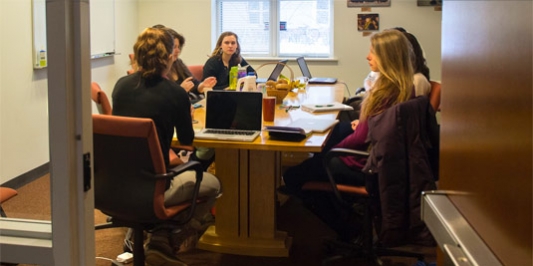 TAP is a writing-intensive elective program for first-year students in the College of Arts and Sciences that combines an interactive course environment with careful academic advising. In the fall semester, students enroll in one TAP seminar on a topic of common interest. TAP seminars encourage students to approach major issues from a variety of points of view by developing creative projects and expressing what they learned through speech and writing. The professor, who also serves as an academic advisor, helps further explore a student's interests and academic goals. All TAP seminars satisfy the University's Writing and Information Literacy Requirement and many also satisfy one of the College's Distribution Requirements (Fine Arts, Humanities, Natural Science, or Social Science).
Fall 2020 Teacher-Advisor Program (TAP) Seminars
Arts & Sciences Interdisciplinary
Arts & Sciences Interdisciplinary
AS 095 B & C —Italian Cinema
Instructor: Antonello Borra
The history of Italian cinema runs parallel to the history of cinema itself and the work of Italian directors such as Rossellini, De Sica, Fellini, and Antonioni has been extremely influential. Starting with Giovanni Pastrone's Cabiria (1914) up to the present day, Italian films have both entertained and moved audiences all over the world as well as provided inspiration to countless directors. This course will follow the historical trajectory of Italian cinema and concentrate on Neorealism and Comedy Italian Style. Students will have to opportunity to watch, discuss, and write about films originating in a remarkably different socio-cultural environment that nonetheless manage to transcend national, historical, and linguistic boundaries and encourage today's generations to scrutinize their own systems of values.
Requirements Satisfied: Fine Arts and Foundational Writing and Information Literacy
 
Fine Arts
Art & Art History
ARTS 001 A —Drawing
Instructor: Shelley Warren
Drawing is a means of visual communication with its own language and personal logic. It is a record of one's conscious and unconscious thoughts - our inner technology. Having the prerequisite of being born with talent in order to be successful at drawing is a myth. Anyone can learn to draw with proper guidance and self-motivation. "Drawing or the making of meaningful marks, is a universal pursuit of the human spirit and thus in a variety of forms transcends geographic borders, continents and cultures to become the closest thing we have to a universal language." Howard J. Smagula, Creative Drawing.
In this course students will explore drawing as a tool to render what is seen in their visual world as well as a means of expression. Through careful analysis students will study nature, the figure and inanimate objects using a wide range of drawing materials. There will be a mandatory museum or gallery visit.
Requirements Satisfied: Fine Arts and Foundational Writing and Information Literacy
 
ARTS 001 D —Drawing
Instructor: Cameron Davis
Drawing (informally titled "Drawing & Nature") is fundamentally a skills-based class employing multiple strategies of seeing in order to develop ways to translate three-dimensions onto a two-dimensional surface through the use of graphic mediums such as pencil, charcoal, conte crayon, ink and pastel. Concepts of composition, abstraction, decision-making, and inquiry into the nature of what constitutes a drawing are considered. The notion of drawing "practice" is emphasized through homework sketchbook exercises to re-enforce concepts and strategies. Assignments will engage environmental thought including "perceiving ecologically" (Laura Sewell) as a framework for larger projects and reflective writing. "Art functions on multiple levels, just as nature does." Nora Bateson, film, "Ecology of Mind," based on the work of father Gregory Bateson.
Requirements Satisfied: Fine Arts and Foundational Writing and Information Literacy
 
ARTS 012 B —Perspectives on Art
Instructor: Margaret McDevitt
Perspectives on Art is an introduction to contemporary art practice. We will explore the making, presenting and analyzing (written and verbal) of art works in a variety of media and formats. This may include: drawing, three-dimensional construction, collage, photography, digital arts, and painting. The work produced within this class demonstrates how hands-on creation, talking, and looking are integral to making. Basic skills essential to upper level department offerings will be covered. Students will be given hands on training in our wood and welding facilities. Part of the course structure will include critiques in which students will be asked to discuss each other's projects in conjunction with presenting their own work. Students should be invested in approaching the ideas and methods that are inherent to making artwork. No prior experience in art making is required. This is a foundation level class, and basic skills essential to upper level department offerings will be covered. The lab fee for the class covers most of the materials we will be using. Evaluation: Completion of assigned projects, participation in critiques, attendance.
Requirements Satisfied: Fine Arts and Foundational Writing and Information Literacy
 
ARTS 095 A —Wheel Throwing
Instructor: Hoyt Barringer
"In just taking an apple from the tree, and eating the whole thing, there are no mistakes to be made." - Shoji Hamada
In this course, the potter's wheel is used as the primary forming process for making functional and sculptural stoneware pieces. Students will gain considerable experience with process and materials developing the necessary skills and competence to connect the hand and eye with the heart and mind. What constitutes a well thrown form technically and sculpturally? How do we determine proper proportion, form and function? Visual, tactile and historical possibilities are explored using stoneware clay, slips, oxides and glazes high-fired in a gas kiln.
Requirements Satisfied: Fine Arts and Foundational Writing and Information Literacy
 
Dance
DNCE 001 A —Dance in the Contmporary World
Instructor: Paula Higa
DNCE 001 - Dance in Contemporary World builds on the scholarship of the study of dance history with an emphasis in the twenty-first century artists. The course examines the importance of new approaches in the development of the art form. It investigates the voices of choreographers on issues of current times while opening space for critical thinking. In this course, class participation is a crucial tool for academic achievement. Students should expect an emphasis on writing, critical reading, and academic research. To support informative literacy, students are required to attend live performances and experience multimodal learning such as practical/creative experiential classes.
Requirements Satisfied: Fine Arts and Foundational Writing and Information Literacy
 
DNCE 095 D —Environment & Performance
Instructor: Julian Barnett
This course is designed for students with an interest in the relationship between the human body, its environment, and performance. The course will orient itself around the processes of the body, as it moves, witnesses, and discerns and the various contexts that frame it, around Burlington and the UVM campus, to uniquely understand performance as a transformative structure, evolving process, and embodied viewpoint. The goals of the course are to heighten an individual's sensitivity to naturalistic practices that help build an understanding of how performance functions as a way of seeing, as well as being, and the vital role it can have in relationship to place, space, location, time, geography, etc. In addition to formal and informal writing assignments and maintaining a journal, the course will incorporate a variety of experiential exercises and assignments into our investigations, and will integrate the imagination and self-practice alongside techniques rooted in moving and thinking.
Requirements Satisfied: Fine Arts and Foundational Writing and Information Literacy
 
Theatre
THE 095 C —Stage Creations
Instructor: Sara Nelson
Scenery and props are used in the theater to help tell the story of a play through representation of the physical world. Designers and artisans use many different mediums and techniques to design and create these things for the stage. In this class, students will explore the process of how scenic and prop pieces go from ideas to actual items on the stage. They will read and analyze stories and scripts and then research and present their scenic and props ideas. After these presentations, students will experiment with different art and construction techniques to produce the scenic and props pieces from the plays.
Requirements Satisfied: Fine Arts and Foundational Writing and Information Literacy
 
Humanities
Asian Languages & Literature
CHIN 095 A —Rudiments of Chinese Culture
Instructor: Jing-hua Yin
China is the world's longest continuous civilization with unparalleled cultural richness, diversity, and complexity. For the better part of the past two millennia, China was a more advanced country than others. In the 19th century, China began to fall behind. In the past four decades, the world has witnessed the rapid and peaceful rise of China. The rise of China in many ways rooted in its cultural traditions. With these facts and questions about these facts, this course introduces the essentials of traditional Chinese culture and provides students with the necessary background and perspectives to explore Chinese culture further and to know better about China.
Requirements Satisfied: Humanities and Foundational Writing and Information Literacy
 
Classics
CLAS 095 A —Classics Now and Then
Instructor: Mark Usher
This course is a multidisciplinary survey of influential Greek and Latin texts and their reception in later periods. The primary emphasis is on the literary genres and subgenres that were invented by the Greeks and later reworked by the Romans (epic, lyric, drama, philosophical treatise, biography, novel, etc.) and the major authors and works that are representative of each category. A second, but equally important emphasis will be placed on the influence and adaptation of the Greek and Latin Classics over the centuries (= "reception"), for which we will consider works in many media, including literature, criticism, philosophy, music, art, theater, television, and film. The purpose of the course is to give students a solid grounding in some of the seminal texts, aptitudes, and values of a liberal education, and to underscore the pervasiveness of Classical (and "anti-Classical") forms and ideas up to the present day.
Requirements Satisfied: Humanities and Foundational Writing and Information Literacy
 
English
ENGS 005 A —The Danger of a Single Story
Instructor: Sarah Turner
Utilizing the Nigerian-American novelist Chimamanda Ngozi Adichie's TED talk "The Danger of the Single Story" as a guiding principal, the class will read a variety of contemporary texts -- novels, short stories, movies -- written by and about non-hegemonic groups living in the United States today that explore the intersections of race, class, socioeconomics, racism and institutionalized racism. Over the duration of the course, students will consider the questions of race and racism through a variety of lenses – and will work toward a more comprehensive view of race as a social construct while at the same time exploring stereotypes they themselves might hold. The course will include a service-learning component that will allow students to interact with the larger Burlington community and extend our class work beyond the walls of the classroom.
Requirements Satisfied: Literature and Foundational Writing and Information Literacy
 
ENGS 005 B & D —Anatomy of a Short Story
Instructor: Deborah Noel
Once upon a time, for the first time, someone told you a story. Since then, you've heard and read many tales, and you've acquired a set of narrative expectations. Fairy tales and folk tales written for children often have predictable forms, familiar conflicts between good and evil, plot complications that are nicely resolved in the end, and a moral that teaches readers a lesson. Short stories written for more sophisticated readers take more complex forms and deliver subtler messages. In this class, we'll be reading stories that exhibit a range of styles and genres from realism to fantasy and science fiction. We'll read works by authors such as Edgar Allan Poe, Willa Cather, Ralph Ellison, Flannery O'Connor, Samuel Delany, George Saunders and Kelly Link, among others. Students will work toward mastering terms and concepts from narrative studies and literary criticism more broadly that will prepare them to write informed analyses of our primary texts and reflect on the role this art plays in shaping and reflecting our culture. In order to engage in a broader critical discussion of our narratives and build research skills, students will draft short posts and reviews, two short essays and a final research project focused on one work/author. We will explore how scholarly articles, interviews and other secondary materials can enhance and embolden our own responses to literature. Student writing in this course will range from formal academic essays to informal and even experimental pieces, including personal responses, imitations, parodies, and other creative forms.
Requirements Satisfied: Literature and Foundational Writing and Information Literacy
 
ENGS 005 C —Food and Writing
Instructor: Libby Miles
Food, glorious food. At its best, food nourishes and sustains us, it provides a sense of place and cultural identity, it tantalizes and delights, and can even take us on sensory explorations to other worlds. But it can also be fraught with peril: disorders and toxins and social injustice. In this class, we will immerse ourselves in the writing that surrounds food, such as narratives, recipes, treatises, research studies, documentaries, and blogs. Students will read, research, and write a range of discourses that explore different aspects of food in our lives, and the lives of those around us.
Requirements Satisfied: Humanities and Foundational Writing and Information Literacy
ENGS 005 E —Writers at Work
Instructor: Susanmarie Harrington
Through practice, reading, and conversation we'll cultivate curiosity, developing habits of mind that encourage us to think deeply and widely. We'll read and write non-fiction; we'll share work with each other regularly; we'll playfully compose and seriously confront complicated ideas. You'll have the chance to develop questions, pursue curiosities, and cultivate your voice. The course requires regular writing and reading. Writing review groups will be active weekly; learning how to give and receive feedback, and how feedback helps writers create texts and develop ideas, is a major theme in our work. Expect weekly shorts that inspire longer essays.
Requirements Satisfied: Humanities and Foundational Writing and Information Literacy
 
ENGS 005 F —American Poetry, Gender, and Sexual Identity
Instructor: Eve Alexandra
In this introduction to American poetry special consideration will be given to poets/poetic movements seeking to establish, interrogate, and complicate identity through the lens of gender and sexuality. We will explore representations of the body in the expanded canon of American poetry from 1855 from to the present. This is a literature class with a creative writing component. Students will practice and develop their own individual poetic voice as they use creativity to think critically about gender, sexuality, and identity.
Requirements Satisfied: Literature and Foundational Writing and Information Literacy
 
ENGS 005 G —Harry Potter
Instructor: Holly Painter
While many students will have read the Harry Potter books before, this course examines the books as literary texts, applying critical reading techniques to one of the world's most popular children's series. This course fulfills the FWIL requirement, using the Harry Potter series as a springboard for gaining practice in the following FWIL learning goals: rhetorical discernment, information literacy, critical reading, and substantive revision. The course is primarily discussion-based and requires students to keep up with the reading. Be prepared to read over 4000 pages during the semester, or about 300 pages each week.
Requirements Satisfied: Literature and Foundational Writing and Information Literacy
 
ENGS 005 H & I —Frankenstein and Climate Change
Instructor: Eric Lindstrom
Frankenstein begins and ends in a world of ice that is witnessed by humans only because they think they can prosper in a time of ice melting. Though the novel is a challenge on any reckoning, readers often come away from Mary Shelley's Frankenstein: Or the Modern Prometheus with views that cling to the easiest-to-face of its horrors. This is a course about a famous novel, an until recently little known geological event, and the impacts of their close relationship on how we think about both the creative brilliance and the blind spots of the literary humanities. Issues of scale too large or small to see--and upheavals that are not symbolic--are the big absences in humanist cultural history.
Requirements Satisfied: Literature and Foundational Writing and Information Literacy
History
HST 095 A & B —Complex Cases: Law, Justice, and Equality in Modern America
Instructor: Felicia Kornbluh
For Americans living today, Brown v. Board of Education is probably the most well-known case in the history of the U.S. Supreme Court. We often take the Court's Opinion in that case to stand for the principle of equality despite differences of racial background. But the Opinion in a famous case like Brown can obscure as much as it reveals: How did the case originate? Who brought it to the Court and why? What did it actually accomplish? And what political and legal options did it obscure, even as it advanced others? "Complex Cases" has 5 units: We start by reviewing "tools" in the study of modern American law, diverse approaches to what law is and does that are applicable to diverse times, places, and situations. Our second unit concerns the "great case" Roe v. Wade, at the end of which the Court ruled that state laws criminalizing abortion in the first two trimesters of a pregnancy were unconstitutional. The third unit centers Brown, placing it in the long history of legalized racial segregation in the U.S. and considering its limitations and implications. The fourth unit concerns the law of the so-called War on Terror that the U.S. has pursued since September 11, 2001. We focus on the important case Hamdan v. Rumsfeld (2006) and the legal justifications offered by members of the Bush Administration for pursuing the war on terror as they did. Last, each student has an opportunity to research and write about a major legal case that is of interest to you – using the same tools and historical perspectives that we have worked with all semester long. We will read short articles or excerpts on "tools." Then, we read one major text for each big case: Leslie Reagan, When Abortion Was a Crime; Michael Klarman, Brown v. Board of Education and the Civil Rights Movement; and Jonathan Mahler, The Challenge. Alongside these major texts, we read shorter pieces either by scholars or by participants in the events under study, and we examine some of the official legal texts from the cases.
Requirements Satisfied: Humanities and Foundational Writing and Information Literacy
 
HST 095 C —Women's History
Instructor: Melanie Gustafson 
This seminar provides an introduction to American women's political and social activism from the nineteenth century to today. It begins with an examination of the anti-slavery and women's rights movements before the Civil War, continues with a focus on the struggle for the right to vote and the subsequent battles for political inclusion, and culminates with a discussion of the rise of global feminism. The course is designed to introduce students to important leaders and their ideas, the evolution of movements for equal rights and social justice, and key political moments in American women's history. We will use historical methodologies, which means exploring how and why changes occurred and the impact of change on the lives of ordinary people and the nation. Students will work individually and in groups on research assignments.
Requirements Satisfied: Humanities and Foundational Writing and Information Literacy
 
HST 095 D —History of the Present
Instructor: Steven Zdatny 
This course aims to bring a historical perspective to a consideration of the issues and problems that currently confront us as a society, as a university, as individuals. We will read articles and a couple of books, we will listen to podcasts and watch youtube presentations on such matters as free speech and student anxieties on campus, social inequality, climate change, the racial achievement gap, the dearth of women in STEM fields, the role of parenting in in socio-economic reproduction, the academic underperformance of boys, and the decline of violence. Students will write short weekly papers on the reading and a longer term paper on a topic of their choice. Our hope is that we will have a series of informative and productive conversations that will make us sharper students and better citizens. As a History course, it will count for Humanities distribution credit.
Requirements Satisfied: Humanities and Foundational Writing and Information Literacy
 
Philosophy
PHIL 010 A —God, Morality, and Free Will
Instructor: Mark Moyer
We will wrestle with three central topics of philosophy. First, philosophy of religion. Does God exist? We'll examine arguments pro and con as well as an argument that both sides are wrong. Second, ethics. Is a person who doesn't help starving people doing something seriously wrong? If you think so, why aren't you sending off money to charities right now? If you think not, how is such an act different than refusing to save a nearby child drowning in a shallow pond? More generally, what makes an act right or wrong in the first place? Third, free will. It seems that someone acts wrongly only if they at least could have acted otherwise, but how could we possibly have acted differently given that each of us is just a collection of atoms that are all determined to move according to the laws of nature? An examination of these arguments and issues provides students with a broad introduction to philosophy.
Requirements Satisfied: Humanities and Foundational Writing and Information Literacy
 
PHIL 010 C —Intro Philosophy: East & West
Instructor: Sin-Yee Chan 
The aim of the course is to introduce you to two traditions of philosophy, namely the Anglo-American tradition and the Chinese tradition of philosophy. Through the examination of some of the fundamental issues arising from these two traditions, I hope to help you develop the philosophical skills of critical thinking, logical reasoning, rational discussion as well as attain a comparative perspective on certain important philosophical questions. The approach will be topical and comparative, i.e. focusing on particular issues rather than on individual philosophers or history of ideas, and examining various views from the two traditions on each specific issue. The topics covered will be: 1. Knowledge 2. Ethics 3. Religion.
Requirements Satisfied: Humanities and Foundational Writing and Information Literacy
 
PHIL 010 G —Intro Philosophy: Selected Problems
Instructor: Riin Sirkel 
This introductory philosophy course aims to familiarize the students with some of the central issues in philosophy, and to foster philosophical skills that are important also outside of philosophy, including the ability to think critically and creatively, and the ability to identify, reconstruct and evaluate arguments found in the texts and in discourse. The course is not devoted to one area of philosophy, but addresses issues concerning knowledge (epistemology), reality (metaphysics), and ethics. In the first part of the course, we focus on questions about knowledge and reality, and discuss issues such as relativism (Is truth relative to the individual?) and knowledge (What does it take to know something?). In the second part of the course, we focus on ethical issues. We discuss the major ethical theories, as well as some hotly disputed issues in environmental ethics and feminism.
Requirements Satisfied: Humanities and Foundational Writing and Information Literacy
 
Religion
REL 020 A —Comparing Religions: Wheel and Cross
Instructor: Kevin Trainor 
Whatever our religious backgrounds, most of us in the U.S. probably feel much more familiar with Christianity than Buddhism, and tend to separate the two traditions along a great East-West divide. This course aims to complicate that perspective. It provides an introduction to the study of religion through a detailed comparative analysis of these two traditions, illuminating some surprising similarities as well as important differences in their histories and practices. Students will have the opportunity to complete a ritual research project and present their research to the class.
Requirements Satisfied: Humanities and Foundational Writing and Information Literacy
 
REL 095 A —Sex & Gender in the Bible
Instructor: Anne Clark 
While you might assume that God, sin, and salvation are the main subjects of the Bible, it also includes an astonishing array of stories about sex and gender. These stories reflect some of the most vital aspects of early Jewish and Christian religion, and they also continue to shape assumptions and lives in our own day. In this course, we will examine how the origins of Judaism and Christianity were entwined with attempts to define human sexuality and gender differentiation and roles. This exploration will also serve as an introduction to the study of religion, as we grapple with how modern ways of defining religion include—or ignore—the crucial topics of sex and gender.
Requirements Satisfied: Humanities and Foundational Writing and Information Literacy
 
World Literature
WLIT 095 A —Americans in Paris
Instructor: Meaghan Emery 
Mary Cassatt, Gertrude Stein, James Baldwin, Josephine Baker, among a number of other Americans, experienced minority status in some form here in the United States but found in France not only a space for liberating self-expression and self-understanding but also the opportunity to achieve world class status as an artist, intellectual, and human rights activist. Through the study of art and literature, this course will explore the creative processes of adapting to a foreign culture, both as a minority here in the United States, and as someone from this minority status/experience who lives abroad and discovers something entirely different. Some of them wrote original works in French (not their mother tongue) and became deeply engaged in the country's political life. We will explore how transcultural experiences, or living betwixt and between different cultural traditions, translate into creative works in music and literature.
Requirements Satisfied: Literature and Foundational Writing and Information Literacy
 
WLIT 095 B & C —European Fairy Tales
Instructor: Mariacristina Mazzoni 
You are probably very familiar with the stories of Cinderella, Sleeping Beauty, and Rapunzel, but you may not realize that the oldest versions of these tales come from Renaissance Italy. More interestingly, few people know that the first Cinderella murdered her own stepmother by crushing her skull with the lid of a trunk; that the original Sleeping Beauty was raped and impregnated by a king married to someone else; and that Rapunzel, in the earliest version of the tale, drugged with opium the ogress so she could have sex with the prince who climbed up the tower on her long braids. In this course, we will read these and other tale types from the European tradition (including "Beauty and the Beast" and "Little Red Riding Hood") and watch some of the most compelling of their film adaptations. Students in this course will do the following, both orally and in writing: describe the origins, structure, meanings, and historical development of European fairy tales as a literary genre; retell a number of classic European fairy tales, highlighting in the process the differences between versions from various times and places, and some of the reasons for these differences; analyze fairy tales according to a variety of critical approaches, including structuralist, feminist, and psychoanalytic. Because this is a seminar-style course, class participation counts heavily towards the final grade, and students will be expected to do all readings and prepare all discussion questions before each class meeting. The rest of the grade is determined by two oral presentations, one research essay, a class journal, a midterm, and a final.
Requirements Satisfied: Literature and Foundational Writing and Information Literacy
WLIT 095 D —Women Writers of the Renaissance
Instructor: Paolo Pucci 
In this course, we will study the views on women held by Italian society of the 13th-16th centuries. Through the analysis and discussion of mainly literary texts within the broader cultural, political, and social context, the class focuses on the ways in which female writers portrayed themselves in various roles; the wife, the nun, the prostitute, the widow, the feminist. We will also use male-authored misogynistic and idealizing writings to conduct our inquiry. This will enable us to compare the varying representations of women and define communities' expectations of them, with an eye also to our contemporary perspectives on gender relations.
Requirements Satisfied: Literature and Foundational Writing and Information Literacy
 
Natural Sciences and Mathematics
Biology
BIOL 095 B —Human Evolution: Cambrian - Present
Instructor: Kristin L Bishop-von Wettberg
How do human beings fit into the natural world? Are we fundamentally different from other animals, or do we just have a specialized skill set? Who are our closest relatives among non-vertebrates? Among the vertebrates? How did our evolutionary history lead our species to occupy such a key ecological role that the very future of the global ecosystem depends on the choices we make? Through readings, videos, exploratory writing, and discussion we will critically examine our place in the natural world and how we came to occupy it. We will begin the semester learning about the history of evolutionary thought leading up to Darwin's theory of evolution by natural selection and studying the mechanism of natural selection. We will then follow the evolutionary history of humans, from the earliest vertebrates in the Cambrian seas, to the colonization of land in the Devonian, to the radiation of mammals after the extinction of the dinosaurs, to the evolution of humans over the last five million years. We will finish the semester by considering the Anthropocene, the period in history during which ecosystems have been primarily affected by human activities – how we got to where we are now, and where we can go from here.
Requirements Satisfied: Non-Lab Natural Science and Foundational Writing and Information Literacy
 
BIOL 095 C —Biology of Sex
Instructor: Linden Higgins
In this course, we will read and talk about what biologists know (and don't know) about the processes determining biological sex in humans and other animals. We will explore examples from the scientific and popular media, evaluate the quality of the research and the validity of the arguments, and practice communicating scientific findings to a general audience.
Requirements Satisfied: Non-Lab Natural Science and Foundational Writing and Information Literacy
 
Geology
GEOL 011 A —Geology with Google Earth
Instructor: John Hughes
The Earth is a dynamic planet, and scientists have learned much about the Earth by –stepping back" and viewing it from afar, from space. Such a view is now afforded to laypersons, through the use of Google Earth. This course will provide a description of the dynamic processes that have shaped our planet, and, where appropriate, view the results of those processes from space using Google Earth. This will allow us to gain a perspective of the Earth that we have only recently obtained, and also to view the results of 4.6 billion years of dynamic processes on Earth. As learning partners, Professor Hughes and student colleagues will explore planet Earth as geologists, unraveling the history of the Earth by understanding the processes that have shaped it as it is today.
Requirements Satisfied: Non-Lab Natural Science and Foundational Writing and Information Literacy
 
GEOL 095 A —Medical Geology
Instructor: Laura Webb
This course explores the relationships between human health and geologic processes and materials, highlighting interfaces between the geosphere, hydrosphere, atmosphere, and biosphere. Together, we will examine the links between geologic processes and a variety of potential health hazards to which humans are exposed by air, water, or soil. Foundational geologic and geochemical knowledge will be applied to think critically about factors that affect health outcomes, such as biosolubility and bioreactivity of earth materials. Through case studies, we will explore related issues around public health, including testing and regulation.
Requirements Satisfied: Non-Lab Natural Science and Foundational Writing and Information Literacy
 
Physics
PHYS 095 A —Science of Light & Color
Instructor: Randall L. Headrick
This course will focus the properties of light and the phenomena that produce color. Light and color are both personal – "what's your favorite color?" -- yet, they are also mysterious -- "What is a photon?" In this course, you will first learn about many of the basic properties of light and how objects get their color. Readings and weekly assignments will prepare you for informed daily conversations on the theme of light & color. Small hands-on activities will be used to illustrate the phenomena. We'll use what we learn to focus on many interesting questions in daily life, such as "Why are a baby's eyes blue and why do they change color later on?" and on several profound mysteries, like "At the level of atomic and electronic structure, what makes blue jeans blue?" The question: "What is a photon?" leads to a discussion of the quantum world, and the use of light in sophisticated measurements, such as measuring the diameter of distant stars. This course will also involve writing assignments that will be directed towards describing light phenomena in the natural world, as well as practical uses of light in fields such as measurement, communications, displays, detectors, and solar cells.
Requirements Satisfied: Non-Lab Natural Science and Foundational Writing and Information Literacy
 
Social Sciences
Anthropology
ANTH 095 A —Ancient Pasts in Media
Instructor: Scott Van Keuren
Our fascination with ancient societies is fueled by popular media. From Ancient Aliens to National Geographic Magazine, we are presented with narratives that romanticize, mythicize, and even distort the past. And yet magazines, television, video games and other media are central to our imagining of ancient worlds, not to mention the ability of archaeologists to communicate their research. In this course we will "unpack" and analyze various forms of media that present archaeology and the ancient world to the public; explore how misconceptions about the field of archaeology and the ancient past relate to broader social, economic, and political issues; and assess how well archaeologists communicate what they do. Essay assignments and other course work are designed to enhance your media literacy and push you to critically examine how the media shapes narratives about ancient peoples, places, and things. We will pay close attention to the ethics of presentation, ownership of the past, indigenous rights, and looting.
Requirements Satisfied: Social Science and Foundational Writing and Information Literacy
 
Economics
EC 060 A —Capitalism & Human Welfare
Instructor: Elaine McCrate
"Capitalism and human welfare" is obviously a big topic, and we won't be able to cover everything. We will spend the semester talking about a class of problems called "coordination problems" that help us understand many real-world problems. In all coordination problems, the market fails to deliver social welfare, despite the fact that in markets we voluntarily choose what to do, and we presumably pursue our own self-interest. We'll spend most of the semester taking about one specific kind of problem: a "social dilemma". When everybody pursues their own self-interest, and everybody ends up worse off, you have a social dilemma. Social dilemmas are characteristic of just about every environmental problem you can think of – global warming, overuse of water, traffic jams, etc. The other kind of coordination problem we'll talk about specifically relates to jobs. In this case, the market often fails to deliver social welfare because of a problem called "incomplete contracts". For reasons that we'll discuss, incomplete contracts lead to conflict in the workplace and unemployment in society.

We'll also read classic texts by Thomas Hobbes and Adam Smith that relate directly to these questions.
Requirements Satisfied: Social Science and Foundational Writing and Information Literacy
 
EC 095 A & B —The Great Crash of 2007
Instructor: Shirley Gedeon
The global economy was hit hard by the financial crisis of 2007-2008. What happened? What caused the financial crisis and the ensuing Great Recession? Why was the crisis so deep, broad, and prolonged? Is the crisis over? Through the writing of financial journalists who reported on the crisis as it unfolded as well as videos, documentaries, and academic texts, we will look at the reasons why credit in US financial markets increased abnormally in the decade prior to the crisis and how that excess liquidity found an ally that favored speculation and encouraged banks, hedge funds, and other financial institutions to engage in risky derivative trading. We also examine the collapse of the housing bubble which led to mortgage delinquencies and foreclosures and the devaluation of housing-related securities. This course is appropriate for students with an interest in economics, business, finance, and banking. No prior knowledge of economics is required; however, students should have an interest in reading the financial press, learning about financial markets, and understanding why financial systems can become unstable.
Requirements Satisfied: Social Science and Foundational Writing and Information Literacy
 
Gender, Sexuality, and Women's Studies
GSWS 001 A —Gender, Sexuality, and Women's Studies
Instructor: Annika Ljung-Baruth 
This course introduces the basic vocabulary of Gender, Sexuality, and Women's Studies through an exploration of central questions in the field. What is the difference between sex and gender and how are the two related? What are sexual and gender identities? How are sex, gender, and sexuality shaped by society, culture, and history?
Requirements Satisfied: Social Science and Foundational Writing and Information Literacy
Geography
GEOG 085 A —Introduction to Remote Sensing
Instructor: Lesley-Ann Dupigny-Giroux  
Hurricane Dorian in the Bahamas, reduction in greenhouse gas emissions following COVID-19, sea ice extents in the Arctic, urban sprawl, volcanic eruptions and climate change. All of these land-ocean-atmospheric phenomena are rapidly changing processes that are best quantified by using remotely sensed images, acquired from satellites, aircraft and drones. In this course, we shall learn how to interpret and analyze such images to understand atmospheric and landscape processes across time and space, since the advent of the satellite record in the early 1970s (with pigeons and kites before that!). We shall use a number of peer-based approaches and individual lab-based assignments as we learn together about one of the most widely used tools employed by geographers.
Requirements Satisfied: Social Science and Foundational Writing and Information Literacy
Political Science
POLS 071 A —Comparative World Politics
Instructor: Matthew Carlson 
This course will introduce you to some of the central issues in the field of comparative politics, one of the four main subfields of political science that focuses on the study of politics within countries or the domestic politics of different countries. Through a combination of readings and lectures, we will examine several major theoretical debates and topics, including the consequences of electoral systems, the characteristics of different political regimes, the causes of political violence, as well as the causes of political corruption. Because comparative politics also involves the domestic study of other countries, it is essential that we look at how some of these theoretical issues are empirically represented in different parts of the world. We will thus look at the experiences of different countries, including but not limited to the United Kingdom, Japan, Iran, China, and North Korea. One hope is that by better understanding how politics works in different countries, we will become less ethnocentric. It will also help us cultivate a deeper understanding of patterns that exist, challenges that confront all countries, as well as differences across political systems.
Requirements Satisfied: Social Science and Foundational Writing and Information Literacy
 
Psychological Science
PSYS 070 A —Meanings of Madness
Instructor: Judith Christensen 
Why use such a pejorative term as 'madness" for the title of this course? This term has history and the stigma often associated with mental health diagnoses. And why use the plural "meanings"? Insanity, craziness or madness were terms used to describe a spectrum of behaviors characterized by abnormal mental or behavioral patterns. Insanity may manifest as violations of societal norms, including a person becoming a danger to themselves or others, though not all such acts are considered insanity; likewise, not all acts showing indifference toward societal norms are acts of insanity. In modern usage, insanity is most commonly encountered as an informal unscientific term denoting mental instability, or in the narrow legal context of the insanity defense. In the medical profession the term is now avoided in favor of diagnoses of specific mental disorders; the presence of delusions or hallucinations is broadly referred to as psychosis. When discussing mental illness in general terms, "psychopathology" is considered a preferred descriptor. In 1973, the weight of empirical data, coupled with changing social norms and the development of a politically active gay community in the United States, led the Board of Directors of the American Psychiatric Association to remove homosexuality from the Diagnostic and Statistical Manual of Mental Disorders (DSM). Some psychiatrists who fiercely opposed their action subsequently circulated a petition calling for a vote on the issue by the Association's membership. That vote was held in 1974, and the Board's decision was ratified. Thus, a new diagnosis, ego-dystonic homosexuality, was created for the DSM's third edition in 1980. Ego dystonic homosexuality was indicated by: (1) a persistent lack of heterosexual arousal, which the patient experienced as interfering with initiation or maintenance of wanted heterosexual relationships, and (2) persistent distress from a sustained pattern of unwanted homosexual arousal. Widespread prejudice against homosexuality in the United States meant that many homosexual people were convinced that they should go through mental health treatment to overcome their homosexuality because it could be considered ego dystonic. In 1986, the diagnosis was removed entirely from the DSM. Was this Science? This is your first important question. Your task as a student of this subject is to consider the many "meanings of madness" and how psychological science can advance our understanding, prevention and treatment of mental health challenges. Most importantly, we consider the important role of psychological science in overcoming the long-standing stigma associated with mental health problems.
Requirements Satisfied: Social Science and Foundational Writing and Information Literacy
 
PSYS 095 B & C —Teenage Brains
Instructor: Jamie Abaied 
In American culture, adolescents (also known as teenagers) are often viewed in a negative light. But are these views accurate? Are all adolescents really as lazy, hormonal, rebellious, and obsessed with sex as we think they are? Are adolescents permanently glued to their smartphones? Through the lens of developmental psychology, this writing intensive course will explore common stereotypes about American adolescents and examine whether or not these stereotypes are confirmed by research findings, with a particular focus on puberty and brain development. Through this process, we will seek to separate fact from fiction and better understand the true nature of this unique time in our lives – the teenage years.
Requirements Satisfied: Social Science and Foundational Writing and Information Literacy
 
PSYS 095 D —Chasing Happiness
Instructor: Shamila Lekka Lekka
In this course, we will learn skills using concepts from Theravada Buddhism and scientifically validated strategies from psychological science, to learn how to handle challenges in our everyday life. We will practice what we learn so you can incorporate these skills into your daily life.
Requirements Satisfied: Social Science and Foundational Writing and Information Literacy
 
PSYS 095 E —Women in Science
Instructor: Donna Toufexis 
In this course we will address factors that may account for the under-representation of women in STEM careers. We will begin by examining sex-differences in the brain and behavior. To do this we will look at how sex is determined at the biological level. We will also examine the development of sex differences in biology and behavior from early childhood and through adolescence, both in a number of animal models and in human beings. We will discuss whether or not there are innate sex differences that predispose men towards and women away from science and mathematics? For example, is it true that men "naturally" excel in mathematically demanding disciplines, while women "naturally" excel in endeavors that require using language skills? Or do society and culture have more to do with the career choices made by young men and women? Are there pervasive stereotypes and biases that hinder young women from choosing a STEM major in college? Do you have to be a masculine woman to be a scientist or engineer? We will then look specifically at the role that men play in their interaction with women that may hinder women wanting to enter a STEM field. This is NOT a male-bashing course. Without men advocating for women in science, we will not be able to address some of the problems. To do this we will discuss in detail how boys are brought up in our society. And, lastly, we will discuss sexual harassment and gender bias in the STEM sciences in order to try to understand the objective nature of these phenomena.
Requirements Satisfied: Social Science and Foundational Writing and Information Literacy
 
Sociology
SOC 054 A —Health Care in America
Instructor: Dale Jaffe 
Who cares about health care in America? Apparently millions of people do, given the role this issue played in the 2008, 2012, and 2016 presidential campaigns, the attention paid to the 2013 Supreme Court decision on President Obama's Affordable Care Act, and the recent failed attempt of the new Congress to repeal the law completely. Why does health care inspire such debate? Doesn't the U.S. have the best health care system ever constructed by humankind? With the current health care reform debate as a point of departure, this course will provide an introduction to the social, political, historical, and economic perspectives necessary to understand the workings of one of America's most interesting and contested social institutions. Designed for students who have an intellectual or professional interest in health care or medicine or who are considering pursuing majors in the social sciences, the course will explore the following questions: Who or what is responsible for health and illness? Why do disparities in health and medical care exist between groups? How is health care organized and financed in the U.S.? How should health care be distributed in our society? Why has health policy taken the form it has? What can the U.S. learn from studying health care delivery systems in other nations? In addition, students will be encouraged to examine their own roles as engaged citizens in shaping the reform of health care in America.
Requirements Satisfied: Social Science and Foundational Writing and Information Literacy