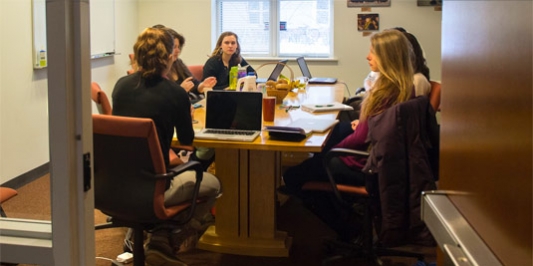 TAP is a writing-intensive elective program for first-year students in the College of Arts and Sciences that combines an interactive course environment with careful academic advising. In the fall semester, students enroll in one TAP seminar on a topic of common interest. TAP seminars encourage students to approach major issues from a variety of points of view by developing creative projects and expressing what they learned through speech and writing. The professor, who also serves as an academic advisor, helps further explore a student's interests and academic goals. All TAP seminars satisfy the University's Writing and Information Literacy Requirement and many also satisfy one of the College's Distribution Requirements (Fine Arts, Humanities, Natural Science, or Social Science).
Fall 2018 Teacher-Advisor Program (TAP) Seminars
Fine Arts
Art and Art History
ARTH 096 A —Why Build That?
Instructor: William Mierse
Ever wondered why architects make the decisions that they do? Why did someone build that building in that manner? This is a course that helps you find some of the answers to those questions. Along the way you get the chance to learn how to formulate the questions, explore the formal aspects of buildings, develop research strategies for pursuing other aspects of the building's history, use primary source materials, critique secondary sources, and develop your own interpretation of why a building was built like that. This is a discussion based, seminar style course. At every meeting we discuss some aspect of architecture that you have begun to examine on your own either through assigned readings, video viewing, or independent research. This is a course that functions only when everyone participates. Sometimes the participation is in the form of discussions, sometimes group presentations, and sometimes individual presentations. There is lots of analytical writing, and the assignments take a variety of different forms from critiques of videos and presentations, to formal letter writing, to research papers.
Requirements Satisfied: Fine Arts or Humanities, and Foundational Writing and Information Literacy

ARTS 001 A —Drawing
Instructor: Steve Budington
This class looks very closely at the practice of drawing – the physical and formal practice; how to build pictorial space through line, shape, plane, and mark making – and the conceptual practice; the ins and outs of drawings' relationship to the history of art, theory, criticism, and culture in general. Built on the premise that there is no single "way" to draw, the class explores a number of possibilities and approaches to the "what", "when", "why", "where", and "how" of drawing today. Assignments in the first half of this class focus on drawing from direct observation, with an emphasis not on mimesis, but the construction of graphic equivalents. Historical and contemporary drawing examples that accomplish this in a variety of ways towards different ends are provided regularly. Supplemental assigned readings encourage discussion about these ideas. The second half of the semester will expand our definition of observation, opening up the class work to more individualized interpretations. Final projects respond in drawings to the ideas and work of a contemporary art exhibition (field trip), combined with related critical readings and writing projects. As part of the TAP Foundational Writing and Information Literacy requirement, reading and writing assignments are a regular part of this drawing class, and focus on historical and contemporary theories and philosophies of art making. In addition, drawing critiques of various formats are held regularly throughout the semester. As a TAP course, time will also be set aside to discuss advising issues such as choosing classes, life at UVM (and beyond) and any other questions you may have.
Requirements Satisfied: Fine Arts and Foundational Writing and Information Literacy

ARTS 012 B —Perspectives on Art Making
Instructor: Shelly Warren
A major aspect in the art of making is the studio experience. In this course you will be introduced to contemporary art practices used in the making, presenting and analyzing of art works. You will have the opportunity to use a wide variety of media that may include: drawing, painting, color, photography, three-dimensional construction, digital imaging, sound, and/or video. We explore the relationships between methods and meanings in art making, the role of experiment, and the translation of experience into artwork. The course aims to promote the development of each student's individual sensibilities with a foundation that encourages diverse and engaging practices. Reading, talking and looking are integral to art making and will be major themes of this course through gallery and museum exhibits, Visiting Artist lectures and informal discussions.
Requirements Satisfied: Fine Arts and Foundational Writing and Information Literacy

ARTS 095 B —Wheel Throwing
Instructor: Hoyt Barringer
In this course, the potter's wheel is used as the primary forming process for making functional and sculptural stoneware pieces. What makes a well thrown form technically and sculpturally? How do we determine proper proportion, form and function? Provided is an experience with process and materials that develop the necessary skills enabling students to connect hand and eye with heart and mind. Visual, tactile and historical possibilities are explored using local and refined slips, oxides, and high fire glazes. Tools may be purchased at the UVM Bookstore.
Requirements Satisfied: Fine Arts and Foundational Writing and Information Literacy

Film and Television Studies
FTS 095 A —Zombies, Monsters, Freaks
Instructor: Hyon Yoo
We are simultaneously attracted to, and repelled by all things freakish and monstrous. Different genre films make use of this to raise questions about ourselves and our society. Before we can answer these questions, we need to acknowledge that film is a social medium and we the audience are the reader of culture. We also must analyze our own fear and the enjoyment that we get from the spectacle of monstrosity. In this course, we will connect film texts to our own sense of who we are, both individually and socially, and what our society values and fears.
Requirements Satisfied: Fine Arts and Foundational Writing and Information Literacy

Music and Dance
DNCE 095 A —Environment & Performance
Instructor: Julian Barnett
This course is designed for students with an interest in the relationship between the human body, the environment, and performance. The course will orient itself around the processes of the body, as it moves, witnesses, and discerns and the various contexts that frame it. In addition to formal and informal writing assignments and maintaining a journal, the course will incorporate a variety of experiential exercises and assignments into our investigations, and we will seek to integrate the imagination and self-practice alongside techniques rooted in moving and thinking.
Requirements Satisfied: Fine Arts and Foundational Writing and Information Literacy

MU 095 A —Informed Listening to Live Music
Instructor: Patricia Riley
In this course, students will attend live performances in a variety of genres, including: folk, jazz, classical, and world music. One third of the course will be attending the performances, with some events including pre-concert talks by the performers. Concerts and recitals will include Lane Series events, as well as those presented by Department of Music and Dance faculty and students. The other two thirds of this course will consist of hearing, studying, presenting, and discussing information about the genres, pieces to be performed, and/or performers prior to each event to learn about the music and musicians. The goal is for students to listen more expertly based on cultural, historical, and/or musical knowledge gained through the informational presentations and discussions.
Requirements Satisfied: Fine Arts and Foundational Writing and Information Literacy

Theatre
THE 095 A —Monstrous Makeup: The Face as Mask
Instructor: Martin Thaler
This course will explore a variety of ways to create characters for stage and film that are both realistic and horrifying. Understanding the grotesque aspects of human nature and the afterlife through readings, research and a variety of mediums will ignite the imagination of the beginning make up artist and inspire them to create and redefine well known characters. In addition to this participants will also be creating new visual images that tell the past story of the character through the face.
Requirements Satisfied: Fine Arts and Foundational Writing and Information Literacy

Humanities
English
ENGS 005 E —Food & Writing
Instructor: Elizabeth Miles
Food, glorious food. At its best, food nourishes and sustains us, it provides a sense of place and cultural identity, it tantalizes and delights, and can even take us on sensory explorations to other worlds. But it can also be fraught with peril: disorders and toxins and social injustice. In this class, we will immerse ourselves in the writing that surrounds food, such as narratives, recipes, treatises, research studies, documentaries, and blogs. Students will read, research, and write a range of discourses that explore different aspects of food in our lives, and the lives of those around us.
Requirements Satisfied: Humanities and Foundational Writing and Information Literacy

ENGS 005 G —How to Look At & Write About Art
Instructor: Didi Jackson
The Romantic poet William Blake said that poetry and art are ways to converse with paradise. This course is an introduction on how to look at and write about art both creatively and analytically. Literature and art have been wedded since the ancient Greeks, and luckily the tradition of writing as a way to interpret visual art – paintings, sculptures, media installations – is still alive and well today. We will study both 20th & 21st century poets and writers whose work address various styles of art. Students will model their own work (creative poetry and analytical prose) after these writers. Among the artists we will study are Frida Kahlo, Michel Basquiat, Picasso, Caravaggio, and Botticelli. Poets we will study include Sylvia Plath, Natasha Trethewey, Kevin Young, Billy Collins, and Ocean Vuong. No prior knowledge of visual art is required.
Requirements Satisfied: Humanities and Foundational Writing and Information Literacy

ENGS 005 D —Writers at Work
Instructor: Susan Marie Harrington
Through practice, reading, and conversation we'll cultivate curiosity, developing habits of mind that encourage us to think deeply and widely. We'll read and write non-fiction; we'll share work with each other regularly; we'll playfully compose and seriously confront complicated ideas. You'll have the chance to develop questions, pursue curiosities, and cultivate your voice. The course requires regular writing and reading. Writing review groups will be active weekly; learning how to give and receive feedback, and how feedback helps writers create texts and develop ideas, is a major theme in our work. Expect weekly shorts that inspire longer essays.
Requirements Satisfied: Humanities and Foundational Writing and Information Literacy

ENGS 005 B —Graphic Novels/Narrative Theory
Instructor: Daniel Fogel
In the course of this seminar, we will read six graphic novels, Art Spiegelman's Maus (two volumes), Alison Bechdel's Fun Home and Are You My Mother?, and Jason Lutes's Berlin: City of Stone and Berlin: City of Smoke, along with H. Porter Abbott's Cambridge Introduction to Narrative in order to explore a few key questions: Why is story-telling central to human life? Why do we value story-telling so highly, and how does each of the graphic novels we read fulfill the criteria of value we have identified? What is the use of theorizing about narratives, and what is the value and power of applying systematic and rigorous analytic terms to the study of narrative? And what must we do to supplement the formal, structural study of narratives in order to honor the specificity of historical, economic, sociological, political, cultural, anthropological, legal, philosophical and other pertinent contexts essential for understanding the works.
Requirements Satisfied: Literature and Foundational Writing and Information Literacy

ENGS 005 A & C —Danger of the Single Story
Instructor: Sarah Turner
Utilizing the Nigerian-American novelist Chimamanda Ngozi Adichie's TED talk "The Danger of the Single Story" as a guiding principal, the class will read a variety of contemporary texts -- novels, short stories, movies -- written by and about non-hegemonic groups living in the United States today that explore the intersections of race, class, socioeconomics, racism and institutionalized racism. Over the duration of the course, students will consider the questions of race and racism through a variety of lenses – and will work toward a more comprehensive view of race as a social construct while at the same time exploring stereotypes they themselves might hold. The course will include a service-learning component that will allow students to interact with the larger Burlington community and extend our class work beyond the walls of the classroom.
Requirements Satisfied: Literature and Foundational Writing and Information Literacy

ENGS 005 F —Anatomy of a Short Story
Instructor: Deborah Noel
Once upon a time, for the first time, someone told you a story. Since then, you've heard and read many tales, and you've acquired a set of narrative expectations. Fairy tales and folk tales written for children often have predictable forms, familiar conflicts between good and evil, plot complications that are nicely resolved in the end, and a moral that teaches readers a lesson. Short stories written for more sophisticated readers take more complex forms and deliver subtler messages. In this class, we'll be reading stories that exhibit a range of styles and genres from realism to fantasy and science fiction. We'll read works by authors such as Edgar Allan Poe, Willa Cather, Ralph Ellison, Flannery O'Connor, Samuel Delany, George Saunders and Kelly Link, among others. Students will work toward mastering terms and concepts from narrative studies and literary criticism more broadly that will prepare them to write informed analyses of our primary texts and reflect on the role this art plays in shaping and reflecting our culture.
In order to engage in a broader critical discussion of our narratives and build research skills, students will draft short posts and reviews, two short essays and a final research project focused on one work/author. We will explore how scholarly articles, interviews and other secondary materials can enhance and embolden our own responses to literature. Student writing in this course will range from formal academic essays to informal and even experimental pieces, including personal responses, imitations, parodies, and other creative forms.
Requirements Satisfied: Literature and Foundational Writing and Information Literacy

History
HST 095 B&D —Law & American Society
Instructor: Felicia Kornbluh
This course concerns the relationship between law and the wide set of social and historical forces that create, define, change, and constrain law. We study landmark legal cases, the law as a profession, and ordinary people's encounters with legal rules or norms. But we study these things in the context of the social and political processes that have shaped lawyers' careers and produced legal cases, rules, and norms over the course of U.S. history. The most important, persistent questions we will ask are: How have powerful people used law to achieve their ends? And how have people with less power responded, even occasionally using law as a tool in their efforts?
By the end of the semester, each student will have developed a basic understanding of the terminology and sources of law in the United States; will be able to write and speak articulately about the strengths and limitations of law for achieving justice; will be able to read books and newspaper articles about law with understanding; and will have developed a healthy, historically informed skepticism about claims of legality that are made by governmental or private authorities.
Requirements Satisfied: Humanities and Foundational Writing and Information Literacy

HST 095 C —Latin American Revolutions
Instructor: Sarah Osten
This seminar introduces students to a wide variety of revolutions and revolutionary movements in Latin America, from the early twentieth century to the present. Over the past 120 years, Latin America has produced some of the most important and famous revolutionary leaders of the modern era, such as Pancho Villa and Che Guevara. It has also been home to some of the most influential and well-known revolutionary political triumphs, such as the Cuban Revolution, but also to many lesser-known and less successful revolutionary examples. Starting with the Mexican Revolution of 1910-20, we will spend the semester looking at what motivated different revolutions in the region, the consequences and outcomes of different revolutionary calls for social, economic and political change, and the influence of Latin American revolutions and revolutionary ideas throughout the world. We will also pay particular attention to the roles and participation of women, indigenous people, LGBTQ people and other traditionally underrepresented populations in the various revolutions we will study.
Requirements Satisfied: Humanities and Foundational Writing and Information Literacy

HST 095 A —Reel and Real Indians
Instructor: David Massell
This seminar explores the depiction of North American Indians in film. Its objectives are three-fold: to hone our skills as writers; to become more critical observers of commercial film; and to explore a compelling slice of North American cultural history, namely how North American Native Peoples were portrayed, objectified, even invented, by mainstream Euro-Americans, from the nineteenth century to the present, and how Natives themselves responded and ultimately pushed back against such stereotypes. The seminar's opening unit includes a field trip to the Odanak Indian Reserve in Quebec.
Requirements Satisfied: Humanities, Foundational Writing and Informational Literacy, and (D1) Race Relations and Ethnicity in the U.S.

Religion
REL 020 A —Comparing Religions: Buddha & Christ
Instructor: Kevin Trainor
Whatever our religious backgrounds, most of us in the U.S. probably feel much more familiar with Christianity than Buddhism, and tend to separate the two traditions along a great East-West divide. This course aims to complicate that perspective. It provides an introduction to the study of religion through a detailed comparative analysis of these two traditions, illuminating some surprising similarities as well as important differences in their histories and practices. Students will have the opportunity to complete a ritual research project and present their research to the class.
Requirements Satisfied: Humanities, Foundational Writing and Information Literacy, and (D2) Non-European Cultures

REL 095 A —Religion, Health & Healing
Instructor: Vicki Brennan
This course is a cross-cultural exploration of the relationships between religion, health, and healing. We will examine how religion shapes people's understanding of health and well-being and provides them with a means of interpreting and responding to illness, suffering, and death. We will explore how individuals and groups utilize healing systems and religious practices to address matters of disease and affliction. Drawing upon interdisciplinary approaches that include religious studies, anthropology, history, music, and ethnic and gender studies, we will consider the diversity of ways in which religion both reflects and shapes human communities and self-conceptions, particularly in situations confronting sickness. We will consider topics such as: shamanism and altered states of consciousness, the importance of sound and music to healing processes, issues of race, gender, and sexuality in relation to religious worldviews and healing systems, and the possibilities and potentials for integrating indigenous healing practices with Western bio-medicine.
Requirements Satisfied: Humanities and Foundational Writing and Information Literacy

REL 095 B —Creating Community: Religion in US
Instructor: Erica Andrus
No matter what your personal relationship to religion or spirituality may be, religion surrounds us and impacts us in the United States. The more you know about it, the more you can see how fascinating, complicated, and important religion is to our sense of who we are as Americans. This course introduces the history and variety of religions in America as well as the ways the study of religion uses different approaches, like anthropology, history, and sociology. We'll look specifically at Native American, Muslim, and Afro Atlantic religions, and how these groups understand themselves as both fully American and fully belonging to their own minority religious and ethnic groups, adding to the strength and diversity of our nation. Grades will be based on classroom and/or online participation, weekly reading responses, and students will be able to learn about a religious group of their choice through a written research project broken down into several stages and presented to the class at the end of the semester.
Requirements Satisfied: Humanities and Foundational Writing and Information Literacy

World Literature
WLIT 095 C —European Fairy Tales
Instructor: Cristina Mazzoni
You are probably very familiar with the stories of Cinderella, Sleeping Beauty, and Rapunzel, but you may not realize that the oldest versions of these tales come from Renaissance Italy. More interestingly, few people know that the first Cinderella murdered her own stepmother by crushing her skull with the lid of a trunk; that the original Sleeping Beauty was raped and impregnated by a king married to someone else; and that Rapunzel, in the earliest version of the tale, drugged with opium the ogress so she could have sex with the prince who climbed up the tower on her long braids. In this course, we will read these and other tale types from the European tradition (including "Beauty and the Beast" and "Little Red Riding Hood") and watch some of the most compelling of their film adaptations. Students in this course will do the following, both orally and in writing: describe the origins, structure, meanings, and historical development of European fairy tales as a literary genre; retell a number of classic European fairy tales, highlighting in the process the differences between versions from various times and places, and some of the reasons for these differences; analyze fairy tales according to a variety of critical approaches, including structuralist, feminist, and psychoanalytic. Because this is a seminar-style course, class participation counts heavily towards the final grade, and students will be expected to do all readings and prepare all discussion questions before each class meeting. The rest of the grade is determined by two oral presentations, one research essay, a class journal, a midterm, and a final.
Requirements Satisfied: Literature and Foundational Writing and Information Literacy

WLIT 095 B —Gender & Ethnicity in Italian Culture
Instructor: Paolo Pucci
How did Italians in the past react to a homosexual or a family of Muslim immigrants living next door, and how do they react today? What did it mean to be a prostitute in Renaissance Venice and what does it mean in 19th through 21st-century Italy? These and related issues are examined in this course through the portrayal of social minorities in literature, cinema, and opera. The views entertained by Italian society at large are challenged by the perspective of non-Italians, in particular a Turkish movie director and a Brazilian woman writer, who have made Italy their home away from home.
Requirements Satisfied: Literature and Foundational Writing and Information Literacy

Social Sciences
Anthropology
ANTH 095 B —Bioanthropology of "Human Nature"
Instructor: Deborah Blom
Discussions of human evolutionary history have become commonplace in popular media, as we see heath advice such as barefoot running and various versions of the "Paleodiet." Yet, these media often misrepresent scholarly studies and overemphasize our Paleolithic pasts over modern conditions and cultures. Complex and subtle methods, interpretations and conclusions are lost in the "sound bite." This course will explore the ways in which bioanthropological and bioarchaeological data can be used to gain insight into human diversity and evolution and so-called "human nature." Through methodological and theoretical exploration, students will learn how the study of human skeletal and fossil remains can advance our knowledge of modern and past human societies. In doing so, students will develop skills necessary for success in college and their future careers, with a major goal being the development of college writing and information literacy skills.
Requirements Satisfied: Social Sciences and Foundational Writing and Information Literacy

Economics
EC 045 A —D2: Latin American Development
Instructor: Catalina Vizcarra
Why is Latin America a relatively poor region in spite of its abundant natural resources? Why does the region have the most unequal distribution of income in the world, and why are there so many Hispanic immigrants in the United States? In this course we will discuss whether the roots of Latin America's relative underdevelopment lie in its colonial experience, in subsequent foreign intervention, or in misguided domestic economic policies. We will also learn about the benefits and challenges that the most recent wave of globalization poses to the more than 600 million Latin Americans. In the process of addressing these questions, students will be introduced to a number of economic theories central to the analysis of the development process.
Requirements Satisfied: Social Sciences, Foundational Writing and Information Literacy, and (D2) Non-European Cultures

EC 095 A —The American Dream
Instructor: Shirley Gedeon
The American Dream is the promise that the US holds out to the rising generation and to immigrants that hard work, integrity and thriftiness almost certainly lead to success. Yet In the past 40 years, the US has experienced a drop in economic mobility, slowdown in economic growth, and a rise in income inequality. Has the American Dream vanished? We will study the American Dream through history, literature, and economics, asking (i) How has the idea of the American Dream shaped who we are and who we think we are? (ii) What is competitive individualism and why is it crucial to the American Dream? (iii) How does rising inequality hurt mobility—the centerpiece of the American Dream? (iv) Who has been most affected by the stalled mobility? (v) Is there a shrinking middle class? (vi) What are recent trends in intergenerational mobility
Requirements Satisfied: Social Sciences and Foundational Writing and Information Literacy

Gender, Sexuality and Women's Studies
GSWS 001 A & C —Gender, Sexuality & Women's Studies
Instructor: Annika Ljung-Baruth
This course introduces the basic vocabulary of Gender, Sexuality, and Women's Studies through an exploration of central questions in the field. What is the difference between sex and gender and how are the two related? What are sexual and gender identities? How are sex, gender, and sexuality shaped by society, culture, and history? What is their relationship to politics? How do gender and sexuality intersect with each other as well as with other aspects of identity/experience like race and class? What is meant by terms like sexism, heterosexism, heteronormativity, homonormativity, and cisgender privilege? How are sex, gender, and sexuality created and maintained in mainstream culture? How have social movements challenged and changed norms around gender and sexuality? We will explore these and other questions throughout this semester-long introduction to the interdisciplinary field of Gender, Sexuality, and Women's Studies.
Requirements Satisfied: Social Sciences and Foundational Writing and Information Literacy

Political Science
POLS 021 A & B —American Political System
Instructor: Eileen Burgin
Does the American political system work, or is it fundamentally flawed, as many citizens contend? Why do we face serious policy problems in a range of substantive areas, from domestic policy issues such as health care and immigration to foreign policy matters such as terrorism? And has the national policy-making scene become too partisan, so that the three branches of the federal government cannot fulfill the roles envisioned by the framers of the Constitution? Is the venom and vitriol we are witnessing, particularly since Donald Trump's election, a sign of a broken polity or simply representative democracy at work? Is our political system at risk under Trump – who has expressed a lack of understanding and lack of support for key foundations of our representative government – or can our nation withstand such a president? Are all of these problems and various conflicts just an inherent and natural part of the system, or is something different happening now? In surveying the American political system, POLS 21 will explore these and other questions. By learning about the basics of the American political system – the ideas on which the Republic was founded, the principal institutions of the national government, and participation in government and politics – students will gain the requisite knowledge to analyze the key challenges facing our constitutional democracy. Class meetings will be a combination of lecture and discussion.
Requirements Satisfied: Social Sciences and Foundational Writing and Information Literacy

POLS 021 C —American Political System
Instructor: Anthony Gierzynski
This course is designed to engage students in fascinating in-person discussions about current political happenings while helping them develop and enhance their understanding of the institutions and political processes in the US political system. Topics will include the role of the media, elections, political parties, public opinion, the Presidency, the Courts, Congress and more.
Requirements Satisfied: Social Sciences and Foundational Writing and Information Literacy

POLS 041 A & B —Intro to Political Theory
Instructor: Jan Feldman
Political philosophy is systematic thinking about the purposes of government, not just a description of its functions and institutions. It is an investigation into the nature of justice and what sort of government can best achieve it. The questions that have engaged Western political philosophers for the past 2,000 years have been remarkably constant, though their answers have differed dramatically due to their differing conceptions of human nature and the purpose of human communities. This course presents the opportunity to explore questions of deep and enduring significance from the perspective of great representative thinkers of the Western tradition.
Requirements Satisfied: Humanities and Foundational Writing and Information Literacy

POLS 051 A —Intro International Relations
Instructor: Peter Henne
This course provides students with an introduction to international relations. The course covers the major theories of and approaches to international relations, key concepts in the study of international conflict and cooperation, and the dilemmas foreign policymakers face. Students will learn about academic research on topics ranging from the balance of power to globalization, and discuss these in the context of current events. They will also learn how these topics relate to a variety of careers in international relations. The course is a mix of lecture and discussion, including organized debates and a policy simulation. After taking this course, students will be able to: 1. Understand important theories and topics in international relations. 2. Analyze the causes and consequences of current events in international relations. 3. Engage in ongoing debates among scholars and policymakers on a variety of international relations topics
Requirements Satisfied: Social Sciences and Foundational Writing and Information Literacy

POLS 071 A & B —Comparative Political Systems
Instructor: Peter VonDoepp
In this TAP course, we will explore and learn to understand political phenomena in different settings around the world. On the one hand, we will obtain a better grasp of major differences between political systems, building our conceptual vocabulary and research skills so that we can more effectively discuss and describe politics in different countries. On the other hand, we will learn and apply techniques and theories that can account for differences among countries. Questions we will explore include: Why does authoritarianism persist in the Arab world? Why has democracy failed to take hold in Russia? Why does the United States lack a European-style welfare state? Why have some countries achieved peace and stability while others have not? In answering these, students will not only learn about important issues, but also improve their ability to make informed evaluations about politics outside the United States.
Requirements Satisfied: Social Sciences and Foundational Writing and Information Literacy

POLS 095 A —The Politics of Environmentalism
Instructor: Robert Bartlett
Environmentalism is a social movement that coalesced in the 1960s and has been politically significant ever since. In this course we will examine the continuing impact of environmentalism on modern politics. We will analyze the changing nature and trajectory of environmentalism, its internal contradictions and coherence, its critics, its support in the larger society, its connections to other social movements, and its impact on policy and governance. We will explore why some scholars argue that "Only politics can save the environment. Much class time will be spent in discussion and interactive learning activities. Readings will include The Politics of the Earth, Ten Things Employers Want You to Learn in College, Environmentalism of the Rich, and Miniature Guide to Critical Thinking. Students will need to read the New York Times at least three days each week. Grades will be based on attendance and participation, a short research paper completed in stages, and contributions to a readings journal and a current events journal.
Requirements Satisfied: Social Sciences and Foundational Writing and Information Literacy

POLS 095 B —Politics of American Criminal Justice
Instructor: Alec Ewald
This course examines the extraordinary American criminal justice system as a set of political problems. Our national history, political philosophies, constitutional and legal rules, partisan politics, federal system, and media practices have all shaped American punishment, as have socioeconomic and racial inequality. We will study causes and consequences through a blend of readings, including academic articles, court cases, popular-press accounts, first-person narratives, and archival documents.
Requirements Satisfied: Social Sciences and Foundational Writing and Information Literacy

Psychological Science
PSYS 095 A —Meaning of Madness
Instructor: Judith Christensen
Why use such a pejorative term as –madness" for the title of this course? This term has long history and illustrates the stigma often associated with mental health diagnoses. Using historical assessments, cultural differences worldwide, and psychological science research examining gender, race and other sources of bias, students will use this multi-perspective approach to understand what is behind mental health stigma and will examine ways to break down such destructive stereotypes and treatment barriers. 1. Establish a comprehensive understanding of gender, race, culture and other sources of bias that contribute to mental health stigma. Develop and apply an understanding of cultural competency as one means to reduce and eliminate mental health stigma. 2. Demonstrate knowledge, comprehension and application of central themes and concepts related to Meanings of Madness, including relevant historical developments, theories, ethical standards, research findings, and the complexity of mental health processes (assessed using weekly written reflective assignments, presentations); 3. Evaluate and apply research methods in mental health, as demonstrated by the ability to summarize, interpret and critically evaluate the research in this area in written and class presentation formats (assessed using article critique, presentation of primary research, annotated bibliography project); 4. Demonstrate the following proficiencies: 1. select relevant, current research on a topic; 2. understand and interpret research; 3. organize and synthesize information from multiple sources; 4. master APA writing style and format (assessed using literature review project on a topic of your choice, related to mental health outcomes); 5. Apply your knowledge to your own mental health processes (for example, categories of problems, evaluation, client/patient care, treatment methods and strategies, treatment outcomes) through weekly reflective assignments, class discussions and to professional applications such as education, communication disorders, law, clinical psychology/mental health, and social relationships. Requirements Satisfied: Social Sciences and Writing and Information Literacy
Requirements Satisfied: Social Sciences and Foundational Writing and Information Literacy

PSYS 095 B —Scientific Study Human Sexuality
Instructor: Alessandra Rellini
Our society sends us constant messages about sex and defines what we should like, do, and not do. Have you ever wondered how much of what you learn from the media is actually true? Are men and women really that different from each other when it comes to sexual desire, arousal, and orgasm? How do our minds and bodies respond to sexual stimuli and what makes us want to have sexual relations? Through this writing-intensive course, students will learn to critically read scientific articles and write research papers exploring the world of sex research. Our interdisciplinary approach to the study of sex will incorporate knowledge coming from the fields of psychology, biology, pharmacology, anthropology, and psychiatry. If you take this class, you will need to be open-minded and ready to face the fact that sex is not as simple as you may have thought, and you cannot base your knowledge on what your friends or the media tell you.
Requirements Satisfied: Social Sciences and Foundational Writing and Information Literacy

Sociology
SOC 019 C —D1: Race Relations in USA
Instructor: Nikki Khanna
The main purpose of this course is to introduce students to the sociological analysis of race and ethnic relations. We will examine patterns of ethnic/racial relations and apply these patterns to ethnic/racial groups within the United States. Once we have investigated race relations in the U.S., we will then turn to examining cases outside the U.S. as a basis for comparison. The basic outline of the course is: I. Perspectives on Race and Ethnic Relations II. Major Race and Ethnic Groups in the United States Today III. Comparative Perspectives: South Africa and Brazil
Requirements Satisfied: Social Sciences, Foundational Writing and Information Literacy, and (D1) Race Relations and Ethnicity in the U.S.

SOC 095 A —Sociology of Social Networks
Instructor: Thomas Streeter
Despite the Internet's origins in the desire for a utopian global village, these days it looks like we have ended up with something very different: a dumpster fire of toxicity, harassment, and abuse. This course will address these questions: Why does the Internet seem like a dumpster fire? What does that tell us about contemporary social relations?

Topics this course will address are likely to include: Is it possible to fix the Internet? How do we protect ourselves and others from misinformation? How can we protect ourselves and others from harm online? What are the limits to equal participation online? How do social class, education, gender, race, ethnicity and other social relations shape what's possible, and what's not possible, on the internet? How has the internet shaped recent elections and politics?

This course involves studying both classic and recent scholarly literature on the internet and social media, class participation, regular small writing assignments, and a large, multi-part, final research paper.
Requirements Satisfied: Social Sciences and Foundational Writing and Information Literacy

Natural Sciences and Mathematics
Biology
BIOL 095 A —BioFabLab: Making Biology
Instructor: Andrew Mead
Biologist and Nobel laureate Sydney Brenner said, "progress in science depends on new techniques, new observations, and new ideas… probably in that order." What does that mean? It sounds sort of upside down, but he might just be right. Being creative, and inventing new tools for interrogating the living world is a big part being a biologist. In BioFabLab, you and your team will be given a real research question coming from one of the labs at UVM. Over the course of the semester, your job will be to design, prototype, build, and describe a completely new piece of research equipment to answer that question. Part of the class will be held on campus, exploring the biological concepts at question behind the research. The rest of the time you will be getting your hands dirty, creating, and learning new skills such as 3D printing, laser cutting, and Arduino® programming at Burlington's state of the art makerspace, Burlington Generator. Extensive background in biology is not necessary to be successful in this course; a foundation in basic high school biology is sufficient.
Requirements Satisfied: Non-Lab Natural Science and Foundational Writing and Information Literacy

BIOL 095 B —Genetically Modified Organisms
Instructor: Linden Higgins
Genetically modified organisms are one of the lightening rods of current public opinion: some people care passionately about whether or not they are released, while others are oblivious. We will explore how genes work, how domesticated crops and animals have been traditionally changed by humans, and how scientists are now utilizing modern molecular techniques to move genes from one organism to another. After learning these basic biology principles, we will explore current questions regarding financial, ecological and evolutionary costs and benefits of transgenic technology in agriculture and biotechnology.
Requirements Satisfied: Non-Lab Natural Science and Foundational Writing and Information Literacy

Chemistry
CHEM 071 A —Chemistry of Honeybees
Instructor: Steve Flemer
Much emphasis lately has been placed on the importance of insect pollinators toward the well-being of our environment and food systems. The current plight of the honeybee has taken center-stage in this conversation, due to its primary importance in the pollination of crops, providing 30% of the food we eat. Thus, it is important to promote the importance of honeybee health and educate the public of their crucial place in our environment. An understanding of the basic chemistry of everyday honeybee existence is an important cornerstone toward knowledge in other realms, namely honeybee biochemistry and essential biology. The subject matter in this course is meant to progressively build on foundational material from prior lectures, culminating with its major thrust: the chemistry and molecular structure of the honeybee realm and how it relates to global honeybee health and well-being. The beginning lecture material in the course provide a background in honeybee biology within the colony environment, followed by an exploration of the molecular structure and overall chemistry of honeybee products such as honey, bee pollen, and beeswax, along with biochemical studies of honeybee venom and communication pheromones.
Requirements Satisfied: Non-Lab Natural Science and Foundational Writing and Information Literacy

Geology
GEOL 011 A —Geology Using Google Earth
Instructor: John Hughes
The Earth is a dynamic planet, and scientists have learned much about the Earth by –stepping back" and viewing it from afar, from space. Such a view is now afforded to laypersons, through the use of Google Earth. This course will provide a description of the dynamic processes that have shaped our planet, and, where appropriate, view the results of those processes from space using Google Earth. This will allow us to gain a perspective of the Earth that we have only recently obtained, and also to view the results of 4.6 billion years of dynamic processes on Earth. As learning partners, Professor Hughes and student colleagues will explore planet Earth as geologists, unraveling the history of the Earth by understanding the processes that have shaped it as it is today.
Requirements Satisfied: Non-Lab Natural Science and Foundational Writing and Information Literacy

GEOL 095 A —Climate Change & Sustainability
Instructor: Julia Perdrial
Sustainability is emerging as a central theme concerning our environment, whether it be from the perspective of environmental, social or economic impacts. In this course we will explore the linkages of sustainability to one of the most important sustainability issue: global climate change. We will approach this topic via reading, lectures, debates, group work, and shared writing and presentations. We also will practice science communication using a series of improvisation exercises. Assessment: I will assess your learning through a variety of ways, including writing assignments, final poster presentation, group work, minute papers and Science communication.
Requirements Satisfied: Non-Lab Natural Science and Foundational Writing and Information Literacy

GEOL 095 B —Planetology
Instructor: Nicolas Perdrial
The wonders of the night sky, the Moon and the Sun have fascinated mankind for many millennia. What are these objects, akin to the Earth? What shapes them? How do they compare to our planet? Are any of them inhabited? During this Teacher Advisor Program class, open to all background, we will explore the solar system and answer these questions. From its formation until the recent discovery of planet nine we will venture, dissect and orbit around the planetary bodies to discover their specificities and similarities. Part of this class will make use of modern computing technology (GIS, Infographics). At the end of the semester, the class will produce a general public information object for dissemination of knowledge (last year we produced an exhibition for the Geology museum). Lectures, debate, group work, reports will ensure a student-paced learning environment.
Requirements Satisfied: Non-Lab Natural Science and Foundational Writing and Information Literacy

Physics
PHYS 095 A —Physics of Music
Instructor: Malcolm Sanders
Music is a special and wonderful manifestation of sound. In this course we will investigate the nature of musical sound from a physicist's perspective. We will start by learning the language and concepts that physicists use to describe vibrations, waves and sound. This language describes how sound is created, how it travels and how it is perceived by the human ear. We can use this language as a basis for discussion about music and musical instruments and to answer questions such as: How do we hear sound? What is the difference between music (pleasant sounds) and noise (unpleasant sounds)? What makes the sound of different musical instruments distinct from each other? Once we have mastered the basic concepts, we will look at the acoustic characteristics of wide variety of musical instruments, including bells, viols, reeds, drums, human voices, and organ pipes, to see how these instruments work and to see what makes each of their musical tones distinctive and unique. We will also touch on the acoustic properties of concert halls and auditoriums, to identify the characteristics of a good room as opposed to a bad one.
Requirements Satisfied: Non-Lab Natural Science and Foundational Writing and Information Literacy