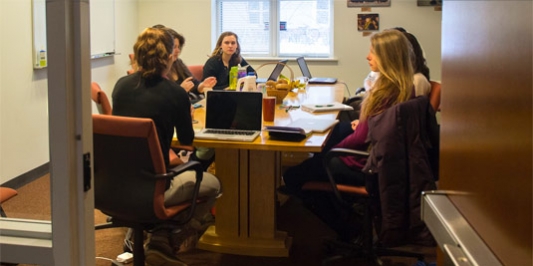 The College of Arts & Sciences invites its first year students to enroll in a First-Year Seminar, a small, interactive, writing-intensive course. Topics vary widely and are selected by the professor based on their interests and expertise. Typically taken in a student's first semester at UVM, the First-Year Seminar lays the foundations for pursuing a degree in the college. The First-Year Seminar professor becomes an additional resource to the student's professional advisor. Additionally, all First-Year Seminars fulfill the University's Writing and Information Literacy Requirement and many also satisfy one of the College's Distribution Requirements (Fine Arts, Humanities, Natural Science, or Social Science).
Fall 2022 First-Year Seminars
Fine Arts
Art & Art History
ARTH 095 B —Why Build That?
Instructor: William Mierse
Ever wondered why architects make the decisions that they do? Why did someone build that building in that manner? This is a course that helps you find some of the answers to those questions. Along the way you get the chance to learn how to formulate the questions, explore the formal aspects of buildings, develop research strategies for pursuing other aspects of the building's history, use primary source materials, critique secondary sources, and develop your own interpretation of why a building was built like that. This is a discussion based, seminar style course. At every meeting we discuss some aspect of architecture that you have begun to examine on your own either through assigned readings, video viewing, or independent research. This is a course that functions only when everyone participates. Sometimes the participation is in the form of discussions, sometimes group presentations, and sometimes individual presentations. There is lots of analytical writing, and the assignments take a variety of different forms from critiques of videos and presentations, to formal letter writing, to research papers.
Requirements Satisfied: Foundational Writing and Information Literacy (FWIL) and Fine Arts or one Humanities
 
ARTS 012 A —Perspectives on Art Making
Instructor: Margaret McDevitt
Perspectives on Making is an introduction to contemporary art practice. We will explore the making, presenting and analyzing (written and verbal) of art works in a variety of media and formats. This may include: drawing, three-dimensional construction, collage, photography, digital arts, and painting. The work produced within this class demonstrates how hands-on creation, talking, and looking are integral to making. Basic skills essential to upper level department offerings will be covered. Students will be given hands on training in our wood and welding facilities. Part of the course structure will include critiques in which students will be asked to discuss each other's projects in conjunction with presenting their own work.
Students should be invested in approaching the ideas and methods that are inherent to making artwork. No prior experience in art making is required. This is a foundation level class, and basic skills essential to upper level department offerings will be covered.
The lab fee for the class covers most of the materials we will be using.
Requirements Satisfied: Foundational Writing and Information Literacy (FWIL) and Fine Arts
ARTS 095 A —Wheel Throwing
Instructor: Hoyt Barringer
"In just taking an apple from the tree, and eating the whole thing, there are no mistakes to be made." - Shoji Hamada In this course, the potter's wheel is used as the primary forming process for making functional and sculptural stoneware pieces. Students will gain considerable experience with process and materials developing the necessary skills and competence to connect the hand and eye with the heart and mind. What constitutes a well thrown form technically and sculpturally? How do we determine proper proportion, form and function? Visual, tactile and historical possibilities are explored using stoneware clay, slips, oxides and glazes high-fired in a gas kiln. During the course of the semester, students are required to work independently to demonstrate their command of various forms and techniques set forth in the course syllabus. Students will be required to conceive of a cohesive body of work for a final project that exhibits developed skills and an ability to think analytically and creatively.
Requirements Satisfied: Foundational Writing and Information Literacy (FWIL) and Fine Arts
 
Dance
DNCE 095 B —Dance and Movement Analysis
Instructor: Julie Peoples-Clark
An introduction to the theories and methods of Movement Analysis, focusing on its application to dance performance and research. Through lectures, readings, writing, integrative movement exercises, and observation labs, students will learn to analyze and describe the qualitative aspects of human movement; to notate movement in motif writing; and to refine their ability to move efficiently and expressively. Movement Analysis supports creative work in fields as diverse as Performing Arts, Music, Business, Psychology, Anthropology, Kinesiology, Physical Therapy, Medical Research, Animation/CGI/Robotics, Ergonomics, Non-verbal Communications, among many others.
Requirements Satisfied: Foundational Writing and Information Literacy (FWIL) and Fine Arts
 
Theatre
THE 001 A —Intro to Theatre
Instructor: Sara Nelson
This course is a broad introduction to theatre and the various aspects of how it is created. We will explore theatre both as an art form and as a practical craft. Using plays read in class and live performance, we will cover: Theater history and contemporary forms, the role of the audience in theatrical performance, the role of the actor and director in theatrical production, the artistry and craft of technical theatre, theater of different cultures, the importance and relevance of theatre in present day, and using theatre as a tool for social change.
Requirements Satisfied: Foundational Writing and Information Literacy (FWIL) and Fine Arts
 
Humanities
Arts & Sciences Interdisciplinary
AS 095 A —Gender & Race in Contemporary Latin America
Instructor: Ernesto Ebratt
This course uses the theme of globalization and identity as a lens to explore gender and race issues in Latin America and the Caribbean. Three countries, Mexico, Colombia, and the Dominican Republic, will be utilized as case studies to explore: 1) gender and labor in the maquiladora industry on the U.S./Mexico border; 2) problematic gender relations in drug trafficking in Colombia; and 3) the paradox of (in)visibility: Haitian migration to the Dominican Republic. Through an analysis of these issues, students will learn about historical and contemporary power relations in these regions of the world, will make connections between them, and draw correlations to similar issues affecting Latinos, African Americans, and women in the United States.
Requirements Satisfied: Foundational Writing and Information Literacy (FWIL) and one Humanities
 
Asian Languages and Literature
JAPN 095 A —Japanese Popular Culture & Globalization (Online Course)
Instructor: Kyle Ikeda
Over the past two decades anime, manga, video games, toys, J-pop music, and horror movies, among other cultural and consumer products from Japan, have garnered a larger presence in the American, as well as global, popular culture scene.  What are some of the reasons for this increased interest?  In what ways has the age of globalization and increasing digital media flows altered the way fans of Japanese culture communicate with each other across national borders?  What accounts for differences in how anime and collectible items such as Hello Kitty accessories have been marketed in the US as opposed to Japan? 
Through the course readings and discussions, we will examine these and other questions concerning Japanese popular culture in the age of globalization.  Students will be introduced to key concepts and questions concerning Japanese popular culture global flows and be given the opportunity to apply insights gained through course readings, lectures, and discussions to a Japanese popular culture research project of their own design. This is an online course.
Requirements Satisfied: Foundational Writing and Information Literacy (FWIL) and one Humanities
 
English
ENGS 005 H & J —American Poetry, Gender, Sexuality, and Identity
Instructor: Eve Alexandra
In this introduction to American poetry special consideration will be given to poets/poetic movements seeking to establish, interrogate, and complicate identity through the lens of gender and sexuality. We will explore representations of the body in the expanded canon of American poetry from 1855 from to the present. This is a literature class with a creative writing component. Students will practice and develop their own individual poetic voice as they use creativity to think critically about gender, sexuality, and identity.
Requirements Satisfied: Foundational Writing and Information Literacy (FWIL) and Literature
 
ENGS 005 A —Writers at Work
Instructor: Susanmarie Harrington
This seminar cultivates curiosity and conversation about non-fiction writing, emphasizing habits of mind and peer engagement. How do writers learn to function in new contexts in stressful times? We'll explore mindfulness and the role of failure in learning; we'll research, we'll build a culture of productive peer feedback, we'll explore how writers' curiosities get readers interested, and how writers create and use good feedback.

Through practice, reading, and conversation we'll cultivate curiosity, developing habits of mind that encourage us to think deeply and widely.  We'll read and write non-fiction; we'll share work with each other regularly; we'll playfully compose and seriously confront complicated ideas. You'll have the chance to develop questions, pursue curiosities, and cultivate your voice.
The course requires regular writing and reading.  Writing review groups will be active weekly; learning how to give and receive feedback, and how feedback helps writers create texts and develop ideas, is a major theme in our work. Expect weekly shorts that inspire longer essays.
Requirements Satisfied: Foundational Writing and Information Literacy (FWIL) and one Humanities
ENGS 005 B —Harry Potter
Instructor: Holly Painter
You've read Harry Potter for fun. Now read the series again as a literary text and a springboard to writing and thoughtful discussion with classmates. All seven books in one semester. All houses welcome.
Requirements Satisfied: Foundational Writing and Information Literacy (FWIL) and Literature
 
ENGS 005 C —Anatomy of Short Story
Instructor: Deborah Noel
In this class, we'll be reading stories that exhibit a range of styles and genres by authors such as Edgar Allen Poe, Willa Cather, Ralph Ellison, Flannery O'Connor, Raymond Carver and Kelly Link, among others. Students will work toward mastering terms and concepts in literary criticism that will prepare them to write informed analyses of our primary texts. We will also explore how scholarly articles, interviews and other secondary materials can enhance and embolden our own responses to literature. In order to engage in a broader critical discussion of our narratives and build research skills, students will draft a final research project focused on one work/author. Because this is a TAP course that also fulfills your Foundational Writing and Information Literacy requirement, we will be cultivating a community of student thinkers and writers, developing strategies for shaping research questions. Over the course of the semester, we'll read a selection of short stories supported by critical theory in narrative and literary studies, philosophy and history to frame some big questions: How do fictions, from "historical realism" to "absurdist fantasy," reflect the world we think we know? What are the effects of getting to know the world through fiction? What kind of thinking do we engage in when we read fiction? What sort of "truth," if any, can we find in fiction? What can a study of narrative knowing teach us about other ways of knowing? What does it mean to "read for pleasure," and how do (or should) our reading habits change when we're reading for study? A later phase of the course will bear out some of these questions through brief interdisciplinary units on fiction and history, fiction and philosophy. Throughout all of this, we'll be exploring the social role of fiction and the nature of narrative thinking.
Requirements Satisfied: Foundational Writing and Information Literacy (FWIL) and Literature
ENGS 005 E —Classic Monsters
Instructor: Sarah Alexander
Why do we keep remaking certain monsters? Why does Frankenstein's monster still inhabit our imaginations more than 200 years after Mary Shelley first imagined him? Why does the story of Dracula continue to multiply in film and television? British writers of the nineteenth century created some of the most memorable and enduring monsters—Frankenstein's monster, Mr. Hyde, Dracula. In this course we will think about the ways that monsters suggest conceptions of identity and difference, self and other. We will think about how different forms of monstrosity reflect a culture's anxieties, fears, values, and desires. We will consider how notions about monstrosity are related to attitudes toward technology, scientific discovery, race, national identity, gender, and sexuality.
Requirements Satisfied: Foundational Writing and Information Literacy (FWIL) and Literature
 
ENGS 005 K—What Is Literature?
Instructor: Helen Scott
While the category 'literature' may seem self-evident, it is both historically new and remarkably hard to define. This seminar explores the origins and development of the modern concept of a distinct realm of 'literary' writing before turning to examples of the major genres—drama, narrative fiction and poetry—by historically and geographically diverse writers in English. We will examine debates about literary interpretation and value while practicing close reading and contextualization of our selected works. Course Learning Objectives: 1) Understanding of the definitions and characteristics of the major literary genres: novel, short story, poetry, drama; 2) Familiarity with the historical development of the concept of Literature. Foundational competency in the following areas: Rhetorical discernment; Critical Reading; Analytical writing and substantive revision; Information literacy.
Requirements Satisfied: Foundational Writing and Information Literacy (FWIL) and Literature
 
ENGS 005 F —Food and Writing
Instructor: Elizabeth Miles
Food, glorious food. At its best, food nourishes and sustains us, it provides a sense of place and cultural identity, it tantalizes and delights, and can even take us on sensory explorations to other worlds. But it can also be fraught with peril: disorders and toxins and social injustice. In this class, we will immerse ourselves in the writing that surrounds food, such as narratives, recipes, treatises, research studies, documentaries, and blogs. You will read, research, and write a range of discourses that explore different aspects of food in our lives, and the lives of those around us.
Requirements Satisfied: Foundational Writing and Information Literacy (FWIL) and Humanities
 
ENGS 005 I —Imagined Worlds
Instructor: Jennifer Sisk
This course will focus on Philip Pullman's award-winning trilogy, His Dark Materials, the success of which has spawned adaptations in other media, including film, television, and the graphic novel, even as it has found its way onto multiple banned-book lists.  We'll be using these novels to ground larger discussions about the power (and perceived danger) of imagination, the politics of world-building, and the ethics of censorship.  In addition to developing critical reading skills, you'll also learn techniques for writing about literature at the college level.  You'll read a range of responses to Pullman's novels, from book reviews to polemic, from popular journalism to academic scholarship.  You'll gain discernment in your approach to this variety of work, some of which you'll put to use in support of your own original arguments about Pullman's text.
Requirements Satisfied: Foundational Writing and Information Literacy (FWIL) and Literature
 
ENGS 005 L —The Banned Books Course
Instructor: Mary Louise Kete
Last year over 1500 different books were banned from public school curricula and over 750 different books were targeted for removal from public libraries. Over the course of the semester, we will be investigating the problem of book-banning as we read a selection of the most infamous books banned in America from Huckleberry Finn and To Kill a Mockingbird to The Bluest Eye and Maus.
Requirements Satisfied: Foundational Writing and Information Literacy (FWIL) and Literature
 
History
HST 095 C —US Women's History
Instructor: Melanie Gustafson
This seminar provides an introduction to American women's political and social activism from the nineteenth century to today. It begins with an examination of the anti-slavery and women's rights movements before the Civil War, continues with a focus on the struggle for the right to vote and the subsequent battles for political inclusion, and culminates with a discussion of the rise of global feminism. The course is designed to introduce students to important leaders and their ideas, the evolution of movements for equal rights and social justice, and key political moments in American women's history. We will use historical methodologies, which means exploring how and why changes occurred and the impact of change on the lives of ordinary people and the nation. Students will work individually and in groups on research assignments.
Requirements Satisfied: Foundational Writing and Information Literacy (FWIL) and one Humanities
 
HST 095 B —Robin Hood & Ideal Justice
Instructor: Sean Field
Where do our images of the "outlaw hero" Robin Hood come from, how have they changed over time, and what do they tell us about past and present ideas of justice?  This seminar will explore the Robin Hood legend from its earliest manifestations in fifteenth-century England through twenty-first-century America.  Its objectives are three-fold:  First, to develop seminar members' skills as writers, especially of clear and compelling historical arguments.  Second, to help us all become more precise readers of texts, more critical observers of film, and more intelligent commentators on various popular media.  And third, to examine the ways in which the very idea of "justice" has taken different forms to meet evolving perspectives across time and space.
Requirements Satisfied: Foundational Writing and Information Literacy (FWIL) and one Humanities
 
Philosophy
PHIL 021 B —Intro Philosophy: Ethics
Instructor: Don Loeb
This course is an introduction to the problems of philosophy, centered on questions in and about morality (or ethics). We will look at Western philosophical approaches to ethics (in the analytic tradition) on three levels. Applied ethics (as it is sometimes called) asks about fairly concrete moral issues. We will look at some relatively recent literature on the morality of abortion, an area which I will argue illustrates that when it comes to ethics, we don't know nearly as much as we think we do--but philosophy can help! We go on to consider some broad approaches to (what is often called) normative ethics. These include approaches such as utilitarianism and Kantian deontology. Ultimately, we turn to metaethics and ask whether morality is even a realm of fact--something that could be known at all. We also consider whether religion could be the basis for morality and moral knowledge or provide us with good reasons to behave morally. Early in the term we will take a very brief detour into logic, because some fundamentals will be useful to us in wrestling with the material.
Requirements Satisfied: Foundational Writing and Information Literacy (FWIL) and one Humanities
 
PHIL 021 C & D—Intro Philosophy: Ethics
Instructor: Riin Sirkel
This course offers an introduction to ethics, with emphasis on moral theories which aim to explain what makes an action morally right or wrong. Theories discussed include moral relativism (Is morality relative to a culture?), utilitarianism (Is morality of an action determined by the consequences of the action?), Kantian ethics (Is morality of an action determined by moral rules?). We will also learn about deductive arguments, and common errors in reasoning. In the second part of the course, we will apply moral reasoning to some of the environmental issues (Should we protect nature solely for our well-being, or does nature have value in and of itself? Do animals have rights?).
Requirements Satisfied: Foundational Writing and Information Literacy (FWIL) and one Humanities
PHIL 026 E & F —Intro Philosophy: East & West
Instructor: Sin Yee Chan
The aim of the course is to introduce you to two traditions of philosophy, namely the Anglo-American tradition and the Chinese tradition of philosophy. Through the examination of some of the fundamental issues arising from these two traditions, I hope to help you develop the philosophical skills of critical thinking, logical reasoning, rational discussion as well as attain a comparative perspective on certain important philosophical questions. The approach will be topical and comparative, i.e. focusing on particular issues rather than on individual philosophers or history of ideas, and examining various views from the two traditions on each specific issue. The topics covered will be: 1. Knowledge 2. Ethics 3. Religion
Requirements Satisfied: Foundational Writing and Information Literacy (FWIL) and one Humanities
Religion
REL 020 A —D2: Comparing Religions
Instructor: Erica Andrus
This course will introduce students to the ways scholars study and compare religions. We'll use two or three "case study" religions (like Buddhism and Islam, and possibly Native American religions) to look at how people act in ways we call "religious" and think about the world in ways we identify as part of "religion," and then compare and contrast these actions and beliefs to broaden our understanding of what religion is and how it works. The material will include both historical and current examples, and work with a theoretical framework developed by Ninian Smart that allows us to bread down "religion" into smaller components of: ideas/beliefs, rituals, social roles, experiences, laws, material culture, and stories. This course is also designed to orient first year students to the research and writing resources here at UVM, and to provide opportunities to practice using these resources; recognizing and writing in different genres or styles (bibliographic annotations, blog-style writing, short fiction or drama, autobiographical, etc.); and working on revisions to improve writing techniques, as well as other writing practice as needed in order to fulfill the FWIL requirement.
Requirements Satisfied: Foundational Writing and Information Literacy (FWIL), one Humanities & D2 Non-European Cultures
 
World Literature
WLIT 095 A —What Men & Women Want: European Authors of the Early-Modern Era on Women in the Renaissance
Instructor: Paolo Pucci
In this course, we will study the views on women held by European societies (in particular by Italians) of the 13th-16th centuries. Through the analysis and discussion of mainly literary texts within the broader cultural, political, and social context, the class focuses on the ways in which female writers portrayed themselves in various roles; the wife, the nun, the prostitute, the widow, the feminist. We will also use male-authored misogynistic and idealizing writings to conduct our inquiry. This will enable us to compare the varying representations of women and define communities' expectations of them, with an eye also to our contemporary perspectives on gender relations.
Requirements Satisfied: Foundational Writing and Information Literacy (FWIL) and Literature
 
WLIT 095 B —Crime Fiction in Spain/Mexico
Instructor: Deborah Cafiero
This course studies detective fiction as a transnational genre that has developed over time from its inception in the mid-19th century to the present. We will survey foundational texts from the United States, identifying the characteristics of the genre and how it reflected the society of its time. Then we will examine crime fiction from Spain and Mexico to analyze the progression of the detective novel through different periods and national landscapes. The goal is to explore how a transnational popular genre, which in its origins reflects a particular type of society and worldview, has been adapted by various authors to express their own local and national systems and conditions. Students will also work to hone the effectiveness of their expression in speaking and writing, by engaging in collective oral analysis of literary texts and frequent writing exercises throughout the course of the semester.
Requirements Satisfied: Foundational Writing and Information Literacy (FWIL) and Literature
 
WLIT 095 D —Tourism, Culture & Identity
Instructor: Gayle Nunley
Some have said that today there are no travelers, only tourists. What exactly does this mean?  Is it true?  What are the dynamics of the tourism phenomenon, and how does it impact the peoples and cultures implicated within it?  We will take an interdisciplinary approach to these questions, exploring how travelers and residents of tourist destinations have portrayed the intersection of tourism, culture and identity in works of literature, film and first-person testimonials, along with consideration of key contributions by social theorists of the tourist gaze.  In class discussions ranging from orientalist art to ecotourism, Che Guevara's Motorcycle Diaries and the impacts of Covid, as well as personal reflection on students' own travel experiences, we will gain deeper understanding of the key issues and outcomes of modern-day tourism and how it shapes perceptions of ourselves and the world. Grades will be based on participation, a group project/presentation, and writing assignments.
Requirements Satisfied: Foundational Writing and Information Literacy (FWIL) and Literature
WLIT 095 E —Literary Paris
Instructor: Joseph Acquisto
In this course we will take a trip through space and time, as we read works set in the City of Lights, the capital of the emerging modern world. The streets, cathedrals, and monuments of Paris serve as the setting for novels and poems that paint a new portrait of the self in an emerging modern space. Paris is the place where history and modernity meet, where dreams of love and fortune come true or fall through as these authors trace and react to the changes in the French capital in the modern period.
Requirements Satisfied: Foundational Writing and Information Literacy (FWIL) and Literature
WLIT 095 F & G —Graphic Novels and Memory
Instructor: TBA
In the wake of World War II, we see the mass publication of literary works grappling with the devastation of war time trauma from the Holocaust and Socialism. Interestingly in the late 1970s, and with the publication of Marvel in 1982, graphic novels became a popular aesthetic medium for artists striving to etch their memories and histories into illustration. This shift became particularly true for members of the Holocaust and Socialist post-memory generations in the Eastern Bloc who struggled to depict their ancestral trauma and political oppression. This course seeks to understand why. In this seminar, we examine graphic novels from the Holocaust and the Eastern Bloc to understand how this art form resonates and resounds with war time trauma, memory, and identity. Through examining the graphic novels Maus, We Are On Our Own, Auschwitz, Yossel, The Ukrainian and Russian Notebooks, Marzi: A Memoir, The Wall, and The Other Side of the Wall in the context of social and political history, we will explore concepts such as remembrance, testimony, alienation, intergenerational trauma, gendered violence, totalitarianism, and political dissent.
Requirements Satisfied: Foundational Writing and Information Literacy (FWIL) and Literature
Natural Sciences
Biology
BIOL 095 A —Biology of Sex
Instructor: Linden Higgins
In this course, we will read and talk about what biologists know (and don't know) about the processes determining biological sex in humans and other animals. We will explore examples from the scientific and popular media, evaluate the quality of the research and the validity of the arguments, and practice communicating scientific findings to a general audience.
Requirements Satisfied:Foundational Writing and Information Literacy (FWIL) and Non-Lab Natural Science
 
Geology
GEOL 095 B —Medical Geology
Instructor: Laura Webb
This course explores the relationships between human health and geologic processes and materials, highlighting interfaces between the geosphere, hydrosphere, atmosphere, and biosphere. Together, we will examine the links between geologic processes and a variety of potential health hazards to which humans are exposed by air, water, or soil. Foundational geologic and geochemical knowledge will be applied to think critically about factors that affect health outcomes, such as biosolubility and bioreactivity of earth materials. Through case studies, we will explore related issues around public health, including testing and regulation.
Requirements Satisfied:Foundational Writing and Information Literacy (FWIL) and Non-Lab Natural Science
 
Social Sciences
Anthropology
ANTH 095 A —Archaeology Headlines
Instructor: Scott Van Keuren
The public has an enduring fascination with ancient worlds, fueled in part by pictures and stories of archaeological discoveries in popular media. Scarcely a week passes without a major new finding in the news cycle. Alas, that timeliness and the thrill of discovery gets lost in mainstream courses that rely on outdated textbooks. What if we ditched standard teaching frameworks and simply followed breaking news stories? Imagine that early hominin remains are discovered in Africa during the first week of class. We then begin with human evolution and examine our origins, survey innovations in archaeological methods, or even discuss ethical issues associated with paleogenetics and the study of human remains. In the next week, archaeologists publish new work on the demise of an ancient city in the jungles of modern-day Mexico. We pivot to the origins of inequality, theories of societal collapse, critiques of "lost city" narratives, and even consider repatriation and Indigenous rights to the past. We thus flow with the weekly headlines, guided by some essential questions: How do archaeologists decipher the past? How is their research depicted in the media? And more fundamentally, why does archaeology matter? Students will complete creative projects that increase media literacy, examine the nature of discovery, and consider how archaeological knowledge is created and presented to the public.
Requirements Satisfied: Foundational Writing and Information Literacy (FWIL) and one Social Science
 
Economics
EC 040 A —D2:SU: Economics of Globalization
Instructor: Richard Sicotte
Students will investigate key economic aspects of globalization: trade, migration, finance, and climate change. We begin by surveying the size, direction, and composition of international trade flows. We will consider the economic basis for such flows and discuss which individuals likely gain or lose (on net) from trade. We will also study major international trade agreements, including the World Trade Organization.  Next, we study the flows of legal and illegal migration around the world, with a special focus on flows to the United States. We will analyze the causes of migration to the U.S., and its consequences for native-born U.S. workers. Our study of international finance will begin with a detailed examination of the balance of payments, which is the account of all the international transactions of a country's citizens, businesses, and governments. The balance of payments concept is crucial to explain a country's exchange rate, trade balance, and international debt, each of which feature prominently in the media and in political debates. We carefully study each. We conclude the course with an examination of the economics of climate change.  Climate exchange has obvious international dimensions in both cause and impact.  We will study how economists estimate potential impacts, and the current thinking about how soon economies can cease to be dependent on fossil fuels.
Requirements Satisfied: Foundational Writing and Information Literacy (FWIL) and one Social Science
 
EC 045 A  —D2: Latin American Development
Instructor: Catalina Vizcarra
Why is Latin America a relatively poor region in spite of its abundant natural resources? Why does the region have the most unequal distribution of income in the world, and why are there so many Hispanic immigrants in the United States? In this course we will discuss whether the roots of Latin America's relative underdevelopment lie in its colonial experience, in subsequent foreign intervention, or in misguided domestic economic policies. We will also learn about the benefits and challenges that the most recent wave of globalization poses to the more than 600 million Latin Americans. In the process of addressing these questions, students will be introduced to a number of economic theories central to the analysis of the development process.
Requirements Satisfied: Foundational Writing and Information Literacy (FWIL) and one Social Science
 
Gender, Sexuality, and Women's Studies
GSWS 001 B & D —Gender, Sexuality, and Women's Studies
Instructor: Annika Ljung-Baruth
GSWS 001 introduces you to feminist perspectives from the period of the beginning of the women's movement to our contemporary society. Concepts such as equality, gender, sexuality, work, parenting, marriage, religion, culture, and health will be discussed and viewed from theoretical and personal perspectives throughout the course. We will achieve a better understanding of ways in which gender and sexuality are shaped by society, culture, and history, and the political and psychological consequences thereof. Exploring ways in which categories of sex and gender intersect with each other as well as with those of race and class, we will ask ourselves how we bring about changes that affect us all positively. In the context of trying to answer that question and many more, we will delve into personal experiences, theoretical perspectives, as well as film and fiction.
Requirements Satisfied: Foundational Writing and Information Literacy (FWIL) and one Social Science
 
Geography
GEOG 095 A —SU: Water Resource Management in a Changing World
Instructor: Beverley Wemple
The availability of fresh water may be the most significant environmental management issues we will face in the 21st century. In this seminar, we will take a geographical perspective in exploring water as a critical resource. Our exploration will begin with an introduction to water resources management within the Lake Champlain basin and the challenges of addressing harmful algal blooms that threaten Vermont's iconic lake and lakes worldwide. We will then explore some of the most important issues to society in the management of water resources, including providing water services to growing urban populations, protecting human and ecological resources on dammed rivers, managing water in a globalizing economy, mitigating water conflicts at scales ranging from local to transnational, and addressing water resource challenges in the face of climate change. Course will include field trips, documentary films, visits with regional professionals and leading water resource scholars, and interactive seminar discussions.
Requirements Satisfied: Foundational Writing and Information Literacy (FWIL) and one Social Science
 
Linguistics
LING 095 A & B —Deconstructing Humor
Instructor: Diana Popa
Deconstructing Humor is a transdisciplinary, writing-intensive course that helps students develop their ability to work with the linguistic and paralinguistic mechanisms of humor in mediated contexts as well as interpersonal interactions.
Requirements Satisfied: Foundational Writing and Information Literacy (FWIL) and one Social Science
 
Political Science
POLS 021 A & B —American Political System
Instructor: Jonathan David Bradley
This course provides an overview of the political institutions, processes, and cultures in the United States. This course provides a basic understanding of the study and work process expected of a college student. Our class will inform you as much about being a college student pursuing a liberal arts degree as it will about our American government and the political systems-institutions which make it up. This course provides an overview of the political institutions, processes, and cultures in the United States. It also includes an examination of current political, economic, policies and social issues. Beyond that this class will provide you with an advanced understanding how to research, study, process, and write for a liberal arts bachelor, in particular for the discipline of Political Science. By the end of the course, you will be able to incorporate rhetorical discernment, information literacy, critical reading, and substantive revisions. If you do not know what all that means, don't worry, the professor will teach you how to look up the information and incorporate into your degree program. In our class you will learn how to learn, and you will work on how to work at the college level. Also, there will be a healthy dose of American Political Systems.
Requirements Satisfied: Foundational Writing and Information Literacy (FWIL) and one Social Science
 
POLS 051 A  —Intro to International Relations
Instructor: Michele Commercio
This is an exciting time to be studying international relations. There is a great deal of instability. For example, international institutions seem to be in crisis mode. NATO and the EU are experiencing unanticipated political, economic, and social consequences of expansion, including border closings in reaction to a wave of refugees. As a result of a historical referendum, Britain has left the EU. Under the Trump administration, the U.S. withdrew from critical international agreements including the Iran nuclear deal, the Paris Climate Accord, and the TPP trade deal (Trans-Pacific Partnership). Under the Biden administration, the U.S. has rejoined or is trying to rejoin some of these agreements. Global powers are asserting or reasserting themselves as the U.S. plays a smaller role in the international community. Russia is asserting itself abroad, most notably in its annexation of Crimea from Ukraine in 2014, involvement in Syria, and meddling in the US 2016 elections. China continues exert influence as it asserts its financial power abroad through the "Belt and Road Initiative," which involves investment and infrastructure development in more than 100 countries. Trade is an increasingly controversial topic. While China increases trade networks with Africa, the U.S. imposes tariffs on imported goods from China and Japan. The US and China remain deadlocked in a trade war – or is it a series of trade battles? Wars in Syria and Yemen seem to have no political solution, the Arab-Israeli conflict is ongoing, and political stability continues to evade Afghanistan as the Taliban recently gained control of the country. North Korea's nuclear weapons tests present challenges to the international community but also opportunities for multilateral cooperation. The U.S.-North Korean summit in 2018 was historic, but it does not seem to have been a game changer. Yet there are examples of cooperation in this sea of conflict. For example, after decades of mutual hostility and distrust, the US and Cuba are building a relationship marked by the 2015 opening of a US embassy in Havana. In 2018, NAFTA was renegotiated and the USMCA (US, Mexico, Canada Agreement) went into effect. The purpose of this course is to provide you with the theoretical tools necessary to critically analyze the conflict and cooperation that characterize world politics. This course will address a number of important questions regarding how states interact with each other, and how states interact with non-state actors such as the United Nations. We will explore competing explanations for state behavior, such as realism and liberalism, as well as theories addressing the same questions including hegemonic stability theory, international regime theory, democratic peace theory, and the strategic model as it relates to terrorism.
Requirements Satisfied: Foundational Writing and Information Literacy (FWIL) and one Humanities
 
POLS 071 A —Comparative World Politics
Instructor: Matthew Carlson
This course will introduce you to some of the central issues in the field of comparative politics, one of the four main subfields of political science that focuses on the study of politics within countries or the domestic politics of different countries. Through a combination of readings and lectures, we will examine several major theoretical debates and topics, including the consequences of electoral systems, the characteristics of different political regimes, as well as the causes of political corruption and political violence. Because comparative politics also involves the domestic study of other countries, it is essential that we look at how some of these theoretical issues are empirically represented in different parts of the world. We will thus look at the experiences of different countries, including but not limited to the United Kingdom, Japan, Iran, China, and North Korea. The learning objectives of this class will focus on three broader and interrelated goals. The first is to develop a deeper understanding of many of the concepts and tools used to study different countries. We will spend a considerable time making sense of concepts as well as illustrating different concepts with examples derived from the world of politics beyond the United States. Many of the readings and lectures will focus on concepts and theoretical topics but also on more detailed individual country examples. A second goal is to study and analyze the variety of political systems and institutional differences across countries, as well as consider some of the challenges faced by democratic and authoritarian regimes alike. The third and final objective is to focus on relevant current events as another tool for learning more about comparative world politics.
Requirements Satisfied: Foundational Writing and Information Literacy (FWIL) and one Social Science
 
POLS 095 A —Authoritarianism
Instructor: Peter VonDoepp
This seminar will explore the varied nature, development, and consequences of authoritarianism as a system of rule. While we will focus considerably on the character and emergence of authoritarianism in our contemporary era, we will also delve into patterns and experiences that have existed historically. Our work will include specific case analyses where we conduct research to understand the exact nature of authoritarian rule in particular countries. We will also examine scholarship to help us understand key theoretical questions. These include: How do authoritarian leaders exercise and maintain power? Why are some dictators more successful than others in generating stability? And why might populations turn to and even embrace anti-democratic leaders and movements?
Requirements Satisfied: Foundational Writing and Information Literacy (FWIL) and one Social Science
POLS 095 B —International Political Economy
Instructor: Bradley Bauerly
This course is an introduction to the study of the global economy and world politics through an examination of power conflicts at the international economic level and their impacts on the politics of various states, regions, and interests. This course will provide you with the tools to gain a richer understanding of international political economy —to learn the historical context of contemporary issues, recognize the different perspectives on international political economy questions, and develop an understanding of some of the major political problems and global forces shaping the world economy today.

The course will survey the evolution of the international economic system since the Second World War, with particular reference to contemporary concerns, debates, and issues. An attempt will also be made to review international and domestic explanations for these developments. We will illustrate the varying explanatory power of the different approaches and theories by applying them to a selection of empirical cases. This will provide both the background necessary to understand the complexity and multiplicity of perspectives in contemporary IPE and to make more sense of the interactions between state politics and international economies.
Requirements Satisfied: Foundational Writing and Information Literacy (FWIL) and one Social Science
Psychological Science
PSYS 095 A —Chasing Happiness
Instructor: Shamila Lekka
This course is designed to take you on a journey to explore and understand the concept of happiness from the contemporary western perspective and the teachings of Theravada Buddhism. Are there scientifically validated explanations of why some of us are more content with life than others? How much of our perception of happiness is within our control? What can Theravada Buddhism teach us about happiness and living a meaningful life?
In this course we will learn effective strategies to handle challenges we face. To do this, we will practice what we learn. We will also discuss the struggles individuals may encounter to change some of the habits we have developed over the years. By the end of this class, you would have examined how much control you have of your own happiness and you will have created a document for yourself on how you can maintain a well-balanced mind and body.
Requirements Satisfied: Foundational Writing and Information Literacy (FWIL) and one Social Science
 
PSYS 095 B & C —Psychology of Harry Potter
Instructor: Nicole Breslend
The Harry Potter series is a world-wide phenomenon that encompasses seven books, eight movies, and even a theme park. The story is no doubt captivating and magical (pun intended), but what can it tell us about the critical concepts in the field of psychology? In this first-year seminar, we will explore the many examples of psychology in action at Hogwarts including child development, personality, interpersonal relationships, trauma and resilience, obedience, prejudice, and more. In this course you will learn about these core psychological concepts and how to apply them to the world of Harry Potter through reading empirical articles, discussion, and reflection. To engage in this course, students should have read the Harry Potter book series and/or watched the films. Students should come to this course familiar with the characters and major plot points. This course also fulfils the Foundational Writing and Information Literacy requirement at UVM. That means that we will work to develop your writing, information literacy, critical thinking, oral presentation, and in-class participation skills.
Requirements Satisfied: Foundational Writing and Information Literacy (FWIL) and one Social Science