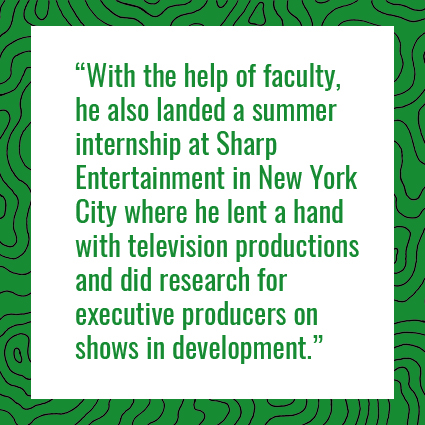 For a year at UVM he worked at Spectrum Youth Services in Burlington, supporting case managers who helped clients attain safe, affordable housing and provided youth counseling services. In the film and television studies department, he worked as a research assistant for Professor Sarah Nilsen, looking at racial stereotypes in film. With the help of faculty, he also landed summer internship at Sharp Entertainment in New York City where he lent a hand with television productions and did research for executive producers on shows in development.
After job shadowing UVM alum Patrick Starr, now a senior vice-president in advertising for Universal Pictures, he was hired full-time in 2017. His team handles promotions for major Universal releases and lately he's been immersed in publicizing "Pacific Rim: Uprising" directed by Steven DeKnight.
"We create movie trailers, produce digital content, develop TV spots, movie posters—just about everything involved in promotion of big productions."
His team also works with Blumhouse Productions, founded by academy-award winner Jason Blum, on films including "Get Out," "Happy Death Day," and "Paranormal Activity."
Now approaching his first-year anniversary on the job, he hasn't had time to look ahead to the next step.
"I could see myself staying here for a while, learning the ropes. I could eventually see getting more involved in the creative side with some of the vendors we work with. When you are open to opportunities and are in the right place at the right time, I think good things will happen."