She applied early to UVM and was accepted. From the moment she walked through the WRUV doors, the station became a central aspect of her university experience—by her senior year she was elected station manager.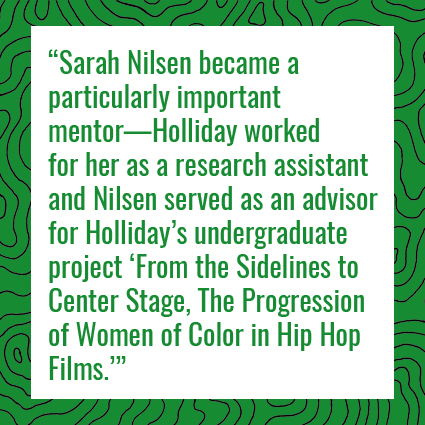 Meanwhile, her academic focus shifted from her original major in political science to Film and Televisions Studies. Sarah Nilsen became a particularly important mentor—Holliday worked for her as a research assistant and Nilsen served as an advisor for Holliday's undergraduate project "From the Sidelines to Center Stage, The Progression of Women of Color in Hip Hop Films."


Among other sources, Holliday drew inspiration for her own work from the New German Cinema, a movement from the late 1960s into the 1980s that featured leaner, grittier films from a new wave of directors like Rainer Fassbinder, Alexander Kluge and Werner Herzog.

"I took German and German lit at UVM, which helped me get a deeper understanding of their craft. I also began making music videos with Peter Schellenberger who was a visiting professor at the time." In 2013 Holliday received the Dugan A. Foley Memorial Award for outstanding academic achievement in Film and Television Studies, and she continued to collaborate with Schellenberger on video work after she graduated.

All of this added up to excellent preparation for her first job post-UVM, working as a music touring assistant for one of the biggest talent agencies in the world, United Talent Agency in Los Angeles. Holliday has since shifted to the Big Picture Music group, a music management company that represents bands and musicians from around the globe.  She assists the company founder who manages Christine and the Queens, a French electropop band, and manages the alternative band Garbage. On her own time, she manages a band called Homeshake, a musical project of Montreal-based singer-songwriter Peter Sagar.

Holliday describes her work helping her clients focus on the music, not the other myriad details of performing that can get in the way. "You're the person everyone needs answers from. I help organize all of the logistical aspects of the day to day operations and help shape and guide the long-term goals of the group," she explained.