Research and/or Creative Works
Novels and Story Collections:
American Zombie Beauty: Collected Stories, Wolfson Press, University of Indiana - South Bend, April 2015.
The Brothers Boswell, Soho Press, May, 2009.
 *British Edition, Grove/Atlantic, August, 2010.
The X President, Bantam, 2003.
The Dream of the White Village, RNM Inc., 1998; Paperback edition, Onion River Press, 1999.
The Millennium Shows, Albion Books, 1994.
        Republished by Kearney Street Books, 2012.
Novellas:
| | |
| --- | --- |
| James and Allison | New England Review, Spring, 1995, Vol. 17, #2, pp. 22-56. |
Short Stories:
| | |
| --- | --- |
| "The Celebrated Phish Tanks Of Burlington, Vermont" | collected in The WRUV Reader (Ed. Chris Evans), Burlington, Vermont, 2012 |
| "American Zombie Beauty" | collected in The Storyteller Speaks:  Rare and Different Fictions of the Grateful Dead (San Francisco:  Kearney Street Books, 2010) |
| "Nancy & Tonya & The Long Hard Rain" | New England Review, Winter, 1999, Vol. 20,  #1, pp. 118-129. |
| "Anthony Buys Pornography" | Black Warrior Review, 1996, Vol. 12, #2, pp. 117-136. |
| "Soft Creeping, Words on Words" | Rocky Mountain Review, Spring, 1995, Vol. 49, #1,  p. 9-26. |
| "Deep in Oneida Nation" | New England Review, Fall, 1994, Vol. 16, #4. |
| "Fecundity" | Faultline, 1994, Vol. 4, pp. 36-48. |
| "The Tour of Helen" | TriQuarterly, Winter, 1992-93, #86, pp. 120-136. |
| "Voice of Egypt" | Pennsylvania Review, 1993, vol. 5, #2, 83-93. |
| "Peaheart" | Black Warrior Review, Fall, 1993, vol. 20, #1, pp. 65-82. |
| "Men and Grace" | Carolina Quarterly, vol. 43, #2, Winter, 1991, pp. 51-56. |
| "I Am These Dead" | Denver Quarterly, vol. 25, #1, Summer, 1990, pp. 61-74. |
| "Death of a Cable-Whore" | Santa Clara Review, vol. 77, #3, Spring, 1990, pp. 59-62. |
| "The Canteen" | The Bellingham Review, vol. 13, #1, Spring, 1990, pp. 23-33. |
| "Opie Dog Rules" | Real Fiction, #6, 1990, pp. 42-48. |
| "Basket-Boy" | Other Voices, #10, 1989, pp. 186-194. |
Awards and Recognition
Elected to the Vermont State Senate, 2010; Majority Leader, 2013-2016; currently Chair of Senate Education Committee
Dean's Lecture Award, University of Vermont, College of Arts and Sciences, Fall 2010
2009 First-Place Public Radio News Directors Award
2009 Edward R. Murrow Award (Shared)
2002, 2003 Vermont Associated Press Awards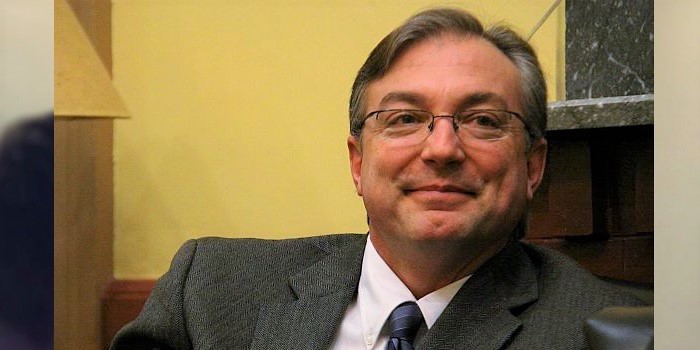 Areas of Expertise and/or Research
Restoration and 18th-Century drama, autobiography
 
Education
Ph.D. University of California, Irvine, 1993
Contact
Office Location:
305 Old Mill
Office Hours:
By appointment
Courses Taught
Critical Approaches to Literature
British English Novel
Texts and Contexts
Advanced Writing: Fiction
Reading & Writing Autobiography
Performing Restoration Drama
Principles of Literary Research
18th Century Culture
Writing: Poetry & Fiction
18th Century Revolution
Genre: Novel
TAP: Making the Scene
Short Story in the Workshop
Evolution of the Novel
Literature of Vermont
The Long 18th Century
Topics in Post-Modernism
American Postmodernism