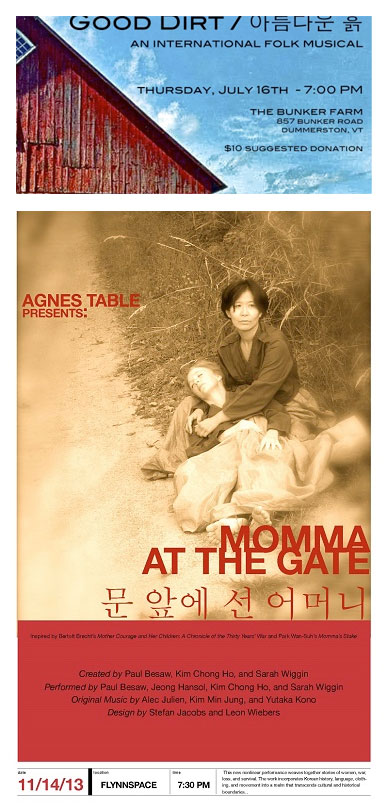 In addition to frequent choreographic ventures, Paul Besaw brings a great deal of attention to his work with Agnes Table, a performance collective that devises original movement theatre projects. In this work, Besaw's dance and theatre training/experience come together with his interest in original performance creation and collaboration across art forms. Actors, dancers, designers, musicians, and visual artists contribute to each piece. A founding member of Agnes Table, Besaw has served as creative leader in each of its collective endeavors, including 1905, an exploration of turn-of-the-century life for immigrants in rural Nebraska, and The Destination, an adaptation of Thomas Bernhard's fascinating and rigorous novel, The Lime Works. More recent projects have woven Paul's interest in traditional Korean dance and his connection to Korean artists into the devising process. This has resulted in two bilingual works: Momma at the Gate, inspired by examinations of Park Wan-Suh's Momma's Stake and Bertolt Brecht's Mother Courage and Her Children: A Chronicle of the Thirty Years' War, and Good Dirt: an international folk musical, a performance created for rural settings that explores back-to-the-land work and dreams through music, dance, and storytelling.
In her creative work, Clare Byrne delves into overlapping interests in movement, ritual, music, narrative, and potent archetypal images. Pieces exploring these connections have included the Poor Sister Clares Traveling Dancing Monk Show (2010-2013), which brought gospel dancing and foot-washing to the stage; Rounds: The First Last Dance, The Last First Dance, or an Ordination (2007) and White Witch (2006-2016) exploring images of communion and sacrifice, as well as To the Tree (2007), Letter to the Church (2008), and Kneelings (2007-2010), danced prayer-poems which took place in chapels and streets of New York City. Her five-year weekly improvisation practice, Weekly Rites (2007-2012), was filmed in sites all over the world, using the camera as an ongoing experiment in performance as intercession. Byrne collaborated with the Burlington Chamber Orchestra in creating a new choreography of Aaron Copland's Appalachian Spring in 2010. Byrne was the artistic director of Clare Byrne Dance from 1999-2008, and is currently a member of Dance Tramp, a choreographic collective based in Burlington which has performed in various locations in Vermont. She has performed for many years in the work of Nicholas Leichter and Paul Besaw, among other choreographers. When not dancing on the stage, Byrne can be found in Burlington on the second Sunday of each month singing original songs at Radio Bean's Acoustic Brunch, as well as other music venues in Vermont.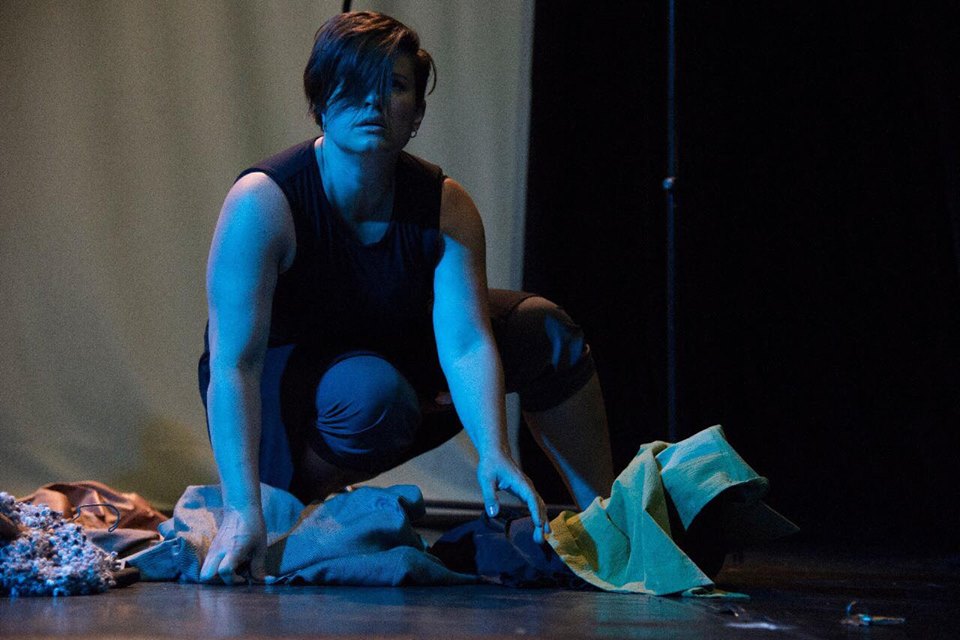 Paula Higa's area of interest lies in the investigation of kinesthetic research applied to the aesthetics of dance, intersected with visual arts. Her works reflect the inquiries of practical and theoretical movement analysis, while also focusing on being innovative, and experimental in a postmodern vein. Higa looks for creating works where movement comes from the topics under analysis, without prioritizing pantomime. In 2016, she created In/Voluntary Motion as part of her MFA thesis concert. In this work, she examined muscle spasms derived from dystonia, a neuromuscular disorder that partially disables the body. Her agency was to bring awareness to dystonia as well as to question the meaning of "disabled" in our society. In the same year, she created Sure Thing in which she researched on the narrative of David Ives' play Sure Thing to develop the "kin-aesthetic" process. Higa questioned the meaning of nonsense, which is one of the main structural elements that articulates the storyline of Ives' play. In 2015, she choreographed a work entitled Entropy. This work translated through kinesthesia the process of chemical reactions and the disorder of the system. Still in 2015, as part of the Lane Series, a prestigious event at the University of Vermont, she presented as a dancer and choreographer her solo entitled Malacarne. In collaboration with UVM Professor Yutaka Kono, who composed and performed the music score, Higa tackled the life of the French sculpture-artist, Camille Claudel. More specifically, the movement research was all develop based on Claudel final years in which she suffered from schizophrenia and solitude. In 2012, she created a piece based on the poem of Portuguese poet Fernando Pessoa. This piece, entitled Love Letters investigated the conflict of language and sentiment, and how the latter was constantly shaped and deceived by the former. Higa movement investigation goes beyond choreography. As an example of this, she created in 2015 Encounters, a deep investigation in movement in which two musicians and one dancer meet to improvise without a predetermined score. The trio is formed by the trumpeter Arthur Brooks, the double bass player Anthony Santor, and Paula Higa herself.