Research Assistant Professor - Biochemistry, Macromolecular Chemistry, and Biophysical Chemistry
Research and/or Creative Works
Our group is interested in understanding the kinetics and fundamental molecular mechanisms that underlie the search for DNA damage by DNA repair enzymes.  Because these search processes are highly dynamic and heterogeneous, we utilize single-molecule fluorescence microscopy techniques (time-resolved fluorescence microscopy, optical trap microscopy) to observe individual enzymes as they scan along DNA tightropes in real time.  We are continually developing new single molecule methodology, and students in the laboratory have the opportunity to gain expertise in the areas of fluorescence imaging and optics, statistical analysis of single particle trajectories, methods for surface patterning, enzymology, creative DNA cloning and construction, enzyme structural analyses, and genome database mining.  By applying these methods to the study of human cancer variants, we are also exploring how search deficiencies may contribute to carcinogenesis and other disease.
Associations and Affiliations
Microbiology and Molecular Genetics (Primary Appointment)
Department of Chemistry (Secondary Appointment)

Cellular, Molecular, and Biomedical Sciences Program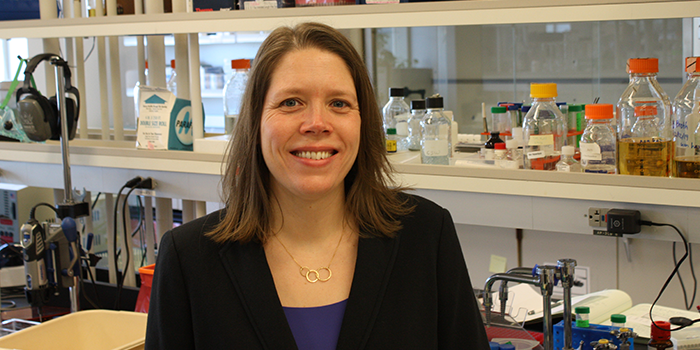 Areas of Expertise and/or Research
Single molecule fluorescence microscopy. Molecular mechanisms of DNA repair. Single particle tracking. Dynamics of protein-DNA interactions.
Education
Ph.D. Chemistry — University of Wisconsin-Madison, 2007
B.A. Chemistry — Northwestern University
Contact
Office Location:
302B Stafford