ANTHROPOLOGY
Last summer Professor Teresa Mares toured Vermont presenting her recently released book, Life on the Other Border exploring food insecurity among farmworkers in Vermont. In addition to book talks at Phoenix Books and the Rokeby Museum, Dr. Mares also made two appearances on VPR: Vermont Edition and NEXT by the New England News Collaborative.
Professor Deborah Blom's article "Paleopathology and Children in the Andes: Local/Situated Biologies and Future Directions," published in the October 2019 issue of International Journal of Paleopathology, reviews current scholarship on the bioarchaeology of childhood and advances her research in the South American Andean regions of Peru and Bolivia by addressing the importance of children's lived experiences and roles in society.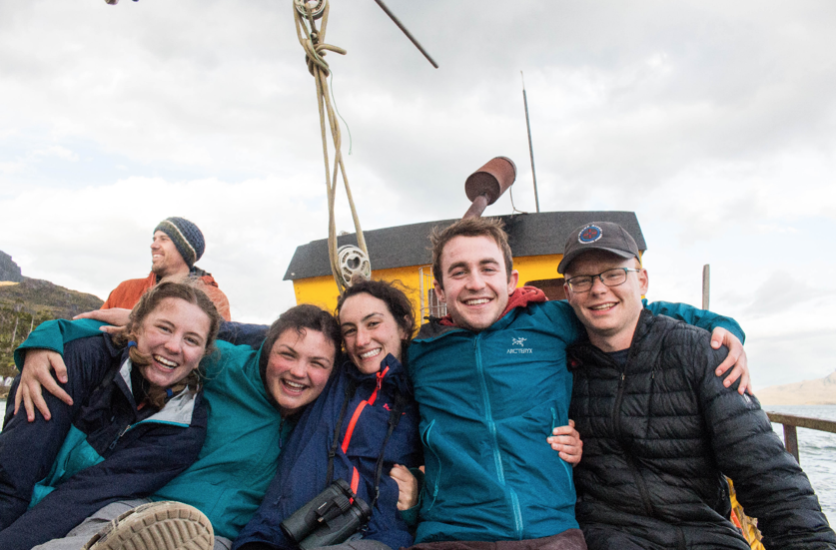 While most UVM students were bundling up in preparation for the start of a new semester last January, Geena Zick '20, wildlife biology major and anthropology minor (third from left in this photo) exited winter and jumped into summer by travelling to the Chilean Patagonia. "Not that's it's super warm given that it's closer to Antarctica than North America," she said. "But it was definitely stepping into a different world." Zick and two other UVM students were part of a 10-person group that spent three months in the region through the Round River Conservation Studies, a non-profit organization that involves students in academics, experiential learning, and research in remote areas of the world. Read more about Zick's account of her adventure.
ART & ART HISTORY
Shelly Warren was co-curator and exhibiting artist for "Transcendent: Spirituality in Contemporary Art," which was on display at the BCA Center in Burlington October 25, 2019-February 8, 2020. Transcendent presented a selection of artists who explore or evoke themes of spirituality through their work. The show featured nationally and internationally recognized artists Anila Quayyum Agha, Leonardo Benzant, Maïmouna Guerresi, Shahzia Sikander, Sandy Sokoloff, Shelley Warren, and Zarina. Read a Seven Days review.  
Associate Professor Steve Budington recently exhibited his work in Vienna, Austria, at the ClubClub Wien (in December). The exhibition was followed by a tour of experimental sound and music with his collective, with guests from Austria. The group performed eight consecutive nights in Vienna, Graz, and Wels, Austria. Budington is the recipient of a 2019-20 Vermont Arts Council Creation Grant to support his painting practice. Last summer he created and exhibited new paintings and performed sound works at the Hotel Pupik, Schrattenberg Artist In Residence Program in Shiefling, Austria. From May to November, Budington's work was on display at the Hall Art Foundation in Reading, Vt. 
UVM alum Leslie Baum '93, educator at the Art Institute of Chicago, was recently featured in Hyperallergic's column "Beer with a Painter." 
Last year Estefania Puerta '10 was awarded a residency at Shandaken Projects, Storm King artist-in-residence, Cornwall, N.Y., and presented her work in shows in Los Angeles and Brooklyn. Currently she has a solo exhibition in Burlington, at the BCA Center (on view through June 7, 2020). Puerta is a visiting assistant professor of art at Middlebury College.
BIOLOGY
Professor of Biology Nicholas Gotelli is one of three UVM educators recently named a Fellow of the Ecological Society of America (ESA) for outstanding contributions to the science of ecology. Gotelli's research addresses basic questions about the organization of animal, plant and nutrient communities. What forces determine species composition and abundance? How does competition affect community structure? What factors control population growth and the risk of extinction? His recent research explores the collapse of aquatic food webs, species interactions of ants and their responses to experimental warming, and the measurement, analysis and simulation modeling of species richness, biodiversity, and ecosystem function. Gotelli is the co-creator of EcoSimR, the R modelling software package. Gotelli is also a Fellow of UVM's Gund Institute for Environment.
CLASSICS
The book that Mark Usher completed during his recent sabbatical has been accepted by Cambridge University Press as a trade-friendly title for broad audiences (forthcoming 2020). This study, the working title of which is Eco-Antiquity: Greek and Roman Sources for Sustainable Living, "explor[es] a new critical approach to contemporary socio-economic/environmental problems and concerns"—what might be termed "environmental philology." A poetic cento Usher composed, "POEM: A Mashup. The Art of Poetry for Everyone," will also appear in the new year with Fomite Press, probably with T. Motley illustrating (who collaborated on Usher's Golden Ass). Mark's Roman Villa project also had a good summer season, with two UVM students participating; this was also the focus of Usher's keynote address at the Campus Faculty Conference in August.
John Franklin received a Faculty Arts Development Grant, a UVM Humanities Center Fellowship, and a Loeb Classical Library grant all towards a production of "Aristophanes' Clouds" next March. The "Second Vermont Classical Play" will run at the Main Street Landing Black Box Theater from March 27–29; like our production of Euripides' Helen, each show will be preceded by a contextual lecture and wine-tastings from local vineyards. Students interested in participating can sign up for CLAS 196 Vermont Classical Play this spring. The Ancient Music Group recently assembled six lyres from a kit, and are busy learning these instruments and the ancient double pipes for the production. Franklin used similar lyres (provided by Marco Sciascia) for the Euterpe Lyre School this past summer in Tarquinia, Italy; he and graduate student Julia Irons also performed in Brixen and Thessaloniki, and have another upcoming gig in Perugia for a conference on Greek comedy and music.
DANCE
Each spring the UVM Dance Program presents Dancing Uphill, a four-day performance event featuring original choreography created by UVM faculty, students and professional guest artists. One of the guests for this year's event January 22-25 was Lauren Blue '12, who returned to campus two days before the start of the spring semester to develop an original work in collaboration with 12 UVM students. Blue works as a teacher, choreographer, company owner and performer in New York City—she's currently involved with The Children and Teens Program at New York City's Broadway Dance Center. 
ECONOMICS
On a recent Friday afternoon Jacquelyn Pless '09 stood in front of the Old Mill economics seminar room and looked out at an audience that included many familiar faces—faculty mentors from her undergraduate days. This time she was presenting as a faculty peer. She is the Fred Kayne (1960) Career Development Professor of Entrepreneurship and Assistant Professor of Technological Innovation, Entrepreneurship, and Strategic Management at MIT's Sloan School of Management. Her seminar assessed how the mix of government grants and tax incentives affect research and development investments made by different-sized companies in the United Kingdom. 
The U.S. economy may be expanding, but it's taking the low road to growth that undermines wellbeing according a new study published online in the Cambridge Journal of Economics that centers on how different countries have responded to the growth of women in the labor force. Professor Stephanie Seguino, co-author of the paper, says that while women's increasing labor force participation has contributed to worldwide economic growth, there are important qualifiers to that success. At the heart of the new study is an economic concept called "social reproduction," the unpaid and sometimes paid human care work – which often takes the form of parenting – that is required to produce and sustain a vibrant, well socialized labor force.
ENGLISH
What is the meaning of life? Poet and Distinguished Professor of English Major Jackson grapples with this question through the travails of Sisyphus, the Greek mythological figure condemned to an eternity spent pushing a boulder uphill, just to watch it roll back down. His latest collection of poetry, The Absurd Man published by W.W. Norton, invokes Sisyphus's struggle for happiness and even contentment. Jackson's Sisyphus shifts between several personas, contemplating love and loss, navigating a changing world and family dynamics, and reflecting on past mistakes and redemption.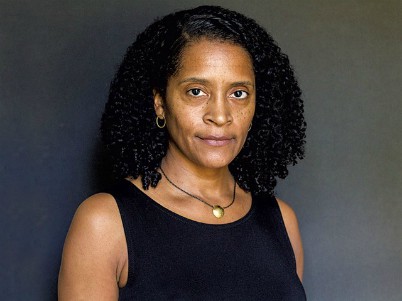 UVM English Professor Emily Bernard has won the prestigious Christopher Isherwood Prize for autobiographical prose in the Los Angeles Times 2020 Book Prizes competition for her 2019 book, Black Is the Body. The panel of judges awarding her the prize said, "With deceptively simple and luminous prose, Emily Bernard invites us to inhabit her life as she poses perilous questions seemingly as simple as 'when is a doll just a doll,' and pushes ever deeper refusing easy solutions. This is a beautiful, important collection of essays." 
FILM & TELEVISION STUDIES
In popular ski towns across the U.S., communities of Latinx immigrants work behind the scenes to keep the lights on in their towns. In her latest documentary, filmmaker Hilary Byrne '11 explores the complex web of immigration laws that stifle this quiet workforce, and hits the slopes they turn to for temporary relief from life on the margins. Byrne's short film "The Quiet Force" sheds light on large populations of Latinx immigrants and their families who live, work and ski year-round in resort towns like Jackson Hole, Wyoming, and Mammoth, California.
GENDER, SEXUALITY & WOMEN'S STUDIES
On February 19 in Waterman's Memorial Lounge, five speakers presented a look back at Congress' passage of the 19th Amendment to the Constitution in 1920, and discussed barriers women still face today in exercising their right to vote and run for public office. The event marked the 100th anniversary of the right to vote for women in the U.S. Vermont's first female Governor Madeline Kunin (from 1985-1991) pointed out that it took nearly 100 years to pass the 19th Amendment, and many of the architects of women's suffrage, including Susan B. Anthony and Elizabeth Cady Stanton, didn't live to see the amendment ratified.
As president of the Association "Feministas Unidas, Inc." Distinguished Professor Tina Escaja co-organized the panel "Intervenciones feministas en la era digital" at the Modern Languages Association Convention in Seattle, on January 2020. Last summer Prof. Escaja presented her work on feminism and poetry at the XXIX Congreso de la Asociación de Estudios de Género y Sexualidades (AEGS, International Conference on Gender and Sexualities) at the University of Valencia, Spain. 
GERMAN & RUSSIAN
Emily Brugemann '20 was awarded a summer research position in the Russian Division of the Washington, D.C., where she will be working under former Prime Minister Viktor Chernomyrdin's and President Vladimir Putin's Economic Advisor, Andrei Illarionov. She is preparing to defend her senior honors thesis, "A 'Symphonic' Approach to Vospitanie' and 'Obrazovanie: Education Policy in the Putin Era." Emily currently holds an internship position in U.S. Senator Patrick Leahy's office, (Spring, 2020); and was named a Recipient for a Teaching Assistant position in the Johns Hopkins Center for Talented Youth Program (2020). 

Anya Gorodentsev '19 was recently accepted into the graduate programs at the Johns Hopkins School of Advanced International Studies, as well as graduate programs in the School of Government at George Washington University and Georgetown University's School of Foreign Service (where she will attend in the Fall, 2020). Anya recently had two scholarly articles appear in the journal The National Interest: "How the Coronavirus Is Crippling U.S. National Security Efforts in the Arctic" and "It would Be a Foreign Policy Faux Pas to overlook Kazakhstan." Anya is currently working at the Washington, D.C. Foreign Policy Think Tank Center for National Interest as a Program Assistant (December, 2019-present), and recently completed an internship at the Kennan Institute, Woodrow Wilson International Center for Scholars as a research assistant in Washington, D.C.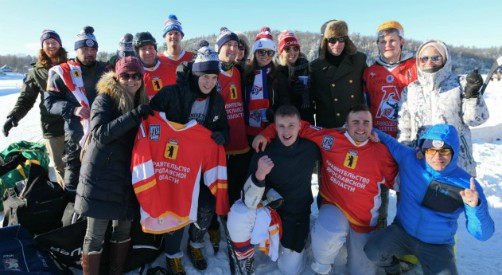 A benefit to students studying Russian at UVM is the annual visit from a delegation of citizens from Burlington's sister city Yaroslavl, Russia. The partnership began in 1988 as a gesture of goodwill focused on building non-political, people-to-people connections between citizens of the two countries. Each group of Yaroslavl visitors spends time on the UVM campus. This year, one of their activies was forming a hockey team to play in the annual Lake Champlain Pond Hockey Classic. For Lecturer Julia Katsnelson and her colleagues it's an opportunity for students to practice their conversational Russian skills. Students feel as though they have a new set of friends in Russia. "I was pleasantly surprised that my Russian proficiency was advanced enough to be able to hold conversations with the guests on a wide range of topics, including life at UVM, sports, and cultural differences," said Stepan Casey '21.
HISTORY
Professor Sean Field is honored to have won the Medieval Academy of America's Excellence in Teaching award for 2020 (he regards this more as a testament to the high quality of his students than anything else). He is staying busy with invited talks at Princeton, Columbia, Berkeley, and the Université de Sherbrooke in Spring 2020, and looking forward to being a UVM Humanities Center Fellow in 2020-21.
In 2010 Russian historian and author Douglas Smith '85, while doing research for another book, stumbled upon diaries and letters written by Moscow's former elites between 1921 and 1923. Years later, Smith returned to the correspondence and discovered details about a two-year American mission to the Soviet Union which saved some 30 million people from starvation. The Russian Job: The Forgotten Story of How America Saved the Soviet Union from Ruin details the largely untold story about the massive relief effort led by then-Secretary of Commerce Herbert Hoover and the American Relief Administration. 
Another history department alum, journalist Terrence Petty '74, has published a new book Enemy of the People: The Munich Post and the Journalists Who Opposed Hitler. Petty was an AP correspondent based in Germany covering the dramatic political shifts of the late 1980s. "As a journalist, I was trying to understand how different the news media landscape was in the 1920s and 1930s," Petty says. "And I wanted to understand how a democracy failed." The Munich Post was a small paper with a decidedly socialist slant—its editors were fearless in writing investigative pieces that exposed the brutality and corruption of Hitler's inner circle.
HOLOCAUST STUDIES
On February 20, Professor of History Susanna Schrafstetter presented "The 'Benghazi Group' of European Jewish Refugees during the Holocaust," the 6th CAS Dean's Full-Professor Lecture of 2019-20. Her talk focused on the journey of over 300 Jews who attempted to reach Palestine from Italy in 1940 (they came to be known collectively as the "Benghazi Group"). The study of these refugees provides insight into unusual escape routes of European Jews, Jewish refugee life in Italy before and during internment, and the role of North African Jews in providing aid. 
MUSIC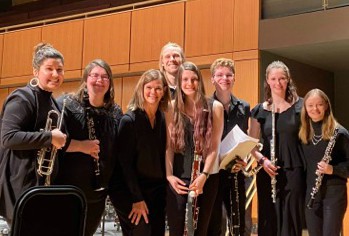 Each year, some of our most talented instrumentalists represent the University of Vermont at the regional Intercollegiate Band conference. The band was an honors ensemble chosen by audition from colleges and universities throughout the eastern United States. This year's gathering was hosted at Temple University in Philadelphia. UVM musicians performed under the direction of Dr. Elizabeth Peterson of the University of Illinois. Left to right: Kyra Johnston (trumpet), Bailey Brown (clarinet), Dr. Elizabeth Peterson, Luke Nawrocki (percussion), Katlyn Tagliabue (bassoon), Max Gailey (clarinet), Kylie Elliott (flute) and Jordan Mitchell (oboe). The students put together a presentation for UVM's Annual Student Research Conference (held virually this year). View the presentation here (available through April 23). 
The Orchestra of Central Tokyo will perform their inaugural concert on June 4, 2020 at Kokubunji Izumi Hall. UVM Orchestra director Yutaka Kono conducts the program, which features three UVM composers: Thomas L. Read (Japan Premiere), Patricia Julien (World Premiere) and David Feurzeig.
Congratulations to the winners of the 2019-2020 Symphony Orchestra Concerto Competition: Bailey Brown '21 and Ginny Churchill '20. Bailey and Ginny are students of Affiliate Artist Steve Klimowski. Bailey is pursuing a bachelor of science in music education, while Ginny is double-majoring in music (classical performance) and chemistry with a minor in French. An honorable mention in the competition was given to cellist Simon Webber '22.
Professor Emeritus Thomas L. Read's Variations on St. Elizabeth was performed in a concert of new organ music presented by Brian Schober in New York City on February 23. Dan Krymkowski, UVM professor of sociology, gave the premiere of this work in 2018. Other scheduled performances of Read's music included Traveler's Frolic for viola and guitar (Boston, March 19 and 22) and in New York City on March 21. His Trio Concertante during the music department's Festival of New Music was scheduled for March 28-29. Read's Concerto for Oboe and Strings, premiered last year by the Burlington Chamber Orchestra, in Tokyo, Japan, is scheduled on June 4th. Oboist Katie Oprea will be soloist and Professor Kono (UVM Orchestra director) will conduct.
In a recent Seven Days article, Lane Series director and music department lecturer Natalie Neuert discussed the plan for upcoming major renovations to UVM's Recital Hall. Upgrades will include improved acoustics, new stage and house lighting, as well as a green room, storage, and reupholstered seats in the house. Says Neuert: "Thanks to anonymous donors, Burlington's 300-seat performance space is not just increasing in behind-the-scenes square footage but getting an interior makeover, as well—its first since the building was completed in 1974." UVM invites supporters of the Music Department and Lane Series to donate to the renovation fund by naming a seat in the hall.
UVM cello affiliate artist Emily Taubl was recently interviewed in Seven Days on her work with Capital City Concerts. CCC presented the Bach cantata Wachet auf (Sleepers Awake), as well as solo arias the Violin Concerto in A minor, in Montpelier and Burlington. Taubl says about the cantata: "You can't help but feel this sense of calm when you hear it. It transcends language, it's so beautiful. It works for any occasion — somber or joyful. It speaks to everyone's emotions somehow." We also congratulate Ms. Taubl on her appointment as principal cellist of the Springfield Symphony in Massachusetts. Bravo! Read the full article online.
On November 7 and 8, affiliate artist Brian McCarthy premieres his new nonet, After|Life, at the Flynn Center for the Performing Arts. In a recent interview with Seven Days, McCarthy spoke about the inspirations behind the project, which "interprets the formation and dissolution of the primordial nebula, the reigning scientific explanation of how our solar system was formed." 
Affiliate artist Amber deLaurentis has released her fourth studio album, Innocent Road. The vocalist performs with pianist Tom Cleary (also an Artist/Teacher at UVM), drummer Caleb Bronz, and bassist Justin Dunn '16. From the press release: "All material on Innocent Road was co-written with lyricist Sarah Blue and lyricist/composer Tom Cleary. deLaurentis and Cleary, who teach in the Jazz Studies program at UVM, also recently released a jazz album with their band Birdcode in June 2019: You Are Here, which shares two songs with Innocent Road. The songs speak to themes of addiction, accepting the struggles of life, the beginning and end of love, recklessness, and finding a companion in the harvest moon." Birdcage celebrated with a CD release party on Saturday, January 4th, 2020.
Senior Lecturer of Music Sylvia Parker recently published an article on famed Swedish soprano Jenny Lind titled "Jenny Lind and P. T. Barnum: A Success Story of Music, Business, and Philanthropy." Known as the "Swedish Nightingale," Lind (1820–87) toured the United States in 1850 under the auspices of "America's Greatest Showman" and self-proclaimed "Prince of Humbug," P. T. Barnum. The tour was a phenomenal success for both of them and made Lind perhaps the most famous person on earth that year. 
POLITICAL SCIENCE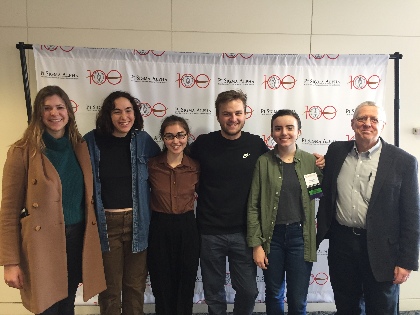 On February 14-16, five political science students (in photo from left): Madison Cilk, Sophie Brenits, Makayla Salas, Kris Nine and Kacy Lane) attended a student research conference in Washington, DC, with Professor Bob Pepperman Taylor. The conference was sponsored by Pi Sigma Alpha, the national political science honors society. Each student presented papers they had written for classes or for their thesis work, and joined 125 other students from around the country in this opportunity to experience a professional research conference.
Taylor recently published a new book Lessons from Walden: Thoreau and the Crisis of American Democracy published by the University of Notre Dame Press. "I had never intended to be a Thoreau scholar—it just seemed to happen that way," said Taylor whose previous books include The Routledge Guidebook to Thoreau's Civil Disobedience and America's Bachelor Uncle: Henry Thoreau and the American Polity. His new book addresses two crises that have become especially urgent in the Trump era: threats to democratic norms and political institutions, and dangers to the environment driven by climate change.
Jason Goldfarb '20, senior thesis student of Professor Taylor, and also an honors student in the political science department, recently published a spin-off article from his senior thesis research in an undergraduate journal, The Undergraduate Journal of Politics, Policy and Society (UJPPS). https://www.ujpps.com/index.php/ujpps/article/view/70. 
PSYCHOLOGICAL SCIENCES
Most people who experience severe trauma recover their health, but 23% develop PTSD, a difficult-to-treat illness. Which trauma victims will develop the disorder and which will be spared is not well understood. A new UVM study published in the journal Depression and Anxiety, offers new clues on identifying potential PTSD candidates among the population of trauma sufferers and suggests potential interventions that could prevent its development. The study is the first to gather extensive data from trauma victims during the first 30 days after the traumatic event, a critical period says Matthew Price, associate professor of psychological sciences and lead author of the study.
The class "AS 096: Drugs, Demons and Dancing," taught by Professor Sayamwong (Jom) Hammack, along with faculty from religion and dance departments, explored minds and bodies and how the two entities work together. See here for full article.
January 2020 marked the 50th anniversary of the Psychological Science department's occupancy of Dewey Hall, the building used to be the Medical College. Read a short history of the building.
Professor Kelly Rohan recorded a podcast in January with the American Psychological Association "Speaking of Psychology," relating to her work on seasonal depression. It is available at:
Clinical psychology graduate student recently Jessica Perez received a National Institute of Mental Health Research Supplement to Promote Diversity in Health-Related Research. This award provides a $150,000 administrative supplement to Professor Kelly Rohan's current NIMH-funded clinical trial, R01MH112819, to support Jessica's training and professional development. This award allows Jessica to conduct an independent research project in the context of the parent trial, examining anxiety as a treatment outcome in cognitive-behavioral therapy vs. light therapy for seasonal affective disorder.
Clinical psychology graduate students Alexandra Sullivan and Caroline Martin won the George W. Albee award for 2020. This award identifies students who are doing excellent work in the area of psychopathology prevention and community support. Clinical psychology graduate student Amanda Falcón was awarded a Diversity Travel Award from the Minority Affairs Committee (MAC) in the amount of $500 for the upcoming American Psychology-Law Society conference in New Orleans. Two clinical psychology graduate students successfully matched with clinical internships: Caroline Martin (Lurie Childrens' Hospital, Chicago), Cassie van Stolk-Cooke (VA in Palo Alto, Tex.), and Holly Weldon (Children's Hospital at Stanford University).
Professors Antonio Cepeda-Benito and Jamie Abaied each received a Bishop Joyce Fund Award from CAS. Bishop Robert F. Joyce was Bishop of Burlington 1956-1971. The Bishop Joyce Fund supports "projects that contribute to building a body of knowledge, or awareness of, the physical, psychological and social aspects of the middle years of life and the responsibilities of our society to help make the middle and later stages of life periods of dignity and independence." Cepeda-Benito's funding is for a research project entitled "Computer-assisted Intervention to Motivate Rural, Older Smokers to Quit." Professor Abaied's funding is for a research project "An Investigation of Racial Socialization among Middle Aged White Parents"
PRISON RESEARCH AND INNOVATION NETWORK
The Urban Institute, with support from Arnold Ventures, announced on January 13 the establishment of the Prison Research and Innovation Network, and UVM researchers are playing a key role in the effort to build evidence and spur innovation to make prisons more humane, safe, and rehabilitative. Vermont's State Department of Corrections will receive a grant of $100,000 to support the hiring of a full-time prison research innovation manager to work onsite in the Southern State Correctional Facility in Springfield, Vt. UVM will receive an additional $100,000 annually to partner with the department to engage in research activities and help build the state's capacity for data and research for justice-related issues. Kathy Fox, UVM professor of sociology, and Abigail Crocker, research assistant professor of statistics, are developing the research methodology and analyzing the data.
 
ROMANCE LANGUAGES
Joseph Acquisto, professor of French, published an article on pessimism in nineteenth-century France titled "Pessimism, Narrative, and Meaning in Henry Céard's Une belle journée" in the journal Dix-neuf. 
Acquisto also published his book Poetry's Knowing Ignorance in September.  Drawing on modern French poets and writers on poetry, it examines poetry as a way of knowing and its relationship to "productive ignorance," showing that poetry, and writing on poetry, leads to answers-turned-into-questions which blur the boundary between poetry and criticism and between poetry and other kinds of experience.   
Professor of Italian Antonello Borra presented a paper "In The Tradition Of Dioscorides' De Materia Medica? UVM ms. 2" at the Medieval colloquium "Interpreting the Handwritten Book: Medieval Manuscripts at UVM" on November, 9 2019.  He also presented on his research on medieval herbals at the Humanities Fellows Research Salon on February 13. His most recent poetry book Fabbrica delle idee (2019) was very favorably reviewed in the October issue of Poesia, Italy's most popular poetry journal. His translations of Johannes Hoesle's poems Album aus Dietenbronn were published in a bilingual edition by Kern Verlag Regensburg in August 2019.  In May he presented his  Fabbrica delle idee / The Factory of Ideas poems in Carrù and Mondovì, Italy.  
Senior Lecturer of German and French Adriana Borra published the article "Sconfinamenti dell'italiano – riflessioni di un'insegnante italotedesca negli Stati Uniti" in ESP (Éducation et sociétés plurilingues). She participated as a translator of new entries and consultant for the Italian-German section of the Luisa Italian/German-German /Italian dictionary: Il nuovo dizionario di tedesco / PONS Großwörterbuch Italienisch, fourth edition. She also organized the bilingual book launch of Johannes Hösle's Album aus Dietenbronn, translated into Italian by Antonello Borra, at the Deutsch-Italienische Dante Alighieri Gesellschaft/ the German-Italian Dante Alighieri Society in the Weinschenkvilla, in Regensburg, Germany.
Adrianna Borra also translated the short biographies of Lina Binswanger and Anneliese Treumann, by Mara Fazio and Claudio Lindner for München, das offizielle Stadtportal, 2019  and 
She attended Immigration in the Contemporary Age–a UVM Honors College Faculty Summer Seminar in August—and History and Literature - An Uneasy Kinship, the Association of Professional Italianists in South Africa Conference in Syracuse, Italy in July.
As corresponding member of ANLE (American Academy of the Spanish Language), University Distinguished Professor of Spanish Tina Escaja was invited to attend the XVI ASALE Congress (Association of Academies of the Spanish Language)  in Seville, Spain, in November 3-10. The conference was presided by the King and Queen of Spain and attended by renowned intellectuals and writers such as Nobel Prize Mario Vargas Llosa. Professor Escaja published two book chapters on literature and robotics and co-organized the panel "Intervenciones feministas en la era digital" as President of the Association "Feministas Unidas, Inc." The panel took place at the Modern Languages Association Convention in Seattle, in January 2020. 
Escaja's newest digital artifacts, "Emblem/as" were selected to be exhibited at the collective exhibition titled "Peripheries" at the Glucksman Gallery, Ireland. This exhibition was part of the Electronic Literature Organization's annual conference that took place at University College Cork, Ireland, in July. At the University of Valencia, Prof. Escaja presented her paper titled "Inter-especie y poesía-random: Propuestas feministas y poesía aleatoria en la era digital," at the 29th Congress of AEGS, International Feminist Hispanic Conference. Last June, Prof. Escaja performed her poetry and hip hop "No tal quimera" at the event "Justice – And Poetry – For All: A celebration of poems by new Americans," organized by Sun Dog Poetry Center in Burlington.
Italian Studies major Isabel Lardner is currently teaching, the Pilot Program in Italian at Essex High School, a program Antonello Borra developed in collaboration with the Italian Consulate in Boston, CASIT (Centro Attività Scolastiche Italiane), and VICA (Vermont Italian Cultural Association).
Professor of Spanish Juan Maura's article "Ciencia y tecnología en el mundo hispánico: del Renacimiento a la Ilustración" was published in February.
SOCIOLOGY
The seeds for Nikki Khanna's new book, Whiter: Asian American Women on Skin Color and Colorism (NYU Press, March 2020), were planted when the UVM sociology professor was a child growing up in suburban Atlanta. On Saturday mornings Khanna, the daughter of an Indian father and white mother, would often shop with her parents at the local Indian grocer. At her eye level were boxes upon boxes of whitening creams with light-skinned Indian models promising "total fairness" and "complete whitening." "Whitening creams were everywhere and still are, and I was deeply affected by them," she says. Read more about Khann's project.
IN MEMORIAM
It is with sadness that we announce the passing of Dr. Ross Bell, Emeritus Professor of Biology. His career at UVM spanned 45 years, from 1955 to his retirement in 2000. Ross was a world-renowned taxonomist specializing in identification and classification of ground beetles, a large and cosmopolitan family of over 40,000 described species worldwide. With his professional and life partner of 52 years, his wife Joyce, he traveled the globe in search of a particularly unassuming and hard-to-find group, the rhysodine beetles, including a memorable sabbatical year in New Guinea that yielded a grand total of 12 beetles but an immeasurable advance in scientific understanding of the evolutionary process of species diversification. Along with his worldwide collections and over 50 published works, Ross was also an enthusiastic natural historian who made it his mission to build a comprehensive program at UVM to characterize the fauna of Vermont and New England. In addition to his famed undergraduate course in Field Zoology (still being taught today), for which students build specimen collections of local insect diversity, he established summer basecamps at locations around the state at which he and Joyce collected extensively. Indeed, the one beetle species named after him, Bembidium bellorum, was first collected by the Bells at Victory bog near Lake Willoughby. Their longstanding efforts built our entomological collection, housed within UVM's Zadock Thompson Natural History Museum collection, into a unique and significant resource of natural history data for northern New England. The Bells' contributions were celebrated in 2010 in a 4-day symposium dedicated to the scientific legacy of Ross and Joyce's scientific work and mentorship of a generation of dedicated taxonomists, organized by one of his many students, John Spence (zoology MS '74) and attended by colleagues, admirers, and his academic "children" and "grandchildren." His students recall him as a generous, supportive mentor and an informative and knowledgeable teacher, with a distinctive, dry sense of humor that endeared him to his students. Our thoughts are with Joyce and the rest of Ross' family in this difficult time. Read the Burlington Free Press obituary.

William C. Lipke, 1936-2020
Professor of Art and Art History Emeritus William Lipke recently died peacefully at home, surrounded by loved ones, from complications of congestive heart disease. Known affectionately as "Professor Bill," "Captain Bill," "Bugs" and "Billy," he was a lifelong learner with a curious mind and remarkable ability to connect with friends and strangers alike. A proud Michigander, Bill was born in Grand Rapids to Daniel N. Lipke and Katherine Prentiss Lipke. The second of four siblings, Bill graduated from Creston High School (1954) and Albion College (1958). A failed pre-med student, he was tripped up twice by inorganic chemistry and eventually turned to art history as consolation. A three-year position (1958-1961) teaching eighth-grade English and humanities in Milford, Mich., which he described as his most challenging and rewarding years of teaching, was followed by completion of an MA in integrated humanities at Wayne State University (1963). He earned a PhD in art history from the University of Wisconsin (1966), having spent the previous year on a Roijtman Traveling Fellowship at the Courtauld Art Institute in London. Bill completed an MA in theology and pastoral counseling from Saint Michael's College (1996) to learn, as he remarked to his daughter, "how to pastor one's own strayed sheep." Bill's entire professional career was happily and productively spent in the field of education. He taught at Cornell University (1966-69) and Reed College (1969-70), coming to the University of Vermont in 1970. He was a favorite and energetic UVM lecturer who was known for drawing inspiring connections between the past and present. He retired from full-time teaching as a tenured professor of art history in 2001, teaching part time for another 10 years with a special interest in first-year seminars and advising students. Read the complete obituary.