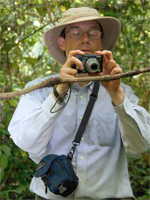 Contact
Office Hours:
Tuesdays and Thursdays 4-5pm
Office Location:
209 Marsh Life Science Building
Areas of Expertise and/or Research
Organization of animal and plant communities
Education
Ph.D., Florida State University, 1985
Research and/or Creative Works
My research addresses basic questions about the organization of animal and plant communities. What are the forces that determine the species composition and abundance of natural assemblages? How do competition and predation affect local community structure? What are the biotic and abiotic factors that control population growth and the risk of extinction?