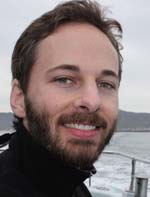 Contact
Office Hours:
Thursdays 1-3pm
Office Location:
Marsh Life Science Rm 203
Areas of Expertise and/or Research
Ecological and evolutionary physiology
Education
Ph.D., Stanford University, 2011
Curriculum vitae
Brent_L_Lockwood_CV_112017.pdf
Research and/or Creative Works
We study insects, like Drosophila fruit flies and Pieris butterflies, as well as marine invertebrates to investigate the abiotic and biotic factors that create and maintain diversity, at multiple levels of biological organization. The biosphere can be a challenging place in which to live because physiological processes are perturbed by changes in the environment. But species have evolved to cope with environmental change. What are the coping mechanisms, and can they be modified further to keep pace with climate change? In the broader context of ecological communities, how might changes in the environment influence competitive interactions among species?