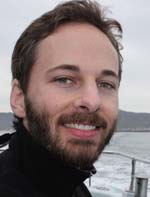 Contact
Office Hours:
Mondays 1 - 3pm
Office Location:
Marsh Life Science Rm 203
Areas of Expertise and/or Research
Ecological and evolutionary physiology
Education
Ph.D., Stanford University, 2011
Curriculum vitae
LockwoodCV2017.pdf
Research and/or Creative Works
How do organisms survive and thrive in changing environments? The environment is never static. It is dynamic and ever-changing. Because physiological processes are perturbed by changes in the environment, the biosphere can be a challenging place in which to live. In the Lockwood Lab, we study the interactions between physiology, genes, and the environment to elucidate how environmental factors like temperature are forces of natural selection.